Health initiatives as bridges towards peace. The case of Gulu, Northern Uganda
This dissertation analyses whether and how health initiatives act as bridges towards peace.

The concepts of health, public health and primary health care are defined to outline their areas of activities and to demonstrate how different theoretical perspectives lead to diverse approaches in the provision of health care. The exploration of the impact of wars on health shows how security is a precondition for good health and how health initiatives assist people to realise their potential. It argues that better health, security and development can only be achieved when relief interventions are linked to future activities for the development of the war-affected societies to ensure self-sustaining human development.

The exploration of the initiatives undertaken by medical staff to prevent, tackle and overcome conflicts investigates the characteristics which enable some health workers to play more significant roles in peace promotion. The World Health Organisation's policy 'Health as a Bridge for Peace' is reviewed as the first substantial action to integrate health initiatives into peace-building processes.

The case study of the conflict in Northern Uganda, shows how the problem of the 'night commuters' in Gulu is a means by which wider health-to-peace initiatives might best be realised. The barriers to a successful introduction and implementation of these initiatives are explored using a theoretical framework which reveals that the key barriers are 'conceptual', 'programming' and 'structural'.

Finally, recommendations are put forward to health workers, humanitarian practitioners, national governments and international organisations, with a special relevance and application to the situation in Northern Uganda.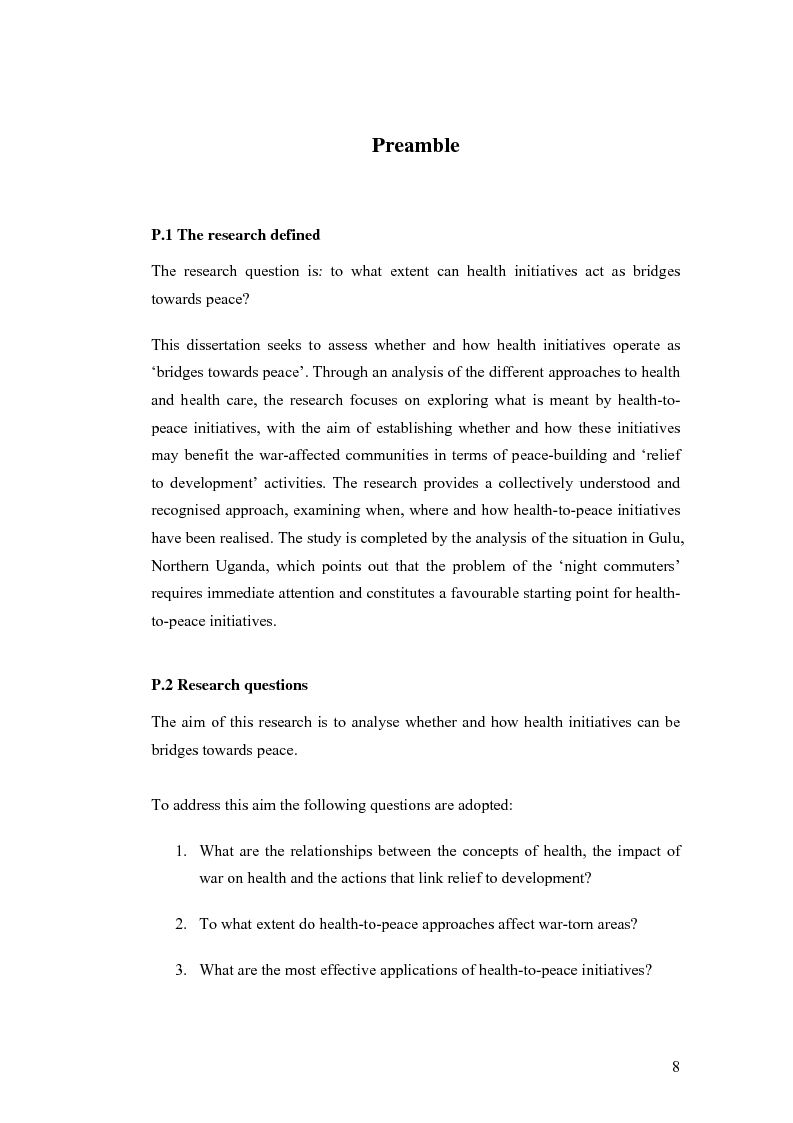 Mostra/Nascondi contenuto.
8 Preamble P.1 The research defined The research question is: to what extent can health initiatives act as bridges towards peace? This dissertation seeks to assess whether and how health initiatives operate as 'bridges towards peace'. Through an analysis of the different approaches to health and health care, the research focuses on exploring what is meant by health-to- peace initiatives, with the aim of establishing whether and how these initiatives may benefit the war-affected communities in terms of peace-building and 'relief to development' activities. The research provides a collectively understood and recognised approach, examining when, where and how health-to-peace initiatives have been realised. The study is completed by the analysis of the situation in Gulu, Northern Uganda, which points out that the problem of the 'night commuters' requires immediate attention and constitutes a favourable starting point for health- to-peace initiatives. P.2 Research questions The aim of this research is to analyse whether and how health initiatives can be bridges towards peace. To address this aim the following questions are adopted: 1. What are the relationships between the concepts of health, the impact of war on health and the actions that link relief to development? 2. To what extent do health-to-peace approaches affect war-torn areas? 3. What are the most effective applications of health-to-peace initiatives?
Tesi estera
Autore: Veronica Grazioli Contatta »
Composta da 101 pagine.
Questa tesi ha raggiunto 370 click dal 27/06/2005.
Consultata integralmente 2 volte.
Disponibile in PDF, la consultazione è esclusivamente in formato digitale.