Inflation and economic growth of Nigeria (an empirical analysis 1981-2001]
The study examines the impact of inflation on economic growth of Nigeria. Other micro economic variable tested along with inflation in this study are Agriculture, manufacturing, and trade. In analyzing the data the OLS estimation method was applied the empirical results demonstrated that there is a positive relationship between the dependent variable (agriculture and trade) and explanatory variable except in manufacturing.
The relationship between inflation and economic growth is one, which many economists have watched with keen interest. Producers in the production sector cash on this phenomenon to make a brisk business sat the expense of fixed income earners. This informs the increase in turnover in inflationary periods. Money economy gave rise to inflation, which reduces the living standard of the people and the level of saving dwindles in turn. The effect on economic growth is dependent on the level of economic activity going on. If there are more producers, there are likely to be an increase in the level of economic growth vice versa.
In all, inflation do not wish any economy well, so should be eradicated by a deliberate effort. Nigeria has intellectuals that are capable of formulating good monetary and fiscal policies that will benefit her. Aside economic viewpoint, inflation devastates social, health and educational, infrastructure, it should be discouraged in our system.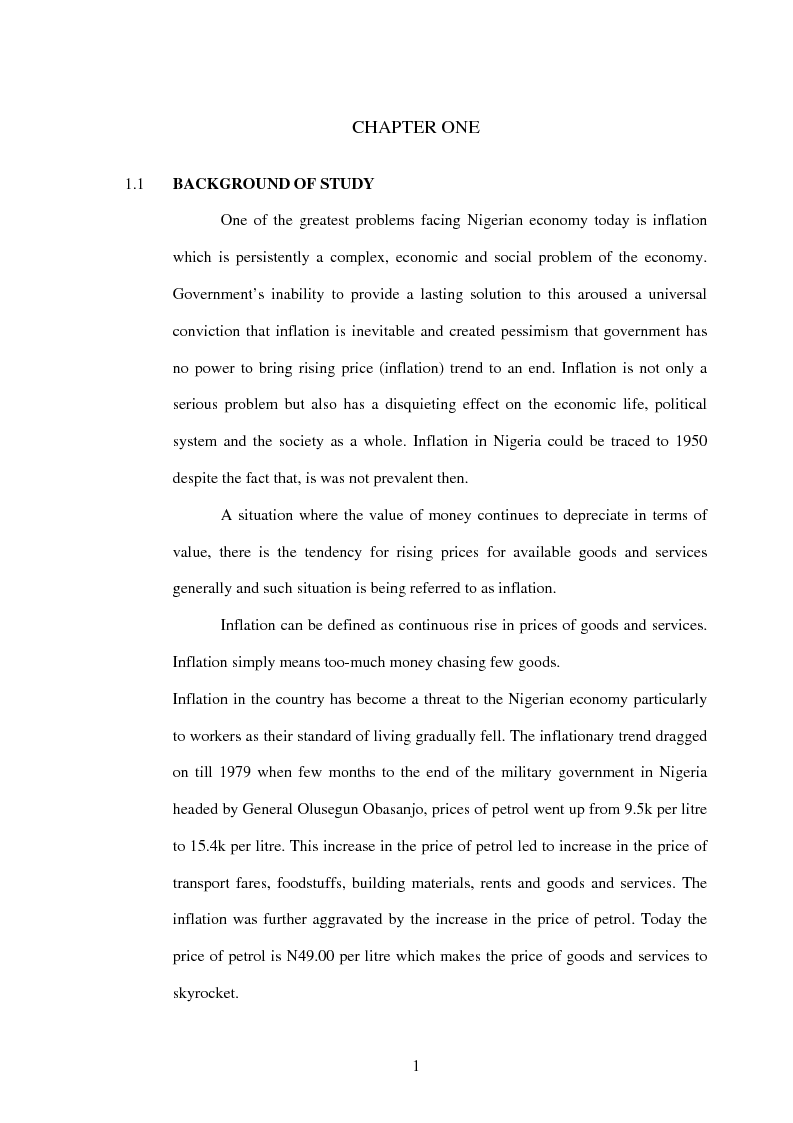 Mostra/Nascondi contenuto.
1 CHAPTER ONE 1.1 BACKGROUND OF STUDY One of the greatest problems facing Nigerian economy today is inflation which is persistently a complex, economic and social problem of the economy. Government's inability to provide a lasting solution to this aroused a universal conviction that inflation is inevitable and created pessimism that government has no power to bring rising price (inflation) trend to an end. Inflation is not only a serious problem but also has a disquieting effect on the economic life, political system and the society as a whole. Inflation in Nigeria could be traced to 1950 despite the fact that, is was not prevalent then. A situation where the value of money continues to depreciate in terms of value, there is the tendency for rising prices for available goods and services generally and such situation is being referred to as inflation. Inflation can be defined as continuous rise in prices of goods and services. Inflation simply means too-much money chasing few goods. Inflation in the country has become a threat to the Nigerian economy particularly to workers as their standard of living gradually fell. The inflationary trend dragged on till 1979 when few months to the end of the military government in Nigeria headed by General Olusegun Obasanjo, prices of petrol went up from 9.5k per litre to 15.4k per litre. This increase in the price of petrol led to increase in the price of transport fares, foodstuffs, building materials, rents and goods and services. The inflation was further aggravated by the increase in the price of petrol. Today the price of petrol is N49.00 per litre which makes the price of goods and services to skyrocket.
International thesis/dissertation
Autore: Kenneth Okanwu Contatta »
Composta da 56 pagine.
Questa tesi ha raggiunto 312 click dal 20/04/2006.
Consultata integralmente 2 volte.
Disponibile in PDF, la consultazione è esclusivamente in formato digitale.