Un caleidoscopio di femminilità: il caso di Desdemona nell'Othello di William Shakespeare
Desdemona è uno dei personaggi più significativi dell'universo femminile della letteratura shakespeariana. Partendo dall'analisi delle sue caratteristiche, dei suoi comportamenti all'interno della tragedia di "Othello" e confrontandola con le altre donne presenti nell'opera emerge la figura di un'eroina femminista.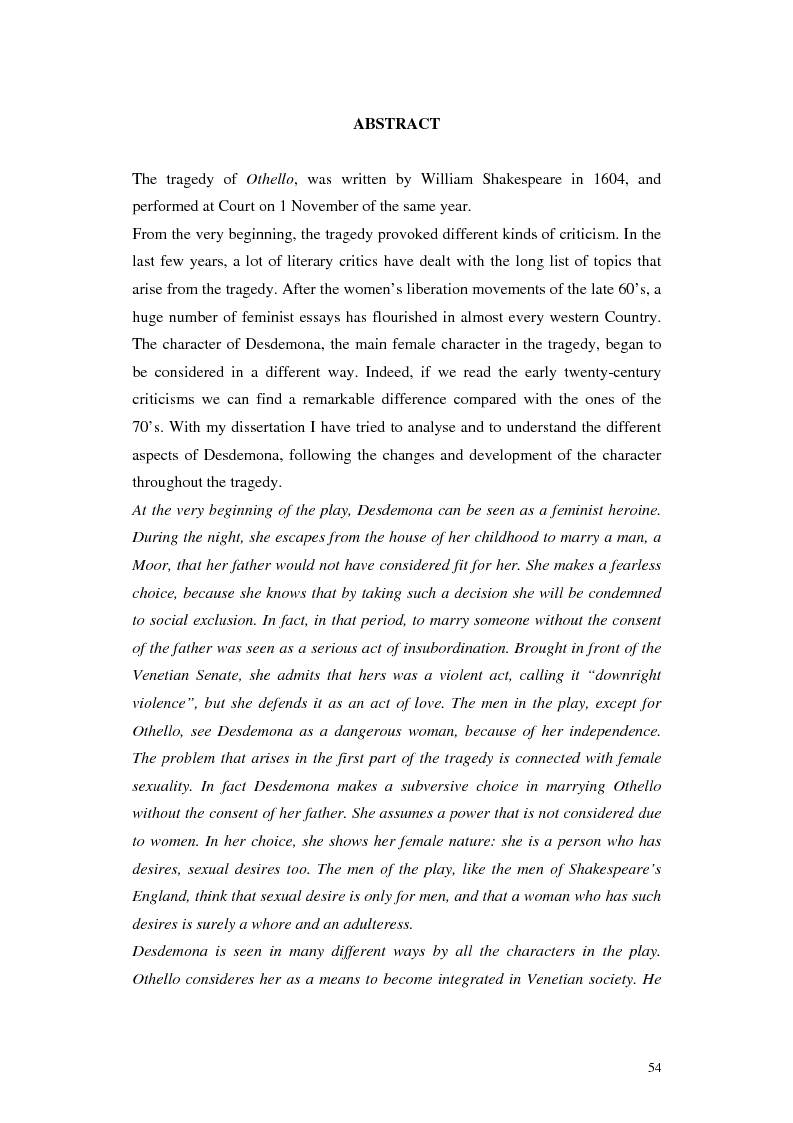 Mostra/Nascondi contenuto.
54 ABSTRACT The tragedy of Othello, was written by William Shakespeare in 1604, and performed at Court on 1 November of the same year. From the very beginning, the tragedy provoked different kinds of criticism. In the last few years, a lot of literary critics have dealt with the long list of topics that arise from the tragedy. After the women's liberation movements of the late 60's, a huge number of feminist essays has flourished in almost every western Country. The character of Desdemona, the main female character in the tragedy, began to be considered in a different way. Indeed, if we read the early twenty-century criticisms we can find a remarkable difference compared with the ones of the 70's. With my dissertation I have tried to analyse and to understand the different aspects of Desdemona, following the changes and development of the character throughout the tragedy. At the very beginning of the play, Desdemona can be seen as a feminist heroine. During the night, she escapes from the house of her childhood to marry a man, a Moor, that her father would not have considered fit for her. She makes a fearless choice, because she knows that by taking such a decision she will be condemned to social exclusion. In fact, in that period, to marry someone without the consent of the father was seen as a serious act of insubordination. Brought in front of the Venetian Senate, she admits that hers was a violent act, calling it "downright violence", but she defends it as an act of love. The men in the play, except for Othello, see Desdemona as a dangerous woman, because of her independence. The problem that arises in the first part of the tragedy is connected with female sexuality. In fact Desdemona makes a subversive choice in marrying Othello without the consent of her father. She assumes a power that is not considered due to women. In her choice, she shows her female nature: she is a person who has desires, sexual desires too. The men of the play, like the men of Shakespeare's England, think that sexual desire is only for men, and that a woman who has such desires is surely a whore and an adulteress. Desdemona is seen in many different ways by all the characters in the play. Othello consideres her as a means to become integrated in Venetian society. He
Laurea liv.I
Facoltà: Lingue e Letterature Straniere
Autore: Vera Maria Morreale Contatta »
Composta da 59 pagine.
Questa tesi ha raggiunto 8607 click dal 10/07/2006.
Consultata integralmente 6 volte.
Disponibile in PDF, la consultazione è esclusivamente in formato digitale.