Turning Philippine Municipalities into Learning Communities:Building Citizen Competence Through Participatory Democracy
This study is an attempt to develop a model of participatory governance for Philippine municipalities. It is an effort to contribute to the larger issue of Philippine democratisation by promoting practical citizenship at the municipal level of local government. Active citizens who participate in governance not only acquire the ability for self-reliance, but also emancipate themselves through the resultant social education that participation in governance allows. Thus, participation in governance, particularly at the local level, is a form of community learning. The model this study tries to develop could ideally make learning communities out of Philippine municipalities. To do this, however, requires a redefinition of municipal governance and the need to overcome the many social and political obstacles that retard Philippine democratic development. In proposing certain mechanisms of local democratic governance and getting local citizens and other stakeholders to influence public policy directly through them, municipal governance goes beyond representative democracy without necessarily abolishing representative institutions. It also arguably expands the social consciousness of the citizen, making it a learning experience. It is possible to sustain democracy through this expansion of consciousness. While largely theoretical, this study proposes to conduct a field study in the hope of validating theory, so a research agenda is proposed at the end. It is the hope that the model proposed here could become a sustainable mechanism for actual municipal participatory governance in the Philippines.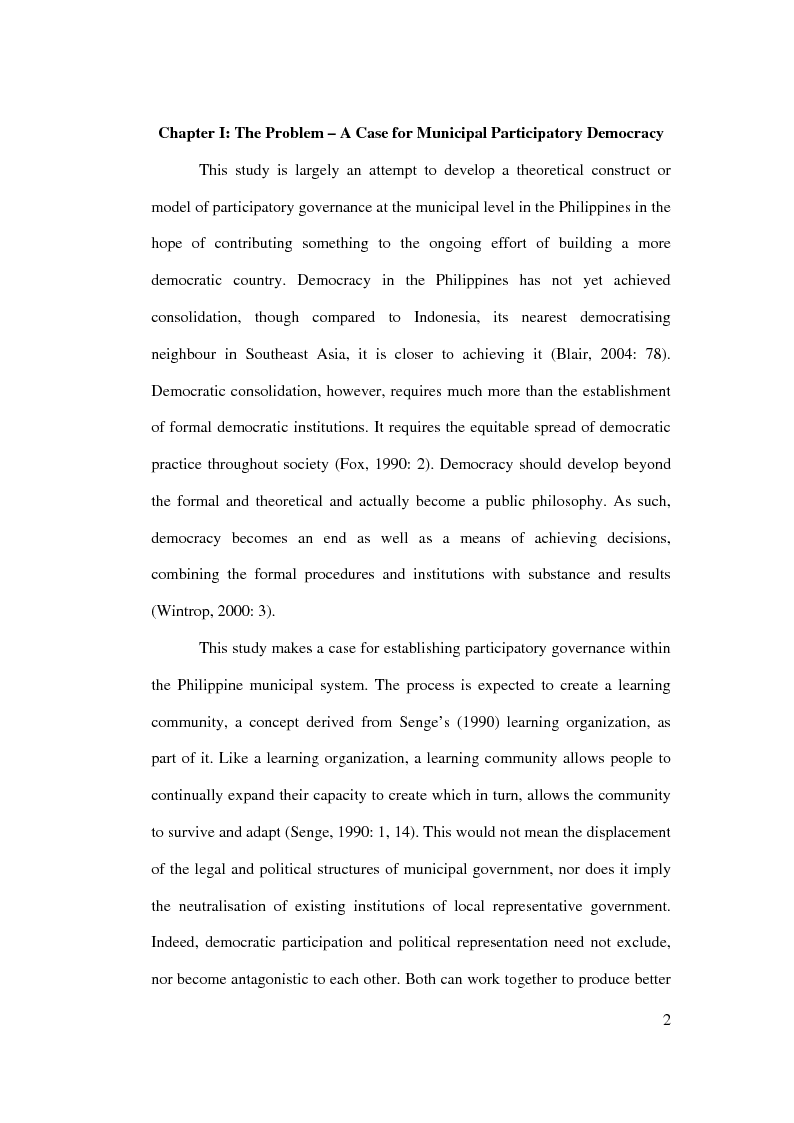 Mostra/Nascondi contenuto.
Chapter I: The Problem – A Case for Municipal Participatory Democracy This study is largely an attempt to develop a theoretical construct or model of participatory governance at the municipal level in the Philippines in the hope of contributing something to the ongoing effort of building a more democratic country. Democracy in the Philippines has not yet achieved consolidation, though compared to Indonesia, its nearest democratising neighbour in Southeast Asia, it is closer to achieving it (Blair, 2004: 78). Democratic consolidation, however, requires much more than the establishment of formal democratic institutions. It requires the equitable spread of democratic practice throughout society (Fox, 1990: 2). Democracy should develop beyond the formal and theoretical and actually become a public philosophy. As such, democracy becomes an end as well as a means of achieving decisions, combining the formal procedures and institutions with substance and results (Wintrop, 2000: 3). This study makes a case for establishing participatory governance within the Philippine municipal system. The process is expected to create a learning community, a concept derived from Senge's (1990) learning organization, as part of it. Like a learning organization, a learning community allows people to continually expand their capacity to create which in turn, allows the community to survive and adapt (Senge, 1990: 1, 14). This would not mean the displacement of the legal and political structures of municipal government, nor does it imply the neutralisation of existing institutions of local representative government. Indeed, democratic participation and political representation need not exclude, nor become antagonistic to each other. Both can work together to produce better 2
International thesis/dissertation
Autore: Glenn Varona Contatta »
Composta da 114 pagine.
Questa tesi ha raggiunto 131 click dal 11/07/2006.
Disponibile in PDF, la consultazione è esclusivamente in formato digitale.