The Omniscient Narration in Edwin Arlington Robinson's Poetry
Edwin Arlington Robinson is one of the most important American poets during the 1920s. Critics believe that he is a poet who wrote in all the poetic forms of his day. However, this study tries to approach one of the important poetic features in Robinson's poetry, which is his method of narration.

Narration is one of the crucial points in the poetry of Robinson that puzzles the critics of his poetry. In fact, all the poems of Robinson show this aspect as they are portraits that include characters, setting, a method of narration and all the other points that fit any narrative piece. This study takes as its point of departure the idea that unless Robinson's narrative method is discussed no true understanding of the poems will be achieved. The study will include five chapters:

Chapter One shows the importance of writing about the art of this poet. It gives an effective side of his life related to his works and the influence of New England and Puritanism on his life and consequently on his poetry. It discusses the features of Robinson's art and it gives a survey of materials both about his poetry and the criticism written about his art. It also sheds light on the importance of narration of Robinson's poetry.

Chapter Two gives a discussion of the dramatic poetry. It exhibits types of narrative poetry and kinds of narration. It also discusses the meaning of narration in general and the function of omniscient narration in particular with special references to Robinson's narrative methods.

Chapter Three is practical and textual. It studies Robinson's narrative method in the shorter poems showing how those short portraits need a narrative method that reveals to the readers the characters of the figures drawn in the portraits. The shorter poems which are to be studied: "Richard Cory", "The Gift of God", "Mr. Flood's Party", "Miniver Cheevy", "The Whip", "Flammonde" and "When Annandale Went Out".

Chapter Four is completely devoted to Robinson's major work "The Man Against the sky". The poem is dealt with as a completely narrative one in which the whole human drama is discussed and the human nature is revealed as the poet supplies his poem with a setting, characterization, a plot, a theme, and a denouement.

Chapter Five studies the narrative method in the longer texts. It shows how the characters develop in such longer texts and how readers know things about them more than the previous shorter texts. The chosen long poem in this chapter is "Captain Craig".
Then follows a conclusion that summarizes the findings of the thesis.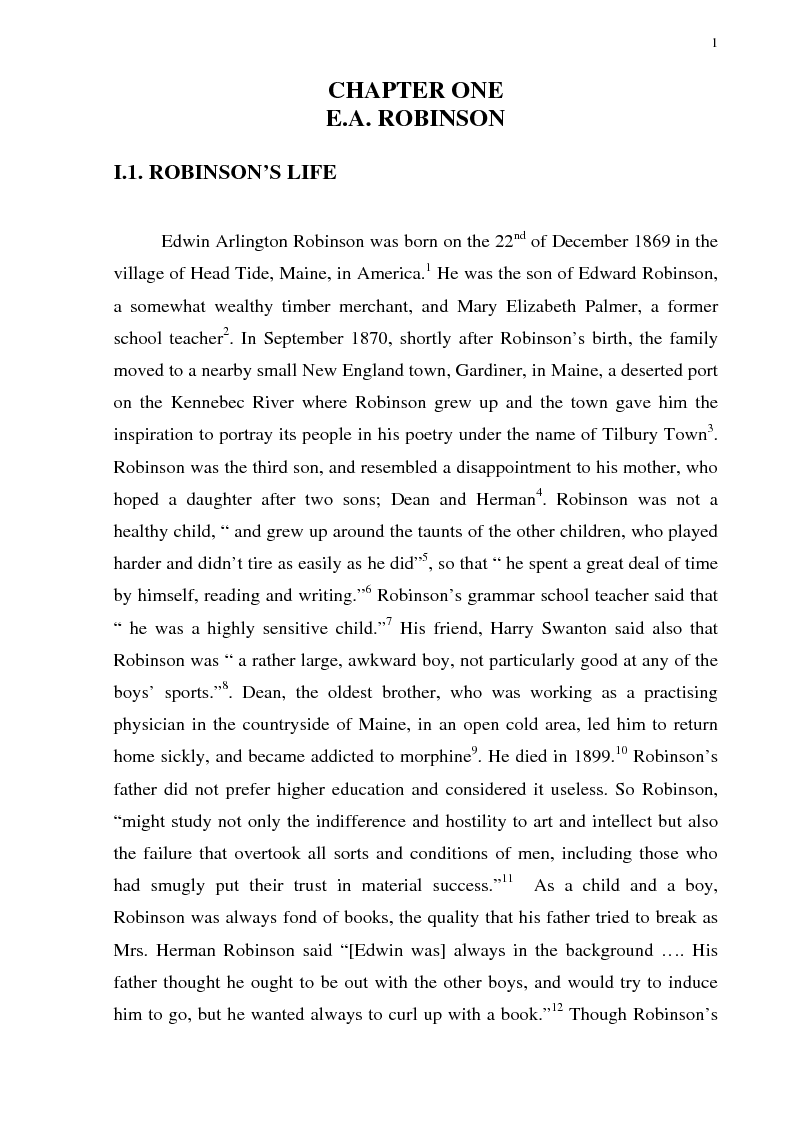 Mostra/Nascondi contenuto.
1 CHAPTER ONE E.A. ROBINSON I.1. ROBINSON'S LIFE Edwin Arlington Robinson was born on the 22 nd of December 1869 in the village of Head Tide, Maine, in America. 1 He was the son of Edward Robinson, a somewhat wealthy timber merchant, and Mary Elizabeth Palmer, a former school teacher 2 . In September 1870, shortly after Robinson's birth, the family moved to a nearby small New England town, Gardiner, in Maine, a deserted port on the Kennebec River where Robinson grew up and the town gave him the inspiration to portray its people in his poetry under the name of Tilbury Town 3 . Robinson was the third son, and resembled a disappointment to his mother, who hoped a daughter after two sons; Dean and Herman 4 . Robinson was not a healthy child, " and grew up around the taunts of the other children, who played harder and didn't tire as easily as he did" 5 , so that " he spent a great deal of time by himself, reading and writing." 6 Robinson's grammar school teacher said that " he was a highly sensitive child." 7 His friend, Harry Swanton said also that Robinson was " a rather large, awkward boy, not particularly good at any of the boys' sports." 8 . Dean, the oldest brother, who was working as a practising physician in the countryside of Maine, in an open cold area, led him to return home sickly, and became addicted to morphine 9 . He died in 1899. 10 Robinson's father did not prefer higher education and considered it useless. So Robinson, "might study not only the indifference and hostility to art and intellect but also the failure that overtook all sorts and conditions of men, including those who had smugly put their trust in material success." 11 As a child and a boy, Robinson was always fond of books, the quality that his father tried to break as Mrs. Herman Robinson said "[Edwin was] always in the background …. His father thought he ought to be out with the other boys, and would try to induce him to go, but he wanted always to curl up with a book." 12 Though Robinson's
International thesis/dissertation
Autore: Faisal Abdul Wahhab Hayder Contatta »
Composta da 188 pagine.
Questa tesi ha raggiunto 290 click dal 31/08/2006.
Consultata integralmente una volta.
Disponibile in PDF, la consultazione è esclusivamente in formato digitale.