Asymmetric Synthesis of Pharmacologically Active Compounds by Using Asymmetric Allylations and Ring-Closing Metathesis
The objective of this Ph.D. Thesis is the synthesis of several natural lactones that can be classified into three groups, according to their ring size: small-sized (hyptolide, synargentolide A and passifloricin A), medium-sized (microcarpalide and lethaloxin) and large-sized (FD-891). Furthermore, gustastatin has been synthesized by means of photochemical esterification, showing the increasing utility of this new methodology developed by De Brabander and co. All the procedures have been carried out with high enantio and regioselectivities employing a wide range of the newest asymmetric methodologies. In this way, the main targets that have been achieved are: (a) the initial structure, elucidated by means of spectroscopic and physical data (hyptolide, microcarpalide, gustastatin and FD-891) has been checked; (b) the initial connectivity in synargentolide A has been proved to be wrong, and it has been corrected in the case of passifloricin A; (c) previous contradictions in lethaloxin have been clarified. At the same time, several non-natural isomers thereof have also been synthesized by means of minor modifications in the initial synthesis pathway. These non-natural derivatives may be potentially useful for structure-activity studies. These have already provided successfully results in some cases and areunder development in other ones.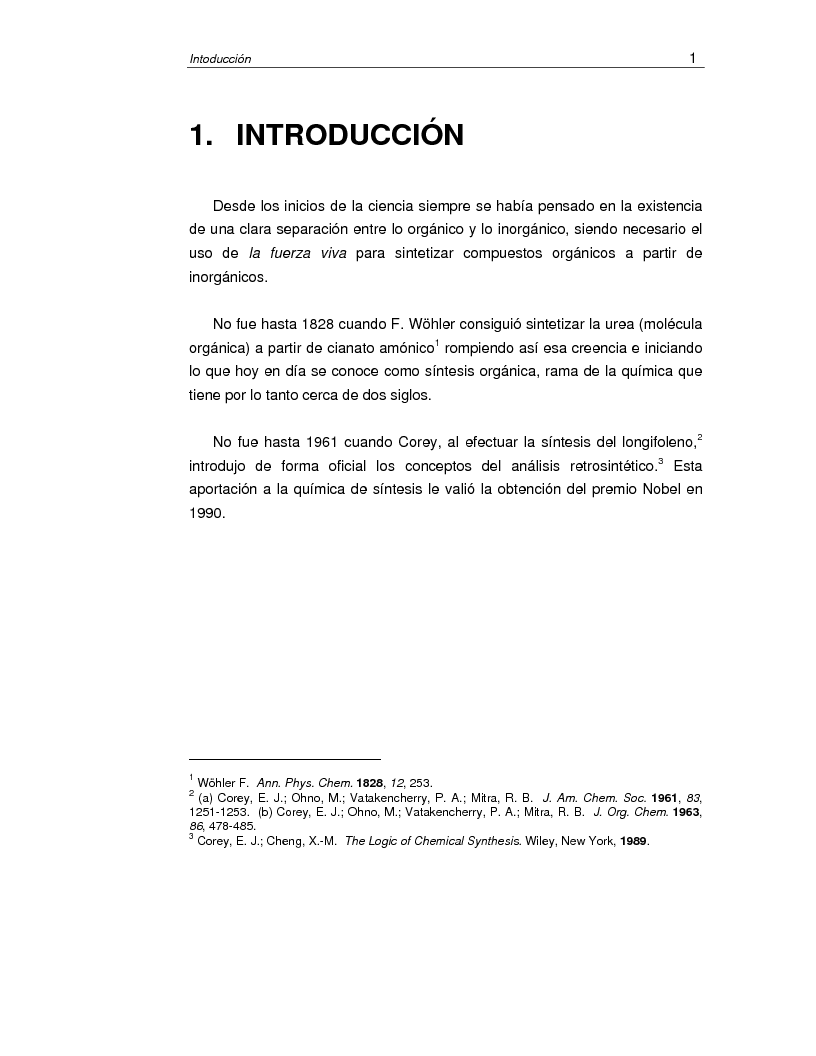 Mostra/Nascondi contenuto.
Intoducción 1 1. INTRODUCCIÓN Desde los inicios de la ciencia siempre se había pensado en la existencia de una clara separación entre lo orgánico y lo inorgánico, siendo necesario el uso de la fuerza viva para sintetizar compuestos orgánicos a partir de inorgánicos. No fue hasta 1828 cuando F. Wöhler consiguió sintetizar la urea (molécula orgánica) a partir de cianato amónico 1 rompiendo así esa creencia e iniciando lo que hoy en día se conoce como síntesis orgánica, rama de la química que tiene por lo tanto cerca de dos siglos. No fue hasta 1961 cuando Corey, al efectuar la síntesis del longifoleno, 2 introdujo de forma oficial los conceptos del análisis retrosintético. 3 Esta aportación a la química de síntesis le valió la obtención del premio Nobel en 1990. 1 Wöhler F. Ann. Phys. Chem. 1828, 12, 253. 2 (a) Corey, E. J.; Ohno, M.; Vatakencherry, P. A.; Mitra, R. B. J. Am. Chem. Soc. 1961, 83, 1251-1253. (b) Corey, E. J.; Ohno, M.; Vatakencherry, P. A.; Mitra, R. B. J. Org. Chem. 1963, 86, 478-485. 3 Corey, E. J.; Cheng, X.-M. The Logic of Chemical Synthesis. Wiley, New York, 1989.
International thesis/dissertation
Autore: Jorge Garcia Fortanet Contatta »
Composta da 457 pagine.
Questa tesi ha raggiunto 147 click dal 08/09/2006.
Disponibile in PDF, la consultazione è esclusivamente in formato digitale.