Using Weblogs in the Foreign Language Classroom
A blog is an on-line diary made available on the Internet, which posts are organized in individual chronologically ordered entries. Almost anyone can create and maintain a weblog with minimal technical experience.
The word "weblog" is a recent expression, coined by Jorn Barger in 1997.
A weblog can be used for many purposes: as a personal on-line diary, to talk about a particular topic, or also as an educational tool.
Using a computer in classroom can help teachers to prepare students for everyday life. The use of computer technologies in schools can help students learn to work not only independently and co-operatively, but also to develop critical thinking and reflection, on the basis of constructivist theories.
The teacher has not only to be an educator, but also a researcher, a pioneer, a co-ordinator and a promoter of new technologies, meanwhile the student has to be an active participant and no more a passive receiver of knowledge.
The blog is a valid tool for many reasons. It gives you the chance to communicate, to take advantage of a device which can be used as box for your thoughts or ideas, a place to comment on your best work, somewhere you can publish to the web instantly, and a place to socialise and interact. The blog helps overcome the passive use of the Internet, to improve writing skills in a stimulating environment.
The sample intuitive nature of edublogs is precisely what is required to allow students to express themselves on their own terms. Edublogs can give learners their own soapbox, their own voice. They become habitual writers.
Around 2000 a group of pioneers began using weblogs in an educational context as a new way for teaching, sharing knowledge and learning. Some example are Peter Ford and Will Richardson's experiences.
Aaron Campbell outlined three types of blogs for use in the classroom: the tutor blog, the class blog and the learner blog.
A blog can be used in the classroom also as a support to the learning of a foreign language, providing students an opportunity to use the language "to mean":
- access to authentic information;
- chance to get in contact with native-speakers of a foreign language;
- authentic activities (i.e. reading and writing);
Blogs, in fact, provide a real audience and the possibility to communicate with native English speakers, thus creating opportunities for authentic communication, interaction and collaboration.
In short, the potential of weblog in education is almost limitless.
In my thesis I describe three experiences with blogs: "Spooky English", "Castellanos en Italia", and "Sportello Inglese On-line".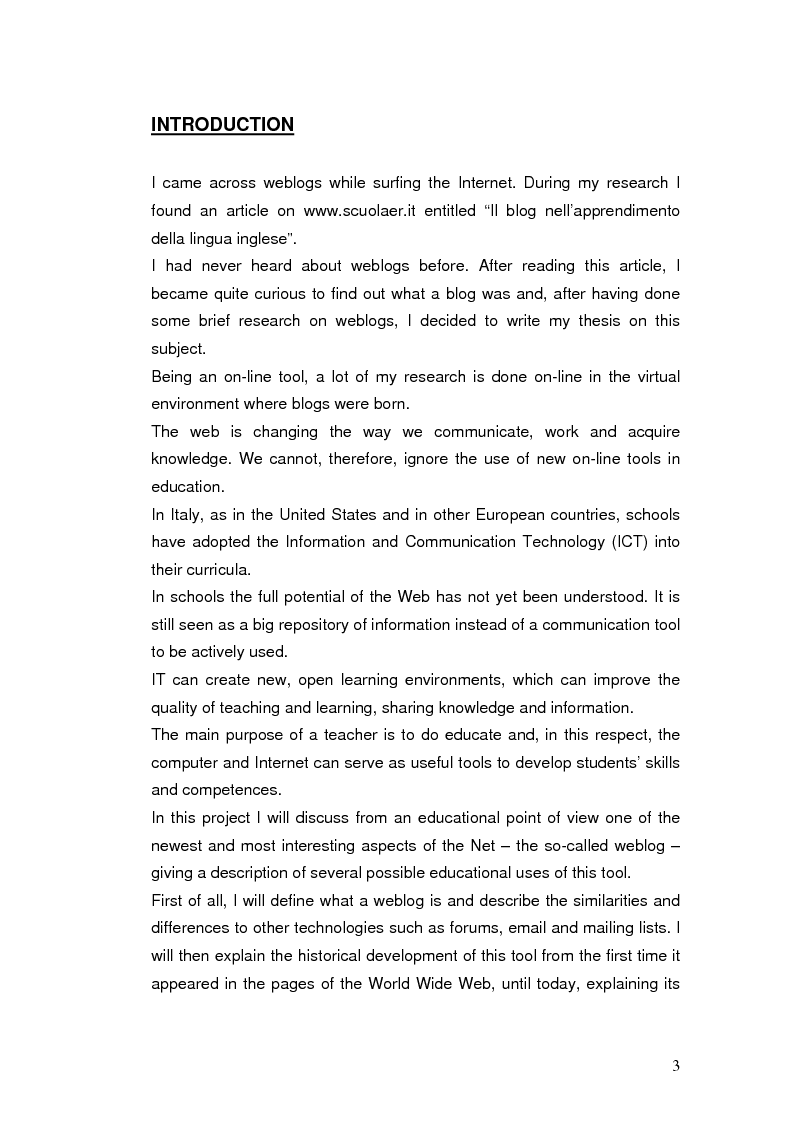 Mostra/Nascondi contenuto.
3 INTRODUCTION I came across weblogs while surfing the Internet. During my research I found an article on www.scuolaer.it entitled "Il blog nell'apprendimento della lingua inglese". I had never heard about weblogs before. After reading this article, I became quite curious to find out what a blog was and, after having done some brief research on weblogs, I decided to write my thesis on this subject. Being an on-line tool, a lot of my research is done on-line in the virtual environment where blogs were born. The web is changing the way we communicate, work and acquire knowledge. We cannot, therefore, ignore the use of new on-line tools in education. In Italy, as in the United States and in other European countries, schools have adopted the Information and Communication Technology (ICT) into their curricula. In schools the full potential of the Web has not yet been understood. It is still seen as a big repository of information instead of a communication tool to be actively used. IT can create new, open learning environments, which can improve the quality of teaching and learning, sharing knowledge and information. The main purpose of a teacher is to do educate and, in this respect, the computer and Internet can serve as useful tools to develop students' skills and competences. In this project I will discuss from an educational point of view one of the newest and most interesting aspects of the Net – the so-called weblog – giving a description of several possible educational uses of this tool. First of all, I will define what a weblog is and describe the similarities and differences to other technologies such as forums, email and mailing lists. I will then explain the historical development of this tool from the first time it appeared in the pages of the World Wide Web, until today, explaining its
Tesi di Laurea
Facoltà: Lingue e Letterature Straniere
Autore: Barbara Altoè Contatta »
Composta da 151 pagine.
Questa tesi ha raggiunto 877 click dal 05/10/2006.
Consultata integralmente 7 volte.
Disponibile in PDF, la consultazione è esclusivamente in formato digitale.