The Thrill is Gone. An Overview of Advertising Wearout Studies
Wearin and wearout of advertising messages has been a matter of interest for scholars and professionals of the advertising industry alike as it represents an indicator of efficiency for the communication campaign and can thus help increase accuracy in budget spending decisions and reduce useless expenditures. The aim of this research is to offer an analysis of the wearout studies undertaken insofar by exploring the concepts of reach, frequency and message efficiency in correlation with the purposeful use of music, humour and nostalgia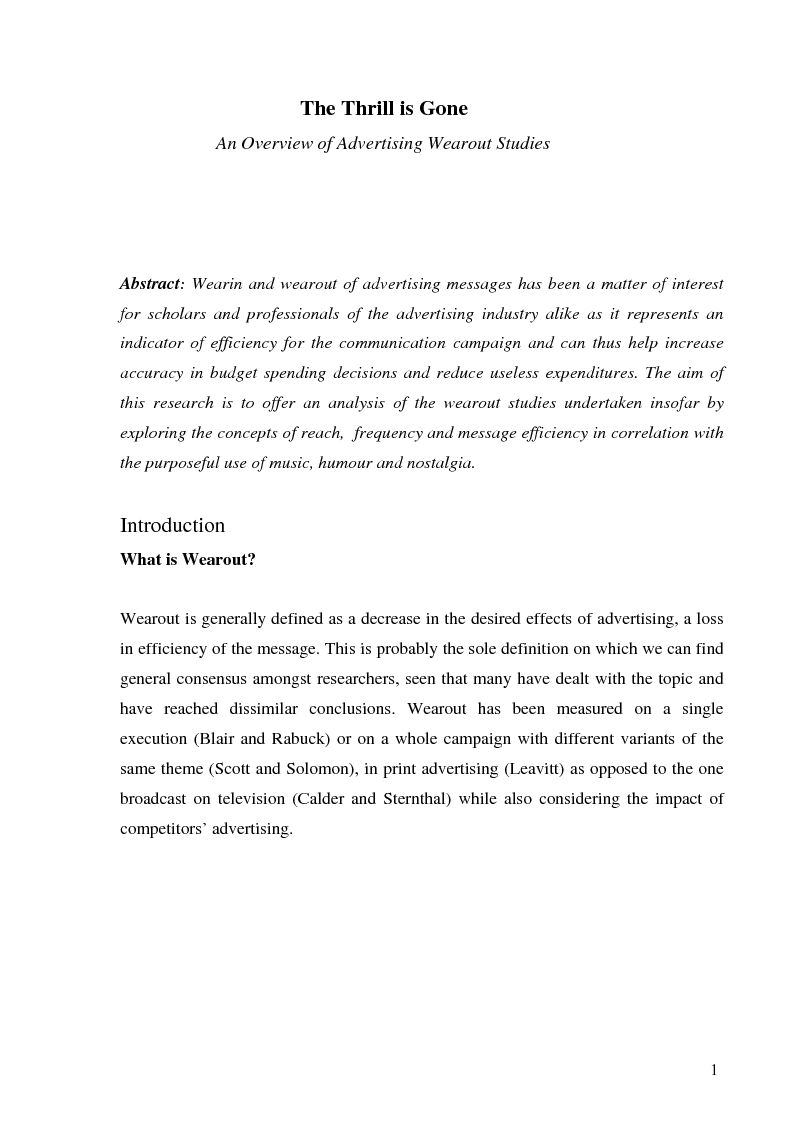 Mostra/Nascondi contenuto.
1 The Thrill is Gone An Overview of Advertising Wearout Studies Abstract: Wearin and wearout of advertising messages has been a matter of interest for scholars and professionals of the advertising industry alike as it represents an indicator of efficiency for the communication campaign and can thus help increase accuracy in budget spending decisions and reduce useless expenditures. The aim of this research is to offer an analysis of the wearout studies undertaken insofar by exploring the concepts of reach, frequency and message efficiency in correlation with the purposeful use of music, humour and nostalgia. Introduction What is Wearout? Wearout is generally defined as a decrease in the desired effects of advertising, a loss in efficiency of the message. This is probably the sole definition on which we can find general consensus amongst researchers, seen that many have dealt with the topic and have reached dissimilar conclusions. Wearout has been measured on a single execution (Blair and Rabuck) or on a whole campaign with different variants of the same theme (Scott and Solomon), in print advertising (Leavitt) as opposed to the one broadcast on television (Calder and Sternthal) while also considering the impact of competitors' advertising.
Tesi di Laurea
Facoltà: Scienze della Comunicazione
Autore: Ana Maria Panait Contatta »
Composta da 51 pagine.
Questa tesi ha raggiunto 328 click dal 12/10/2006.
Consultata integralmente 3 volte.
Disponibile in PDF, la consultazione è esclusivamente in formato digitale.