An Assessment on the Management of Intercollegiate Sports Program in Trinity University of Asia
This study is aimed to enhance the management of intercollegiate sports program of Trinity University of Asia. The research was conducted among athletes, coaches, and physical education teachers who are part of the extramural events. The study tested the hypothesis that there is no significant difference on the assessment of the three groups of respondents as to the management of intercollegiate sports program of the University.
The research design used is descriptive method using questionnaires as a tool for gathering data in order to assess the management of the intercollegiate sports program of the school.
The analysis of the gathered data used the statistical tools like alpha coefficient to determine reliability of the questionnaires, the weighted mean, and the ANOVA f test (one way) to verify the significant difference in the assessment of the three respondents as to the management of intercollegiate sports program.
According to the overall mean scores in the area of training program, the athletes, coaches, and physical education teachers evaluated it as fully managed, fully managed, and managed respectively.
Based on the overall mean scores, the sports facilities are assessed as managed by the three groups of respondents and which means that there is no significant difference in their assessment.
The over-all mean scores in the area of human resources imply that there is a significant difference on the assessment of the three respondents which they correspondingly assessed it as fully managed, managed, and managed.
The summary of the assessment on the management of the sports program in the area of academic tie up illustrates that there is no significant difference on the assessment of the three groups based on the over-all mean scores presented which has the same managed verbal interpretation.
The area of budget allocation, it also depicts that there is no significant difference on the assessment of the three respondents with all having a managed interpretation.
The summary of ANOVA on the assessment of the three groups or respondents exemplifies that the five areas have different decisions which are: the hypothesis is rejected in the training program; accepted in sports facilities; rejected in human resources; and accepted both in academic tie up and budget allocation.
The action plan that can be proposed is through the employment of the sports development plan where it comprises the goals, task or actions, people involved, timescale, cost, monitoring, and feedback that will help create specific objectives to be attained by the management of intercollegiate sports program.
Based on the results of the study and the conclusions consequential from it, the following recommendations were formulated:
1.) In relation to the training program, proper scheduling of team training would be very beneficial in making the facilities readily accessible for athletes and coaches. In order to upgrade the knowledge of coaches of the different sports, the school needs to send them to different coaching seminars. The training objectives should be attained after each session through the coaches being open-minded for suggestions. The training should starts as scheduled and should have an ample time to inculcate the right knowledge to athletes wherein the coaches would make use of a quality timeframe of the practice.
2.) In the area of sports facilities, the administration needs to upgrade the sports facilities of the school like the flooring of the court, provides adequate badminton courts, sports equipment and practice uniforms, and to upgrade the weights room. The school also needs to install additional water stations and to provide audio/video materials for listening and viewing materials as the athletes take their rest.
3.) On the part of human resources, the problems of the team addressed to administration should be taken into action and the center for human kinetics should always aim to upgrade of the status of the sports by having a proper communication through an open forum meeting so that all the necessary suggestions and recommendations by the involved parties should be taken due consideration.
4.) In the area of academic tie-up, the school needs to assist the athletes in their academics and to guide them in their future by providing tutorial classes and counseling program. In this way, the athletes will have a great future ahead of them not only limiting their capabilities in the field of sports bu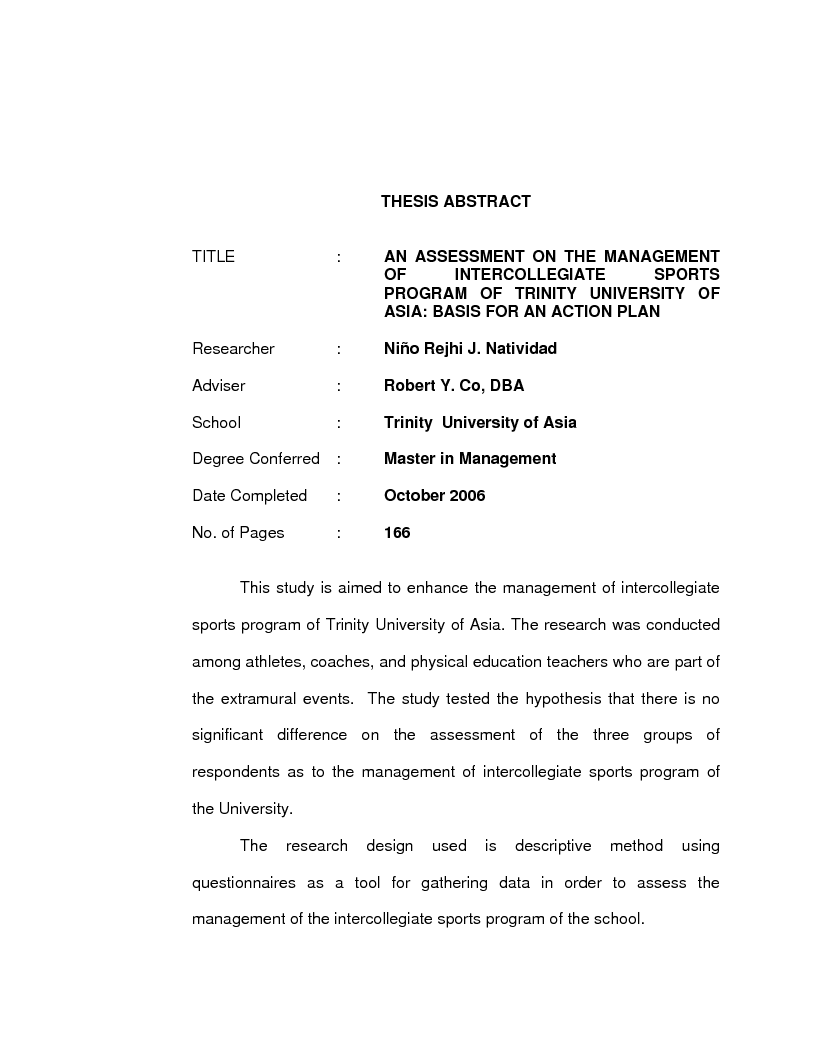 Mostra/Nascondi contenuto.
THESIS ABSTRACT TITLE : AN ASSESSMENT ON THE MANAGEMENT OF INTERCOLLEGIATE SPORTS PROGRAM OF TRINITY UNIVERSITY OF ASIA: BASIS FOR AN ACTION PLAN Researcher : Niño Rejhi J. Natividad Adviser : Robert Y. Co, DBA School : Trinity University of Asia Degree Conferred : Master in Management Date Completed : October 2006 No. of Pages : 166 This study is aimed to enhance the management of intercollegiate sports program of Trinity University of Asia. The research was conducted among athletes, coaches, and physical education teachers who are part of the extramural events. The study tested the hypothesis that there is no significant difference on the assessment of the three groups of respondents as to the management of intercollegiate sports program of the University. The research design used is descriptive method using questionnaires as a tool for gathering data in order to assess the management of the intercollegiate sports program of the school.
International thesis/dissertation
Autore: Nino Rejhi Natividad Contatta »
Composta da 184 pagine.
Questa tesi ha raggiunto 343 click dal 10/01/2007.
Consultata integralmente 2 volte.
Disponibile in PDF, la consultazione è esclusivamente in formato digitale.