Beyond the Fringer. Studies on Borderline Personality
Bibliographic thesis treating the Borderline Personality Trouble.
The principal etiological theories of the trouble are exposed in an optics of study multidisciplinary, from those psychodynamics, those biological and ones behavioural.
The developed work includes an appendix on the differential diagnosis for the trouble at issue, an appendix concerning the particular mechanism of the projective identification and one on the elaboration of the mourning according to the psychoanalytic optics.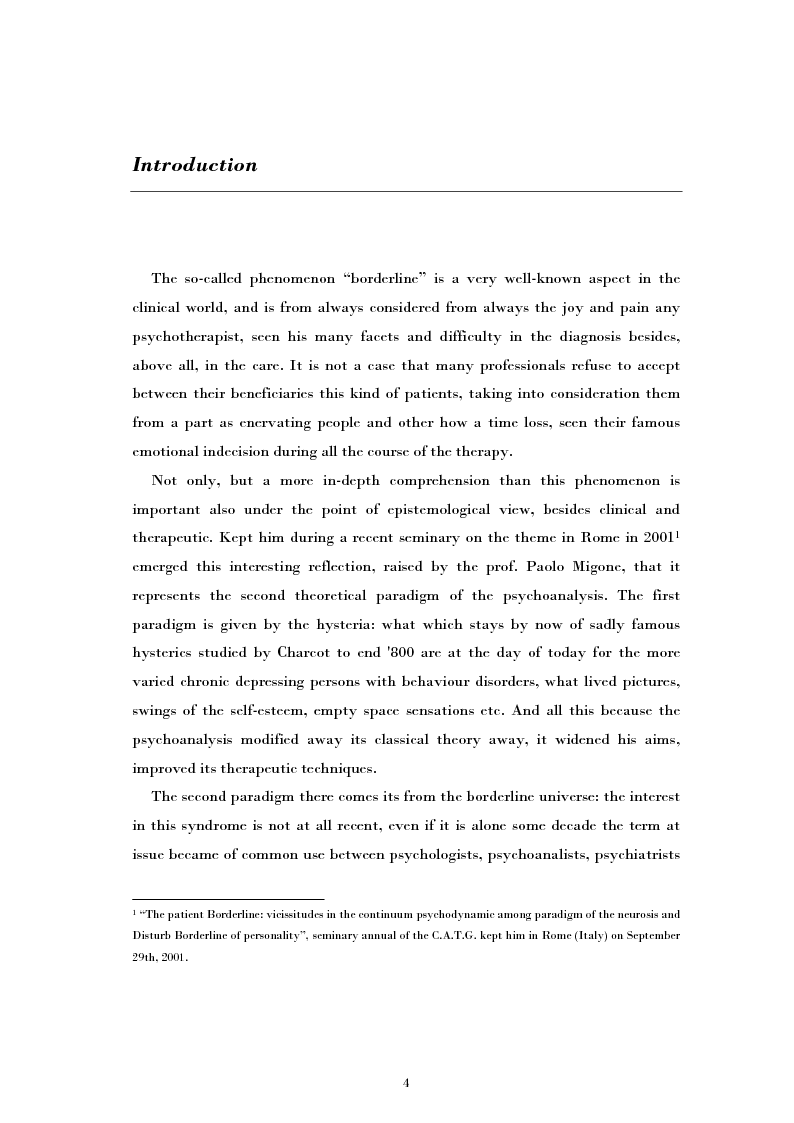 Mostra/Nascondi contenuto.
4 Introduction The so-called phenomenon "borderline" is a very well-known aspect in the clinical world, and is from always considered from always the joy and pain any psychotherapist, seen his many facets and difficulty in the diagnosis besides, above all, in the care. It is not a case that many professionals refuse to accept between their beneficiaries this kind of patients, taking into consideration them from a part as enervating people and other how a time loss, seen their famous emotional indecision during all the course of the therapy. Not only, but a more in-depth comprehension than this phenomenon is important also under the point of epistemological view, besides clinical and therapeutic. Kept him during a recent seminary on the theme in Rome in 2001 1 emerged this interesting reflection, raised by the prof. Paolo Migone, that it represents the second theoretical paradigm of the psychoanalysis. The first paradigm is given by the hysteria: what which stays by now of sadly famous hysterics studied by Charcot to end '800 are at the day of today for the more varied chronic depressing persons with behaviour disorders, what lived pictures, swings of the self-esteem, empty space sensations etc. And all this because the psychoanalysis modified away its classical theory away, it widened his aims, improved its therapeutic techniques. The second paradigm there comes its from the borderline universe: the interest in this syndrome is not at all recent, even if it is alone some decade the term at issue became of common use between psychologists, psychoanalists, psychiatrists 1 "The patient Borderline: vicissitudes in the continuum psychodynamic among paradigm of the neurosis and Disturb Borderline of personality", seminary annual of the C.A.T.G. kept him in Rome (Italy) on September 29th, 2001.
Traduzione
Facoltà: Psicologia
Traduttore: Bruno Marzemin Contatta »
Composta da 110 pagine.
Questa tesi ha raggiunto 420 click dal 12/04/2007.
Disponibile in PDF, la consultazione è esclusivamente in formato digitale.