The Category of Aspect in English
Teza contine 62 de foi. Este un studiu in domeniu gramaticii limbii engleze si anume a aspectului. Aspectul din limba engleza este comparat cu cel din limba rusa. Lucrarea se bazeaza pe un studiu general al conceptului de aspect, tipurile aspectului si folosirea lui. Exemplele incluse in lucrare sunt traduse in limba rusa.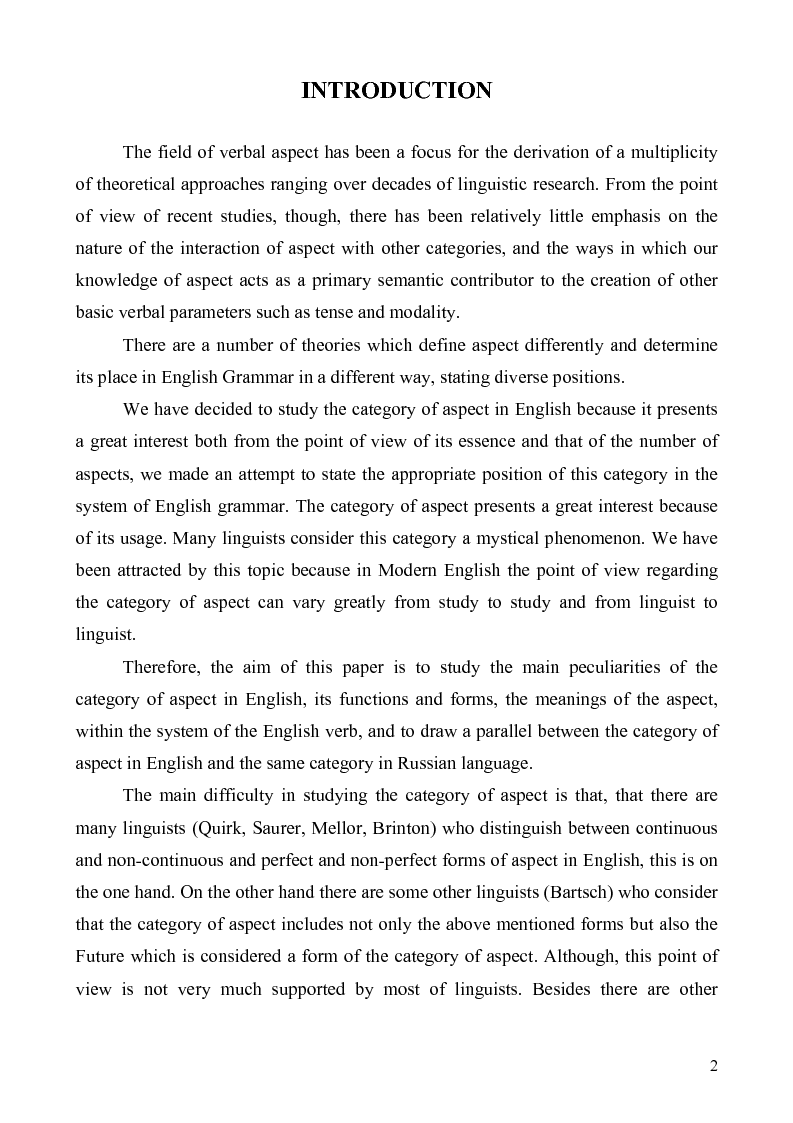 Mostra/Nascondi contenuto.
2 INTRODUCTION The field of verbal aspect has been a focus for the derivation of a multiplicity of theoretical approaches ranging over decades of linguistic research. From the point of view of recent studies, though, there has been relatively little emphasis on the nature of the interaction of aspect with other categories, and the ways in which our knowledge of aspect acts as a primary semantic contributor to the creation of other basic verbal parameters such as tense and modality. There are a number of theories which define aspect differently and determine its place in English Grammar in a different way, stating diverse positions. We have decided to study the category of aspect in English because it presents a great interest both from the point of view of its essence and that of the number of aspects, we made an attempt to state the appropriate position of this category in the system of English grammar. The category of aspect presents a great interest because of its usage. Many linguists consider this category a mystical phenomenon. We have been attracted by this topic because in Modern English the point of view regarding the category of aspect can vary greatly from study to study and from linguist to linguist. Therefore, the aim of this paper is to study the main peculiarities of the category of aspect in English, its functions and forms, the meanings of the aspect, within the system of the English verb, and to draw a parallel between the category of aspect in English and the same category in Russian language. The main difficulty in studying the category of aspect is that, that there are many linguists (Quirk, Saurer, Mellor, Brinton) who distinguish between continuous and non-continuous and perfect and non-perfect forms of aspect in English, this is on the one hand. On the other hand there are some other linguists (Bartsch) who consider that the category of aspect includes not only the above mentioned forms but also the Future which is considered a form of the category of aspect. Although, this point of view is not very much supported by most of linguists. Besides there are other
International thesis/dissertation
Facoltà: Limbi Moderne Aplicate
Autore: Culic Diana Contatta »
Composta da 62 pagine.
Questa tesi ha raggiunto 205 click dal 11/07/2007.
Consultata integralmente una volta.
Disponibile in PDF, la consultazione è esclusivamente in formato digitale.