The Evolving Inflation Process and its Consequences on Monetary Policy
The paper is a survey on the evolution of determinants of inflation as a result of the process of trade globalization over the past 30 years. We draw conclusions on changes recorded by the Phillips curve and illustrate the changes required for the management of monetary policy.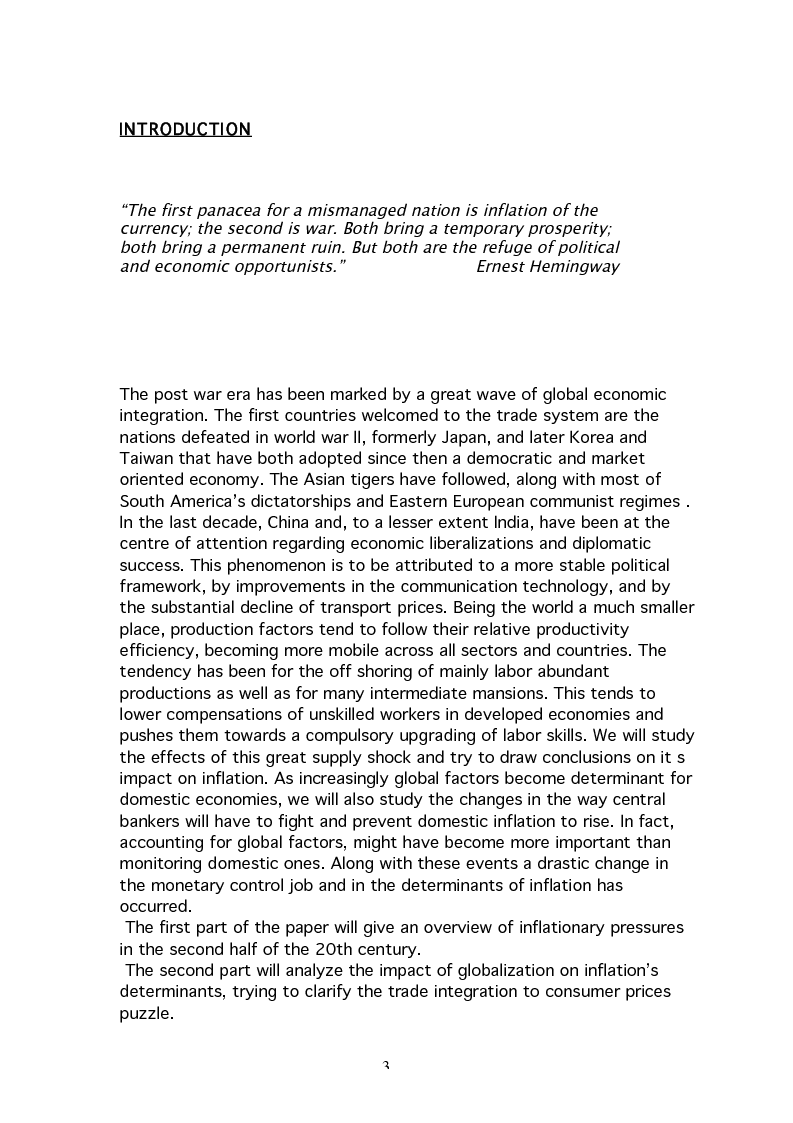 Mostra/Nascondi contenuto.
3 INTRODUCTION "The first panacea for a mismanaged nation is inflation of the currency; the second is war. Both bring a temporary prosperity; both bring a permanent ruin. But both are the refuge of political and economic opportunists." Ernest Hemingway The post war era has been marked by a great wave of global economic integration. The first countries welcomed to the trade system are the nations defeated in world war II, formerly Japan, and later Korea and Taiwan that have both adopted since then a democratic and market oriented economy. The Asian tigers have followed, along with most of South America's dictatorships and Eastern European communist regimes . In the last decade, China and, to a lesser extent India, have been at the centre of attention regarding economic liberalizations and diplomatic success. This phenomenon is to be attributed to a more stable political framework, by improvements in the communication technology, and by the substantial decline of transport prices. Being the world a much smaller place, production factors tend to follow their relative productivity efficiency, becoming more mobile across all sectors and countries. The tendency has been for the off shoring of mainly labor abundant productions as well as for many intermediate mansions. This tends to lower compensations of unskilled workers in developed economies and pushes them towards a compulsory upgrading of labor skills. We will study the effects of this great supply shock and try to draw conclusions on it s impact on inflation. As increasingly global factors become determinant for domestic economies, we will also study the changes in the way central bankers will have to fight and prevent domestic inflation to rise. In fact, accounting for global factors, might have become more important than monitoring domestic ones. Along with these events a drastic change in the monetary control job and in the determinants of inflation has occurred. The first part of the paper will give an overview of inflationary pressures in the second half of the 20th century. The second part will analyze the impact of globalization on inflation's determinants, trying to clarify the trade integration to consumer prices puzzle.
Diploma di Laurea
Facoltà: Economia
Autore: Tommaso Ammendola Contatta »
Composta da 24 pagine.
Questa tesi ha raggiunto 227 click dal 04/10/2007.
Disponibile in PDF, la consultazione è esclusivamente in formato digitale.