The 1998 and 2005 UK Presidency of the European Council: a long way down?
The principal aim of the research is to compare and contrast the two British Presidencies of the European Council in 1998 and in 2005, to see the evolution of the relationship between UK and UE during these years under the leading of Tony Blair.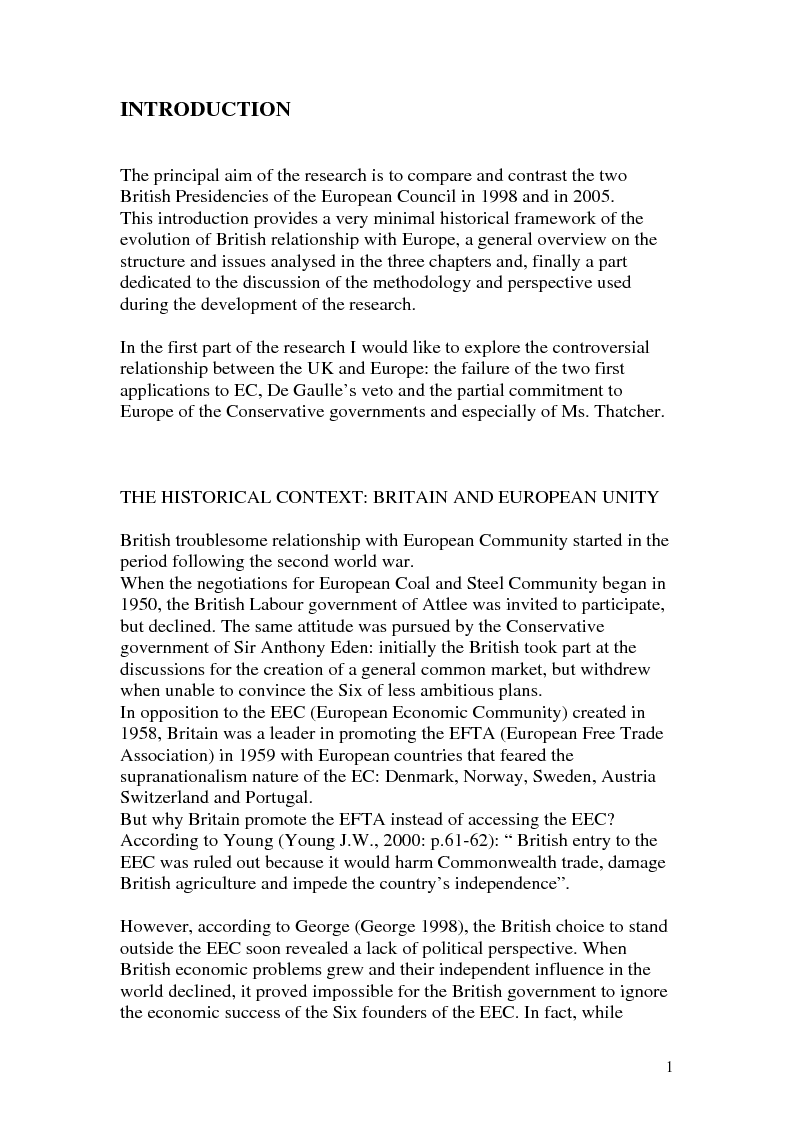 Mostra/Nascondi contenuto.
INTRODUCTION The principal aim of the research is to compare and contrast the two British Presidencies of the European Council in 1998 and in 2005. This introduction provides a very minimal historical framework of the evolution of British relationship with Europe, a general overview on the structure and issues analysed in the three chapters and, finally a part dedicated to the discussion of the methodology and perspective used during the development of the research. In the first part of the research I would like to explore the controversial relationship between the UK and Europe: the failure of the two first applications to EC, De Gaulle's veto and the partial commitment to Europe of the Conservative governments and especially of Ms. Thatcher. THE HISTORICAL CONTEXT: BRITAIN AND EUROPEAN UNITY British troublesome relationship with European Community started in the period following the second world war. When the negotiations for European Coal and Steel Community began in 1950, the British Labour government of Attlee was invited to participate, but declined. The same attitude was pursued by the Conservative government of Sir Anthony Eden: initially the British took part at the discussions for the creation of a general common market, but withdrew when unable to convince the Six of less ambitious plans. In opposition to the EEC (European Economic Community) created in 1958, Britain was a leader in promoting the EFTA (European Free Trade Association) in 1959 with European countries that feared the supranationalism nature of the EC: Denmark, Norway, Sweden, Austria Switzerland and Portugal. But why Britain promote the EFTA instead of accessing the EEC? According to Young (Young J.W., 2000: p.61-62): " British entry to the EEC was ruled out because it would harm Commonwealth trade, damage British agriculture and impede the country's independence". However, according to George (George 1998), the British choice to stand outside the EEC soon revealed a lack of political perspective. When British economic problems grew and their independent influence in the world declined, it proved impossible for the British government to ignore the economic success of the Six founders of the EEC. In fact, while 1
Tesi di Master
Autore: Paolo Anghileri Contatta »
Composta da 42 pagine.
Questa tesi ha raggiunto 127 click dal 03/01/2008.
Disponibile in PDF, la consultazione è esclusivamente in formato digitale.