Marlow: A twentieth century man?
Starting from the book by Joseph Conrad's "Heart of Darkness" the author writes a thesis on his experience as aid worker for non-governmental organizations in the Third World.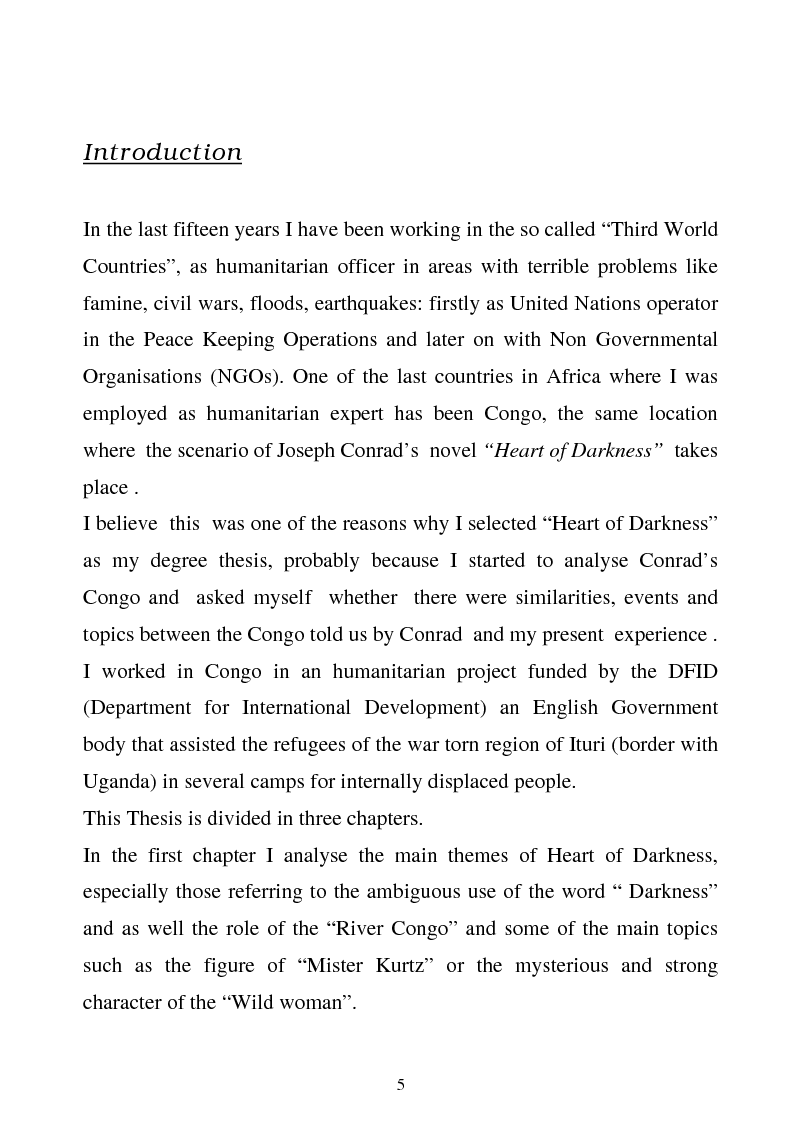 Mostra/Nascondi contenuto.
5 Introduction In the last fifteen years I have been working in the so called "Third World Countries", as humanitarian officer in areas with terrible problems like famine, civil wars, floods, earthquakes: firstly as United Nations operator in the Peace Keeping Operations and later on with Non Governmental Organisations (NGOs). One of the last countries in Africa where I was employed as humanitarian expert has been Congo, the same location where the scenario of Joseph Conrad's novel "Heart of Darkness" takes place . I believe this was one of the reasons why I selected "Heart of Darkness" as my degree thesis, probably because I started to analyse Conrad's Congo and asked myself whether there were similarities, events and topics between the Congo told us by Conrad and my present experience . I worked in Congo in an humanitarian project funded by the DFID (Department for International Development) an English Government body that assisted the refugees of the war torn region of Ituri (border with Uganda) in several camps for internally displaced people. This Thesis is divided in three chapters. In the first chapter I analyse the main themes of Heart of Darkness, especially those referring to the ambiguous use of the word " Darkness" and as well the role of the "River Congo" and some of the main topics such as the figure of "Mister Kurtz" or the mysterious and strong character of the "Wild woman".
Laurea liv.I
Facoltà: Lingue e Letterature Straniere
Autore: Giorgio Trombatore Contatta »
Composta da 46 pagine.
Questa tesi ha raggiunto 358 click dal 17/01/2008.
Disponibile in PDF, la consultazione è esclusivamente in formato digitale.