An Attempt to Describe the Impact of Using Computer Technology on Learning General Culture
This study aims to highlight and describe the impact of using computer technology on learning General Culture and the possibilities that can be adopted and used to boost and stimulate students for an effective learning; the subjects of the study are the students of first year at the department of English, Batna University.
In the process of researching and writing this dissertation, we have conducted a literature search based on the descriptive method and results interpretation which have been carried by the submitted questionnaire and interview.

The work is divided into two parts;
The first one is the literature review that understands three chapters respectively dealing with:

 The definition of computer technology, its component and the operating systems;
 The description of the syllabus of general culture and the choice of the module as a case study;
 The approach of computer assisted learning to support general culture learning, the needed computing skills and the use of the adequate programmes and applications for a better assimilation.

Whereas the second part is a fieldwork study that comprises a chapter
Including:
 Data analysis and interpretation of the obtained results of the questionnaire and the interview submitted to teachers and students, and finally some recommendations and suggestions that might support the goals and objectives of our hypothesis.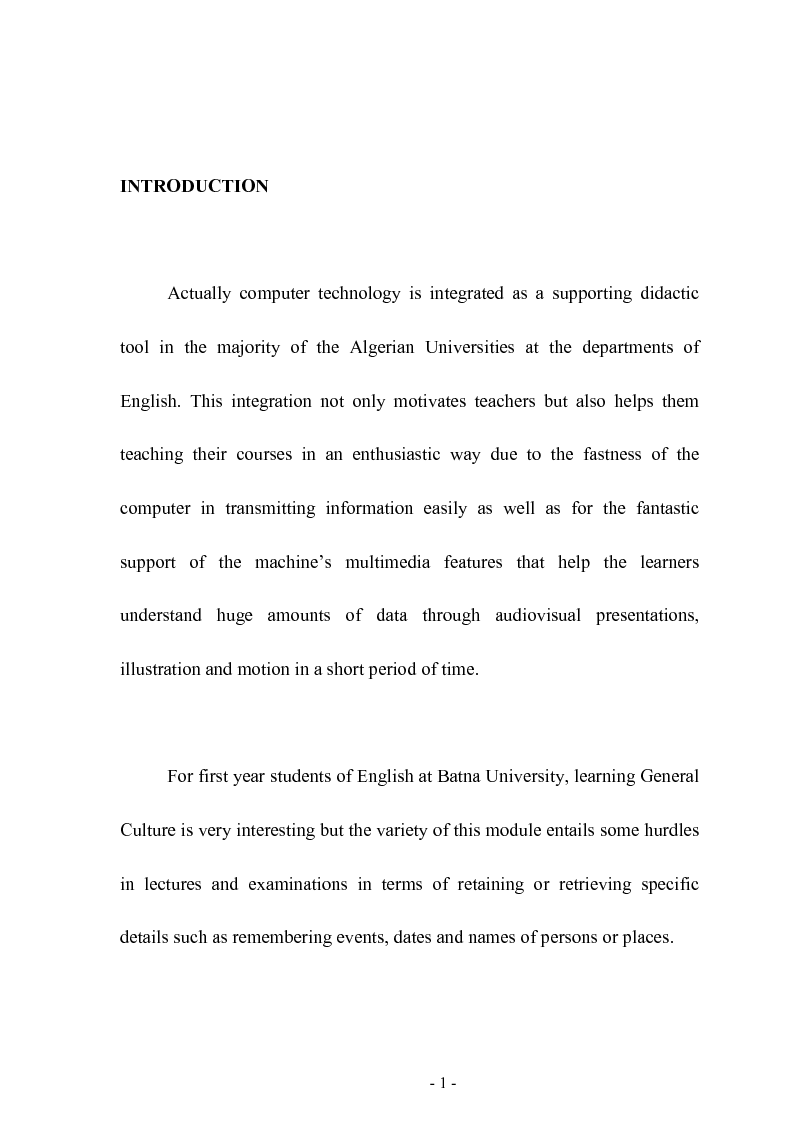 Mostra/Nascondi contenuto.
INTRODUCTION Actually computer technology is integrated as a supporting didactic tool in the majority of the Algerian Universities at the departments of English. This integration not only motivates teachers but also helps them teaching their courses in an enthusiastic way due to the fastness of the computer in transmitting information easily as well as for the fantastic support of the machine's multimedia features that help the learners understand huge amounts of data through audiovisual presentations, illustration and motion in a short period of time. For first year students of English at Batna University, learning General Culture is very interesting but the variety of this module entails some hurdles in lectures and examinations in terms of retaining or retrieving specific details such as remembering events, dates and names of persons or places. - 1 -
International thesis/dissertation
Autore: Benboulaid Charif Contatta »
Composta da 117 pagine.
Questa tesi ha raggiunto 151 click dal 02/07/2008.
Disponibile in PDF, la consultazione è esclusivamente in formato digitale.