Car manufacturers' annual reports: a linguistic analysis of corporate culture and values
This thesis aims at identifying the corporate culture and values communicated by car manufacturers by means of a detailed linguistic analysis of some narrative parts of their Annual Reports. It corresponds to a computerised investigation of a corpus of Annual Reports published by five international automakers: Fiat Group, General Motors Corporation, DaimlerChrysler AG, Renault SA and Nissan Motor Company. The corpus collects the Annual Reports which each company published on the Web between 2000 and 2006 (an exception is represented by General Motors, which made available Annual Reports from 2002 to 2006). The general corpus, therefore, is constituted of thirty-three documents. The linguistic analysis has focused on a sub-corpus, which includes only some narrative sections of the Annual Reports. The investigation has been carried out with the support of corpus processing tools and in particular the computer software WordSmith Tools (Scott, 1998). The present examination moves from the assumption that a substantial collection of texts belonging to the same genre enables researchers to identify some of its peculiar linguistic elements. This is an empirical approach which relies on the corpus as the primary source of knowledge about the use of language. Of equal importance for this research are the more business- and marketing-oriented studies about the relevance of corporate culture as a reference framework for the whole firm. Organisations need to build their own network of corporate values and to communicate them in an attempt to project an admirable corporate image and to establish long-term relations with stakeholders. Annual Reports were chosen for the analysis since they are considered one of the most complete corporate communication tools which firms have at their disposal. The linguistic investigation of the narrative parts of Annual Reports has been undertaken in the pursuit of two main goals. On the one hand, it is an attempt to detect the lexical keywords which refer to corporate values shared by all the companies selected. On the other hand, it aims at identifying the principles which distinguish each single firm from the others. As far as the former analysis is concerned, the words safety, environmental, quality, development and training turned out to be quantitatively significant. These terms, which are associated with corresponding corporate values, have been subsequently observed through concordances and collocations to understand their meaning and importance for the firms under investigation. In this context, the principle of transparency has turned out to lie at the foundations of the communication of the other values. The second analytical phase is characterised by a preliminary comparison between the most frequent lexical terms of the Annual Reports of each company. This procedure has allowed to ascertain, first of all, that Fiat Group highlights its interest towards research, development and good relationships with its employees. Secondly, General Motors is clearly oriented towards an international dimension of its business. Finally, Renault, Nissan and DaimlerChrysler emphasise their prospective projects by means of the continuous recourse to the modal will. In conclusion, the corporate values identified are interpreted as persuasive communicative strategies deployed by the companies under study for self-promotional purposes. In this respect, the firms emphasise their attention to customer satisfaction, and they simultaneously manage to focus on the reduction of costs in order to stress their profitability and their leading role in the market. Additionally, the value of transparency can be understood as a persuasive strategy by means of which well-selected information enables the firm to guide its publics of shareholders in the construction of a shared system of values and to inspire confidence in them. Nonetheless, this research must not be considered an exhaustive investigation. It should rather encourage a more in-depth examination of the results obtained and further research on the same topic or other related fields of enquiry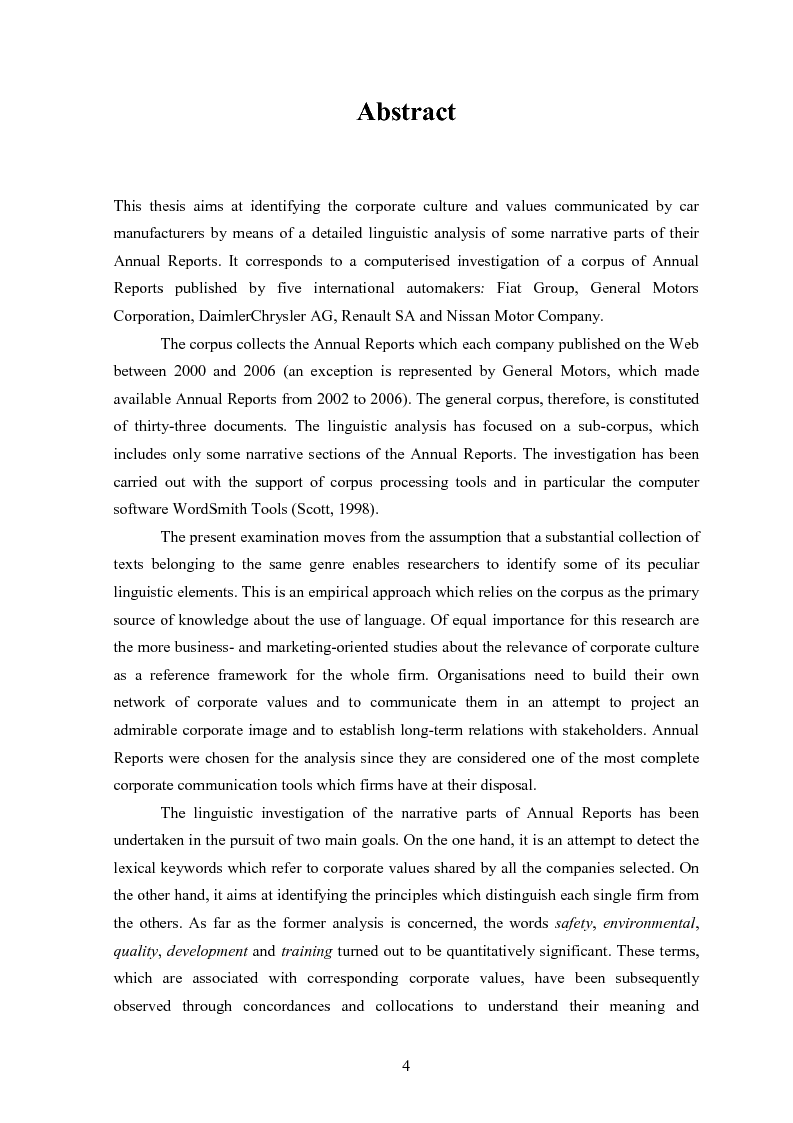 Mostra/Nascondi contenuto.
4 Abstract This thesis aims at identifying the corporate culture and values communicated by car manufacturers by means of a detailed linguistic analysis of some narrative parts of their Annual Reports. It corresponds to a computerised investigation of a corpus of Annual Reports published by five international automakers: Fiat Group, General Motors Corporation, DaimlerChrysler AG, Renault SA and Nissan Motor Company. The corpus collects the Annual Reports which each company published on the Web between 2000 and 2006 (an exception is represented by General Motors, which made available Annual Reports from 2002 to 2006). The general corpus, therefore, is constituted of thirty-three documents. The linguistic analysis has focused on a sub-corpus, which includes only some narrative sections of the Annual Reports. The investigation has been carried out with the support of corpus processing tools and in particular the computer software WordSmith Tools (Scott, 1998). The present examination moves from the assumption that a substantial collection of texts belonging to the same genre enables researchers to identify some of its peculiar linguistic elements. This is an empirical approach which relies on the corpus as the primary source of knowledge about the use of language. Of equal importance for this research are the more business- and marketing-oriented studies about the relevance of corporate culture as a reference framework for the whole firm. Organisations need to build their own network of corporate values and to communicate them in an attempt to project an admirable corporate image and to establish long-term relations with stakeholders. Annual Reports were chosen for the analysis since they are considered one of the most complete corporate communication tools which firms have at their disposal. The linguistic investigation of the narrative parts of Annual Reports has been undertaken in the pursuit of two main goals. On the one hand, it is an attempt to detect the lexical keywords which refer to corporate values shared by all the companies selected. On the other hand, it aims at identifying the principles which distinguish each single firm from the others. As far as the former analysis is concerned, the words safety, environmental, quality, development and training turned out to be quantitatively significant. These terms, which are associated with corresponding corporate values, have been subsequently observed through concordances and collocations to understand their meaning and
Laurea liv.II (specialistica)
Facoltà: Lettere e Filosofia
Autore: Chiara Balboni Contatta »
Composta da 111 pagine.
Questa tesi ha raggiunto 627 click dal 16/07/2008.
Consultata integralmente 8 volte.
Disponibile in PDF, la consultazione è esclusivamente in formato digitale.