Public Private Partnership: an Overview
Since 1990s Government worldwide have resorted to such initiatives such as privatization of the public assets, contracting out of services which were traditionally being provided by the public sector, or the use of the private capital to build social infrastructure. Privatization has occurred in different countries especially in the former Communists countries of central and east Europe. In UK, the most common type of partnership existed in Education and Health. Concessions to build road and railway network has been popular in Latin America, South East Asia, and South Africa. The concept of PPPs has existed for centuries in US and Europe but has become more prominent in recent decades for existing centuries.
This Thesis dwell upon the Concept of PPPs, International Experience and other sector specific experiences in PPPs world wide.

A partnership may involve extensive mode of financing or Management techniques from the private sector or as private facilities or services ( Mcdough, 1998). In the beginning the privatization and partnership (PPP) were used to mean the same thing. Carolle and steame 2000 defined privatization to include wide diversity of Partnerships and the circumstances in which they arise as agreed and cooperative ventures that involve at least one public and one private sector institutions as partners. There's no consensus about the concept of PPPs as being very ambiguous. Some argue that PPPs includes a wide range of cooperation between private and public sectors.
Chapter 2: Public Private Partnership: The International Experience

Origin of Public private partnerships:-
The concept of a working partnership between the private sector and public bodies is well established. CompagnieGénérale des Eaux (CGE), launched in 18 and the founders of Veolia Environnement, was contracted to supply water to the city of Lyons. The company was awarded a 0- year contract to supply water to Paris in 1860 and in 1867 won a contract with the municipality of Nantes to clear the streets of manure and refuse and to convert it into fertiliser. PPP toll tunnels were built in Hong Kong in the 1970s and American private prison companies were among the first in private provision of correctional facilities in the early 1980s.
Today, PPPs are common practice in delivering services. Many governments have already established such partnerships and achieved a great deal in delivering infrastructure – such as roads or buildings, or services .
World over, the private sector has increased its participation in building and operating infrastructure facilities through the PPP model. A significant number of infrastructure projects have been completed in developed and developing over the past 15-20 years. Between 1990 and 2001 more than 132 low and middle-income countries introduced private investment in infrastructure projects. During that period the private sector took over the operating/ construction risks or both for almost 2,500 infrastructure projects in developing countries, attracting investment commitments of more than US $ 750 billion. These projects have been implemented under schemes ranging from Service Contracts to Disinvestment. There are examples of large scale and wellknown projects such as Euro-Tunnel, which were implemented with private sector investment.
CHAPTER 3:- dwells on the Challenges of Infrastructure in South Asia - the Role of Public Private Partnerships(PPPs)"South Asia face a dual challenge in infrastructure: many households and businesses lack access to services, and those that do have access suffer from unreliable and poor-quality service. Problem of Power cuts and shortages ,lack of access to water supply 24/7 etc impose huge costs on consumers and burden on the poor people. Choked sewerage/drains and sewage-polluted water systems pose serious health hazards. Neglected maintenance of roads causing congestion and accidents , congested ports and poorly maintained highways are a scenario often found in the developing countries. Shortage of resources of governmental agencies to meet the demand for infrastructure has forced governments to evaluate options for involving the private sector2.Several countries pursuing broad PPP programs have set up dedicated, cross- sectoral professional units to guide and complement the efforts of line ministries and local governments in evolving frameworks for PPPs, methodologies for evaluating PPPs , standard contracts, monitoring and evaluation of bid pro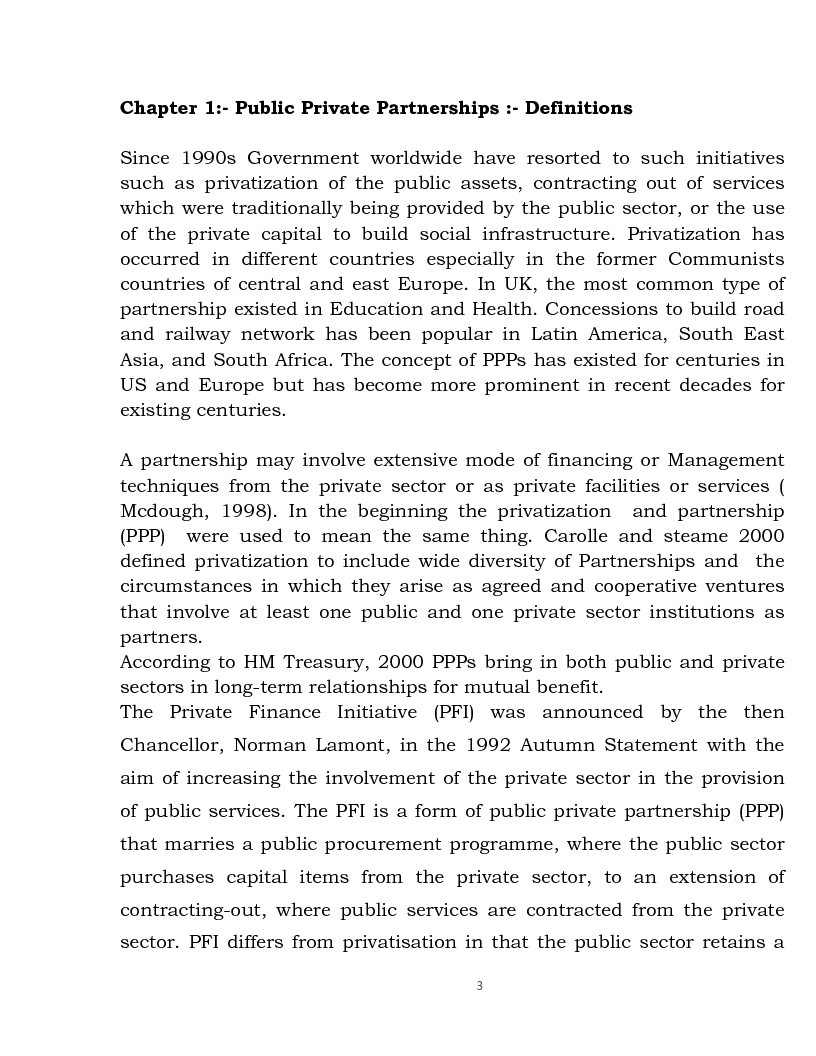 Mostra/Nascondi contenuto.
Chapter 1:- Public Private Partnerships :- Definitions Since 1990s Government worldwide have resorted to such initiatives such as privatization of the public assets, contracting out of services which were traditionally being provided by the public sector, or the use of the private capital to build social infrastructure. Privatization has occurred in different countries especially in the former Communists countries of central and east Europe. In UK, the most common type of partnership existed in Education and Health. Concessions to build road and railway network has been popular in Latin America, South East Asia, and South Africa. The concept of PPPs has existed for centuries in US and Europe but has become more prominent in recent decades for existing centuries. A partnership may involve extensive mode of financing or Management techniques from the private sector or as private facilities or services ( Mcdough, 1998). In the beginning the privatization and partnership (PPP) were used to mean the same thing. Carolle and steame 2000 defined privatization to include wide diversity of Partnerships and the circumstances in which they arise as agreed and cooperative ventures that involve at least one public and one private sector institutions as partners. According to HM Treasury, 2000 PPPs bring in both public and private sectors in long-term relationships for mutual benefit. The Private Finance Initiative (PFI) was announced by the then Chancellor, Norman Lamont, in the 1992 Autumn Statement with the aim of increasing the involvement of the private sector in the provision of public services. The PFI is a form of public private partnership (PPP) that marries a public procurement programme, where the public sector purchases capital items from the private sector, to an extension of contracting-out, where public services are contracted from the private sector. PFI differs from privatisation in that the public sector retains a 3
International thesis/dissertation
Autore: Prathibhaies Anirudhan Contatta »
Composta da 167 pagine.
Questa tesi ha raggiunto 430 click dal 29/10/2008.
Consultata integralmente una volta.
Disponibile in PDF, la consultazione è esclusivamente in formato digitale.