Design and Event Handling of Data Acquisition and Power Supply devices for FFMM at CERN
Space, time, matter... everything originated in the Big Bang, an incommensurably huge explosion that happened 13.7 billion years ago.The Large Hadron Collider (LHC) is the world's largest and highest-energy particle accelerator. It was built by the CERN with the intention of testing various predictions of high-energy physics, including the existence of the hypothesised Higgs boson and of the large family of new particles predicted by Supersymmetry.Beam optics of the LHC, requires stringent control of the field quality of about 8400 superconducting magnets, including 1232 main dipoles and 360 main quadrupoles to assure the correct machine operation.Standard magnetic measurements of accelerator magnets are based on the integration of a voltage signal in order to get the magnetic flux according to Faraday's law (mainly rotating coil).At CERN, Portable Digital Integrators (PDIs), based on gain programmable voltage-to-frequency converters, were developed and have been used for 20 years successfully over the world. The old generation of rotating coils allowed flux to be measured with integration timesof 10 ms. However, LHC magnet tests generated more constraining measurement requirements with a typical integration time of 10 μs. Such requirements are not satisfied by PDI, and moreover, a new digital integrator, known as Fast Digital Integrator (FDI) was proposed and developed at CERN.The tests require the control of various devices, moreover, for different measurement techniques and tests, different algorithms have to be implemented. In practice, the ideal situation would be to have a flexible software framework, providing a robust library to control remotely all the instrumentation involved in the tests, as well as the tools to help the user in the design of new measurement algorithms. These reasons led to launch the development of a new platform for magnetic measurements at CERN. The software Flexible Framework for Magnetic Measurements (FFMM) was subsequently developed to handle such platform.In this thesis work, design and event handling of several FFMM classes are proposed in order to allow the control of two strategic devices: a Data AcQuisition (DAQ) board and a low voltage Power Supply. Finally, experimental results of measurements carried out on the devices in two different laboratories (University of Sannio and CERN) will be described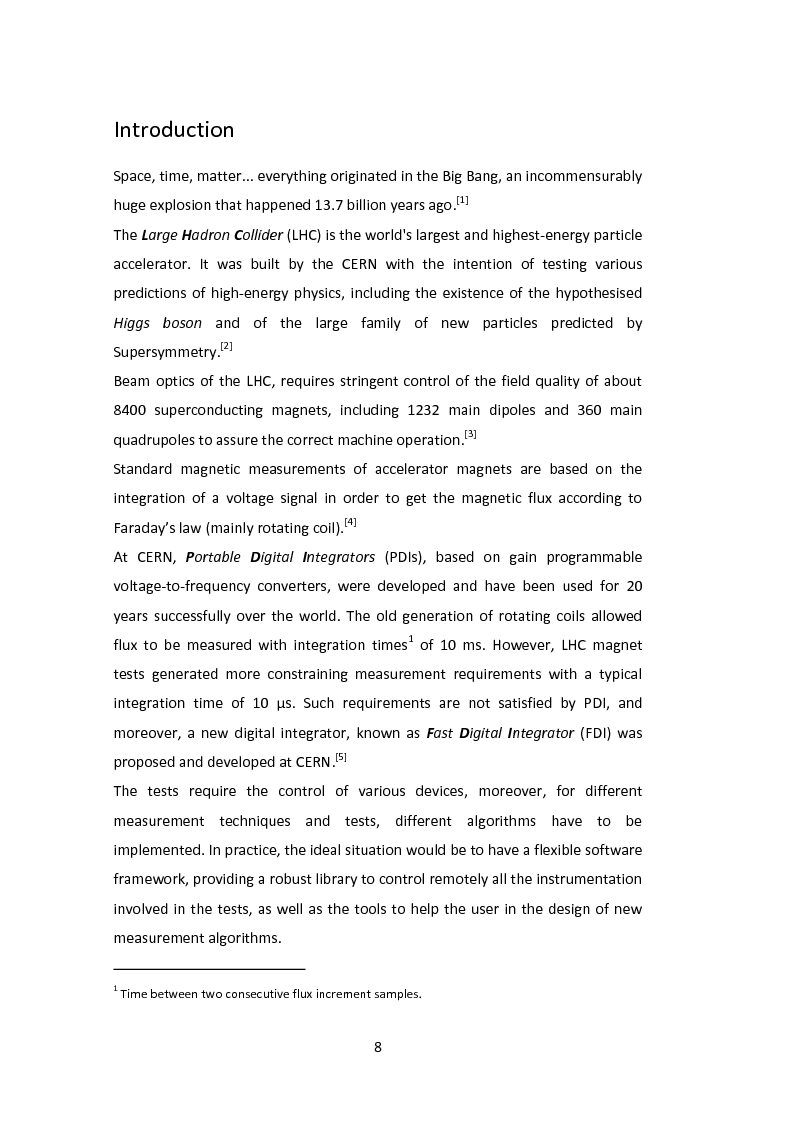 Mostra/Nascondi contenuto.
8 Introduction Space, time, matter... everything originated in the Big Bang, an incommensurably huge explosion that happened 13.7 billion years ago.[1] The Large Hadron Collider (LHC) is the world's largest and highest-energy particle accelerator. It was built by the CERN with the intention of testing various predictions of high-energy physics, including the existence of the hypothesised Higgs boson and of the large family of new particles predicted by Supersymmetry.[2] Beam optics of the LHC, requires stringent control of the field quality of about 8400 superconducting magnets, including 1232 main dipoles and 360 main quadrupoles to assure the correct machine operation.[3] Standard magnetic measurements of accelerator magnets are based on the integration of a voltage signal in order to get the magnetic flux according to Faraday's law (mainly rotating coil).[4] At CERN, Portable Digital Integrators (PDIs), based on gain programmable voltage-to-frequency converters, were developed and have been used for 20 years successfully over the world. The old generation of rotating coils allowed flux to be measured with integration times1 of 10 ms. However, LHC magnet tests generated more constraining measurement requirements with a typical integration time of 10 μs. Such requirements are not satisfied by PDI, and moreover, a new digital integrator, known as Fast Digital Integrator (FDI) was proposed and developed at CERN.[5] The tests require the control of various devices, moreover, for different measurement techniques and tests, different algorithms have to be implemented. In practice, the ideal situation would be to have a flexible software framework, providing a robust library to control remotely all the instrumentation involved in the tests, as well as the tools to help the user in the design of new measurement algorithms. 1 Time between two consecutive flux increment samples.
Laurea liv.II (specialistica)
Facoltà: Ingegneria
Autore: Fabio Corrado Contatta »
Composta da 163 pagine.
Questa tesi ha raggiunto 263 click dal 23/12/2008.
Disponibile in PDF, la consultazione è esclusivamente in formato digitale.