Limites do Direito de Propriedade Industrial de Plantas
In this dissertation the limits of the industrial, intellectual property rights as applied to plants are analyzed. The limits of the legal rights are unfold by the analysis of the theory of industrial property, the related, the theory of the social function of the property, international treaties, and by present laws, and available data bank on industrial property in the United States of America, European Union, and Brazil. The aim of this work is to point out how Brazilian laws and jurisprudence deal with the limits of the intellectual property rights of plants in the two used protection systems, the variety protection and the patent ones. To embody this study with a field work we proceeded a search on how people of the grape and wine industry of the State of Rio Grande do Sul, Brazil perceive the existence and the enforcement of this kind of right protection, and its limits when applied to vines. The method of analysis used in this study is the deductive one, its application by the way of a study case using the mesoanalysis of the organizational field theory. The principal points of the results of this study are: 1) the limits of the intellectual, industrial property rights are related to time, territory, legal and mandatory matters, and to exhaustion of rights; 2) there are indeed an incipient Brazilian jurisprudence, which deals with the subject in a non-uniform way; 3) representatives from the grape and wine industry of the State of Rio Grande do Sul do recognize the existence of the intellectual, industrial property rights applied to vines in Brazil, and understand them as an important form of property protection for the country. The lack of knowledge, and the eventual disregard for this kind of legal protection, and the lack of the corresponding law enforcement as well, might become significant sources of difficulties for fully implementing the intellectual, industrial property rights in the country. As a rule, people involved in the grape and wine business know very little about the limits of these legal rights, but do recognize a positive relationship between the intellectual, industrial property rights and the process of technology innovation, and hope that these rights will soon be widely enforced in Brazil. As a conclusion, a framework is proposed for application of the intellectual, industrial property rights related to protected plants, aiming orienting the recognition of the rights of the inventor, and of the users of these plants, and the corresponding limits of the rights called upon.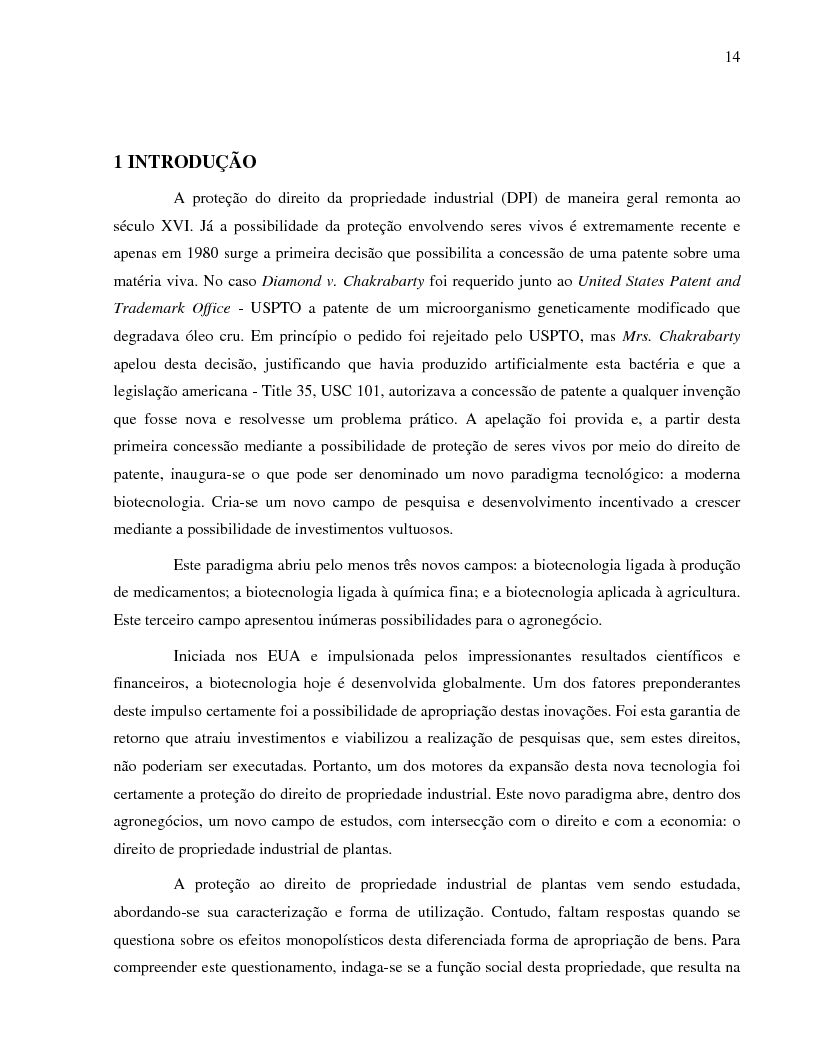 Mostra/Nascondi contenuto.
14 1 INTRODUÇÃO A proteção do direito da propriedade industrial (DPI) de maneira geral remonta ao século XVI. Já a possibilidade da proteção envolvendo seres vivos é extremamente recente e apenas em 1980 surge a primeira decisão que possibilita a concessão de uma patente sobre uma matéria viva. No caso Diamond v. Chakrabarty foi requerido junto ao United States Patent and Trademark Office - USPTO a patente de um microorganismo geneticamente modificado que degradava óleo cru. Em princípio o pedido foi rejeitado pelo USPTO, mas Mrs. Chakrabarty apelou desta decisão, justificando que havia produzido artificialmente esta bactéria e que a legislação americana - Title 35, USC 101, autorizava a concessão de patente a qualquer invenção que fosse nova e resolvesse um problema prático. A apelação foi provida e, a partir desta primeira concessão mediante a possibilidade de proteção de seres vivos por meio do direito de patente, inaugura-se o que pode ser denominado um novo paradigma tecnológico: a moderna biotecnologia. Cria-se um novo campo de pesquisa e desenvolvimento incentivado a crescer mediante a possibilidade de investimentos vultuosos. Este paradigma abriu pelo menos três novos campos: a biotecnologia ligada à produção de medicamentos; a biotecnologia ligada à química fina; e a biotecnologia aplicada à agricultura. Este terceiro campo apresentou inúmeras possibilidades para o agronegócio. Iniciada nos EUA e impulsionada pelos impressionantes resultados científicos e financeiros, a biotecnologia hoje é desenvolvida globalmente. Um dos fatores preponderantes deste impulso certamente foi a possibilidade de apropriação destas inovações. Foi esta garantia de retorno que atraiu investimentos e viabilizou a realização de pesquisas que, sem estes direitos, não poderiam ser executadas. Portanto, um dos motores da expansão desta nova tecnologia foi certamente a proteção do direito de propriedade industrial. Este novo paradigma abre, dentro dos agronegócios, um novo campo de estudos, com intersecção com o direito e com a economia: o direito de propriedade industrial de plantas. A proteção ao direito de propriedade industrial de plantas vem sendo estudada, abordando-se sua caracterização e forma de utilização. Contudo, faltam respostas quando se questiona sobre os efeitos monopolísticos desta diferenciada forma de apropriação de bens. Para compreender este questionamento, indaga-se se a função social desta propriedade, que resulta na
Tesi di Master
Autore: Kelly Bruch Contatta »
Composta da 226 pagine.
Questa tesi ha raggiunto 255 click dal 22/09/2009.
Disponibile in PDF, la consultazione è esclusivamente in formato digitale.