An Empirical Analysis of the Quality of the PPA - Purchase Price Allocation
Research Question - This study investigates acquirers' allocation of purchase price between goodwill and identifiable tangible and intangible assets upon the completion of acquisitions, showing the quality of financial accounting information concerning acquired assets.
The paper aims to analyze the reasons for the bad PPAs following the introduction of new accounting standards SFAS 141, 142, 157 and IFRS 3.
Design, Methodology, Approach – After surveying main research about market reactions to announcements of acquisition and PPA before and after the announcement, the paper shows the empirical analysis. Quality of accounting information is measured through the MPEEM Multiperiod Excess Earnings Method. In order to verify the hypothesis of this research, it will be used a twostep approach, where the first step consists of identifying the companies with an incorrect PPA, i.e. enterprises where the targets' EBIT are major than the sum of every capital assets charge, explanation of the bad PPA. The second step consists of an analysis of the shareholders' reaction for companies that showed right and incorrect PPA.
Findings – Taking a look at bigger subsets of companies segregated by major assets groups, there appears to be a undefined relationship between the quality of PPA and company's Share Price Trends. As a consequence of that, we expect a relationships between stock prices of companies with bad PPAs and expected dividend yields.
The study reveals that smaller reactions to bad PPAs should see a bigger dividend yield than bigger reactions to a smaller dividend. Accordingly, investors will a priori expect management to be more optimistic about future prospects, and will therefore expect strong dividend signals.
This paper presents linear regression analysis on these experimental results and tries to find an empirical equation between them.
These findings support the conclusion that the path chosen by the empirical analysis is correct, although some critical areas still exist.
Practical implications – The methodology proposed in this paper can represent a potential guideline for a wide range of researches concerning the quality of accounting information.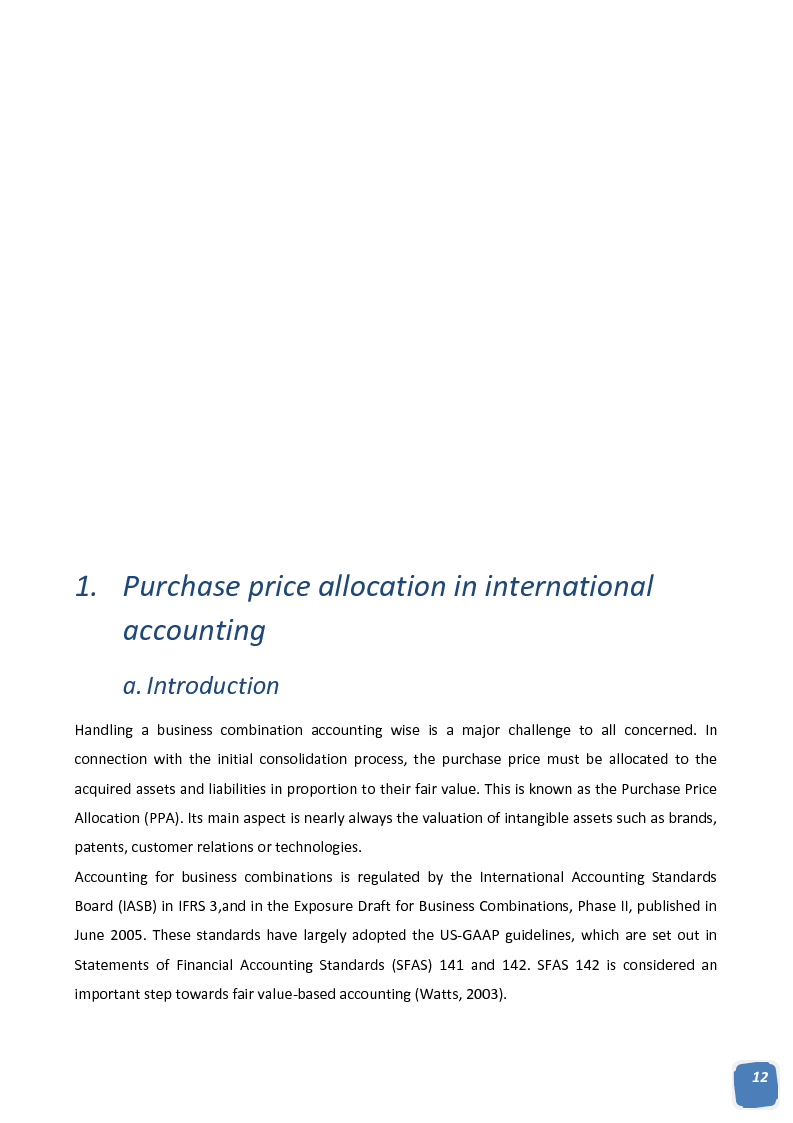 Mostra/Nascondi contenuto.
12 1. Purchase price allocation in international accounting a. Introduction Handling a business combination accounting wise is a major challenge to all concerned. In connection with the initial consolidation process, the purchase price must be allocated to the acquired assets and liabilities in proportion to their fair value. This is known as the Purchase Price Allocation (PPA). Its main aspect is nearly always the valuation of intangible assets such as brands, patents, customer relations or technologies. Accounting for business combinations is regulated by the International Accounting Standards Board (IASB) in IFRS 3,and in the Exposure Draft for Business Combinations, Phase II, published in June 2005. These standards have largely adopted the US-GAAP guidelines, which are set out in Statements of Financial Accounting Standards (SFAS) 141 and 142. SFAS 142 is considered an important step towards fair value-based accounting (Watts, 2003).
Laurea liv.II (specialistica)
Facoltà: Economia
Autore: Stefano Fulgi Contatta »
Composta da 152 pagine.
Questa tesi ha raggiunto 605 click dal 31/03/2009.
Consultata integralmente 4 volte.
Disponibile in PDF, la consultazione è esclusivamente in formato digitale.