Transgressive Genders, Transgressive Genres: the Gothic in Muriel Spark and Carson McCullers
As a literary genre, the Gothic is a difficult subject to deal with. Though its principal themes and features can be easily enumerated, the genre itself is extremely mutable and generically impure. Hence, among haunted houses, evil villains, ghosts, gloomy landscapes, madness, terror, suspense, horror, all univocally classified as "gothic," the essence of the genre remains unclear. The reason being the Gothic's obsession with transgressing boundaries.
The scope of the following dissertation is to first present the idea of transgression, which concerns not only the genre itself, but actually becomes one of the constituent themes of the Gothic genre. The subsequent aim is to prove that the notion of destabilizing conventions implied by the term transgression is not a weakness of the genre, but its actual strength. The first part of the title reflects upon the equivocalness of the term transgression, which in turn forces another term, that of a "boundary." There exist thus diverse frontiers on which the Gothic resides: between genders, literary fields, through centuries of literary history, between countries and continents, within a human psyche and its double identity, between realism and fiction. However, often the line of division is construed artificially, according to dominating culture and politics. This study attempts to present how this general inclination to conventionalize and institutionalize certain rules can be broken, derided, devalued, and trespassed within the Gothic. The Gothic should be, first of all, understood as a propagator of ambiguity and relativity of meaning.
My intention, then, is to illustrate the Gothic as a genre which eschews clear distinctions and definitions, based on the principle of ambiguity. In fact, the only certainty one can have about the Gothic is its constant transformation of its shape and focus. This is what makes of the Gothic a highly discussed and controversial genre. Gothic texts have always been marginalized or excluded from the sphere of accepted literature, because accused of tastelessness and vulgarity, especially when considered as popular fiction. One could ask why, despite being called escapist and popular, Gothic has still exerted power on other literary genres and generations of writers. The answer resides in the fact, that, though these "thrilling tales of horror seemingly have no relationship to reality … gothic stories are intimately connected to the culture that proceeds them." Thus, Gothic is the genre that most adequately "registers its culture's contradictions, presenting a distorted , yet not a disengaged version of reality" (Goddu: 2-3), much as its plots and intriguing effects depend on the supernatural.
For their recognition of human fallibility, insistence upon the evil and the bitterness behind the dolce vita, I decided to analyze Muriel Spark and Carson McCullers. Both are truly moralists who bespeak the dark side of the psyche, to then treat it not as an index of deviancy but rather of "normality" in an imperfect yet perfection-oriented world. In general, the characteristic shared by Spark and McCullers with the Gothic mode is that they both base their writings on two paradigms, economy and artificiality. These are such qualities as: an emotionally detached narrator, formality, concision, and some artifice, that additionally suggest a kind of absurdity of the characters and situations, "a tone of mockery by stylistic terseness, which reveals in a sentence or two the ridiculous, odd and petty nature of an individual". These days, theorists of the Gothic are prone to classify it as a dominant popular genre, especially if defined loosely. It then must be defined so, "for it is always a boundary breaker which erodes any neat distinction between formats and modes, combining sentimentality and the grotesque, romance and terror, the heroic and the pathetic, philosophy and nonsense (…) This promiscuous generic cross-breeding is part of the gothic's 'subverting' of stable norms, collapsing of 'binary oppositions' which makes it appropriate for a postmodern sensibility."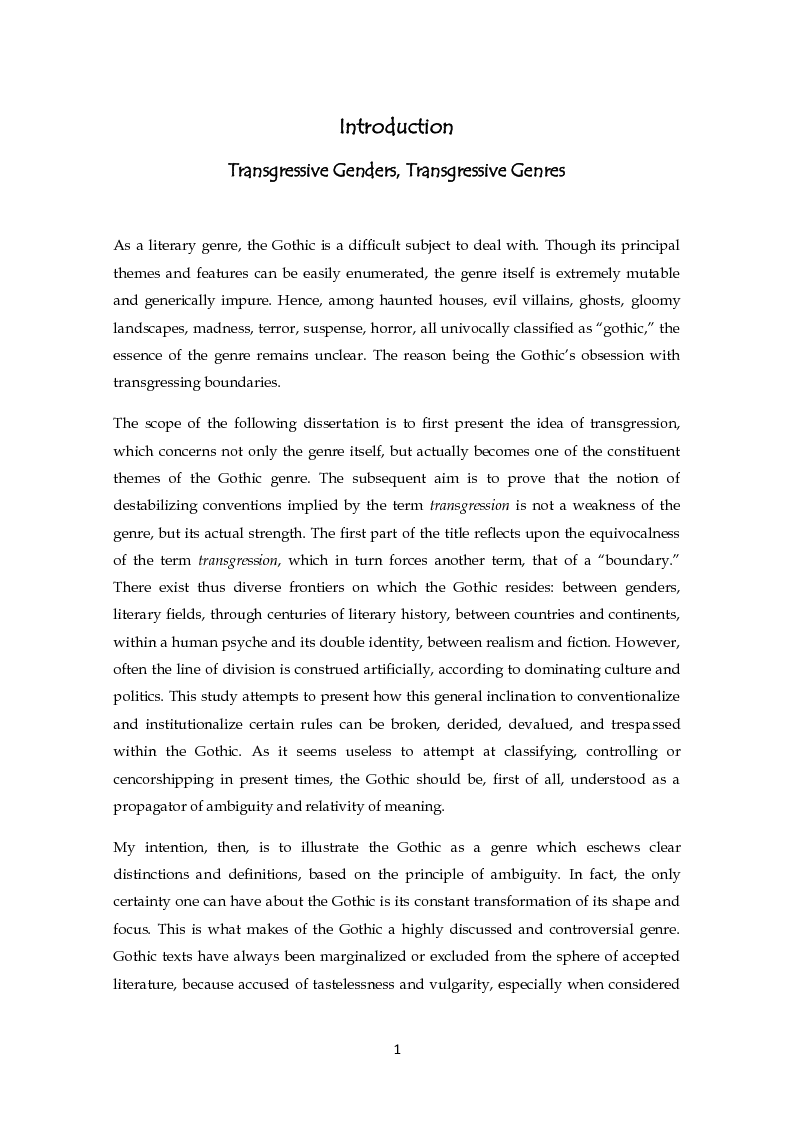 Mostra/Nascondi contenuto.
1 Introduction Transgressive Genders, Transgressive Genres As a literary genre, the Gothic is a difficult subject to deal with. Though its principal themes and features can be easily enumerated, the genre itself is extremely mutable and generically impure. Hence, among haunted houses, evil villains, ghosts, gloomy landscapes, madness, terror, suspense, horror, all univocally classified as ―gothic,‖ the essence of the genre remains unclear. The reason being the Gothic's obsession with transgressing boundaries. The scope of the following dissertation is to first present the idea of transgression, which concerns not only the genre itself, but actually becomes one of the constituent themes of the Gothic genre. The subsequent aim is to prove that the notion of destabilizing conventions implied by the term transgression is not a weakness of the genre, but its actual strength. The first part of the title reflects upon the equivocalness of the term transgression, which in turn forces another term, that of a ―boundary.‖ There exist thus diverse frontiers on which the Gothic resides: between genders, literary fields, through centuries of literary history, between countries and continents, within a human psyche and its double identity, between realism and fiction. However, often the line of division is construed artificially, according to dominating culture and politics. This study attempts to present how this general inclination to conventionalize and institutionalize certain rules can be broken, derided, devalued, and trespassed within the Gothic. As it seems useless to attempt at classifying, controlling or cencorshipping in present times, the Gothic should be, first of all, understood as a propagator of ambiguity and relativity of meaning. My intention, then, is to illustrate the Gothic as a genre which eschews clear distinctions and definitions, based on the principle of ambiguity. In fact, the only certainty one can have about the Gothic is its constant transformation of its shape and focus. This is what makes of the Gothic a highly discussed and controversial genre. Gothic texts have always been marginalized or excluded from the sphere of accepted literature, because accused of tastelessness and vulgarity, especially when considered
Laurea liv.II (specialistica)
Facoltà: Lettere e Filosofia
Autore: Jagoda Paulina Piotrowska Contatta »
Composta da 144 pagine.
Questa tesi ha raggiunto 296 click dal 05/05/2009.
Consultata integralmente una volta.
Disponibile in PDF, la consultazione è esclusivamente in formato digitale.