An Investigation into the Effectiveness and Feasibility of Telkom Kenya Ltd in Using Electronic Customer Relationship Management for Competitive Advantage
A research into the area of Electronic Customer Relationship Management (ECRM) particularly focused on investigating their feasibility and effectiveness of Telkom Kenya Ltd (TKL) in using ECRM for competitive advantage. A background of TKL is first outlined. The current practice of service provision to clients is via letters, telephone, or in person and a few of the services provided in the TKL website. Literature on the current and emerging technologies and applications for ECRM is reviewed, and shows that organizations are at varying stages of providing ECRM, ranging from information on websites to fully interactive services. Key challenges to ECRM include internal organizational issues, political and vested interests, information skills development, costs, management involvement, security.

The details of the research survey conducted to obtain views of staff in the service departments on the feasibility and effectiveness of ECRM for competitive advantage is described. The survey was carried out by using structured questionnaire, resulting to a response rate of 56%. The derived conclusion was that ECRM was feasible for some services and not all. The efficiency of the provision of services was seen to improve with the implementation of ECRM thus retention of customers and increase of revenue. The majority of the departments had targets of 5 years to achieve ECRM in their service provision. The departments that utilized IT and ECRM had a more positive outlook on implementation of ECRM to give competitive advantage the other departments that had lesser involvement with the client and IT in their daily tasks had negative view of ECRM. The technology and the advancement of it combined with the Government commitment has been an encouraging factor in TKL exploiting ECRM. An ECRM ''model'' is developed as recommendation from the findings of the research. TKL needs to commit to use ECRM and enforce it in every department to increase efficiency in customer care and work directly with promoters of ECRM to achieve organizational targets of ECRM in TKL.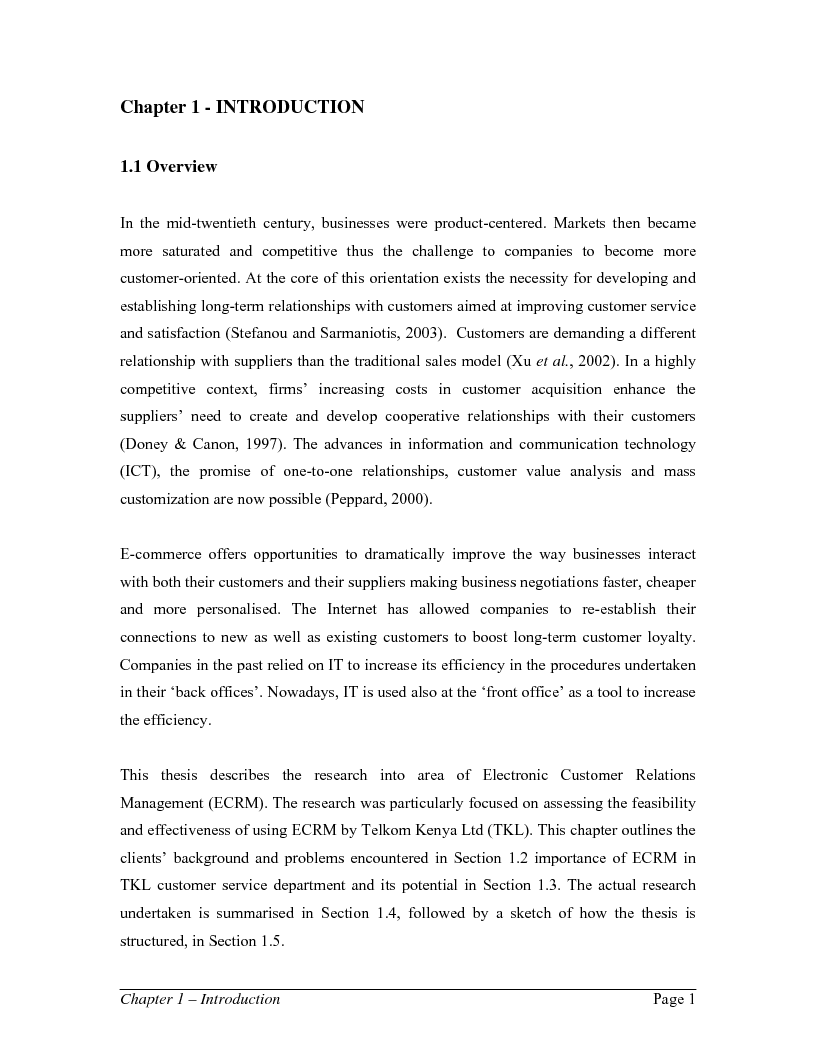 Mostra/Nascondi contenuto.
Chapter 1 - INTRODUCTION 1.1 Overview In the mid-twentieth century, businesses were product-centered. Markets then became more saturated and competitive thus the challenge to companies to become more customer-oriented. At the core of this orientation exists the necessity for developing and establishing long-term relationships with customers aimed at improving customer service and satisfaction (Stefanou and Sarmaniotis, 2003). Customers are demanding a different relationship with suppliers than the traditional sales model (Xu et al., 2002). In a highly competitive context, firms' increasing costs in customer acquisition enhance the suppliers' need to create and develop cooperative relationships with their customers (Doney & Canon, 1997). The advances in information and communication technology (ICT), the promise of one-to-one relationships, customer value analysis and mass customization are now possible (Peppard, 2000). E-commerce offers opportunities to dramatically improve the way businesses interact with both their customers and their suppliers making business negotiations faster, cheaper and more personalised. The Internet has allowed companies to re-establish their connections to new as well as existing customers to boost long-term customer loyalty. Companies in the past relied on IT to increase its efficiency in the procedures undertaken in their 'back offices'. Nowadays, IT is used also at the 'front office' as a tool to increase the efficiency. This thesis describes the research into area of Electronic Customer Relations Management (ECRM). The research was particularly focused on assessing the feasibility and effectiveness of using ECRM by Telkom Kenya Ltd (TKL). This chapter outlines the clients' background and problems encountered in Section 1.2 importance of ECRM in TKL customer service department and its potential in Section 1.3. The actual research undertaken is summarised in Section 1.4, followed by a sketch of how the thesis is structured, in Section 1.5. Chapter 1 – Introduction Page 1
International thesis/dissertation
Autore: Beatrice Cheruiyot Contatta »
Composta da 82 pagine.
Questa tesi ha raggiunto 73 click dal 19/06/2009.
Consultata integralmente una volta.
Disponibile in PDF, la consultazione è esclusivamente in formato digitale.