Changing Places / Scambi: a novel by David Lodge; a Linguistic and Cultural Analysis of the English Text and Its Italian Translation
An analysis of problems when translating from English into Italian the book of the British author David Lodge.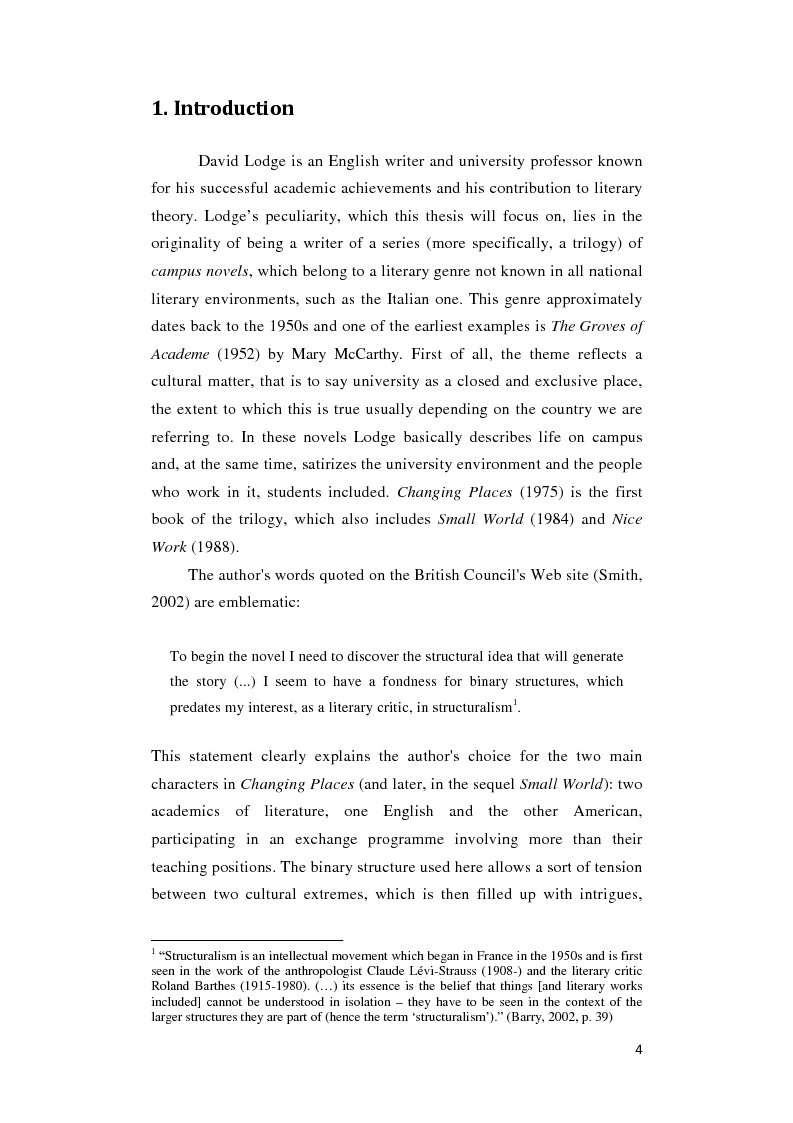 Mostra/Nascondi contenuto.
4 1. Introduction David Lodge is an English writer and university professor known for his successful academic achievements and his contribution to literary theory. Lodge s peculiarity, which this thesis will focus on, lies in the originality of being a writer of a series (more specifically, a trilogy) of campus novels, which belong to a literary genre not known in all national literary environments, such as the Italian one. This genre approximately dates back to the 1950s and one of the earliest examples is The Groves of Academe (1952) by Mary McCarthy. First of all, the theme reflects a cultural matter, that is to say university as a closed and exclusive place, the extent to which this is true usually depending on the country we are referring to. In these novels Lodge basically describes life on campus and, at the same time, satirizes the university environment and the people who work in it, students included. Changing Places (1975) is the first book of the trilogy, which also includes Small World (1984) and Nice Work (1988). The author's words quoted on the British Council's Web site (Smith, 2002) are emblematic: To begin the novel I need to discover the structural idea that will generate the story (...) I seem to have a fondness for binary structures, which predates my interest, as a literary critic, in structuralism1. This statement clearly explains the author's choice for the two main characters in Changing Places (and later, in the sequel Small World): two academics of literature, one English and the other American, participating in an exchange programme involving more than their teaching positions. The binary structure used here allows a sort of tension between two cultural extremes, which is then filled up with intrigues, 1 Structuralism is an intellectual movement which b egan in France in the 1950s and is first seen in the work of the anthropologist Claude LØvi-Strauss (1908-) and the literary critic Roland Barthes (1915-1980). ( ) its essence is the belief that things [and literary works included] cannot be understood in isolation they have to be seen in the context of the larger structures they are part of (hence the term structuralism ). (Barry, 2002, p. 39)
Laurea liv.I
Facoltà: Lettere e Filosofia
Autore: Claudio Pinna Contatta »
Composta da 45 pagine.
Questa tesi ha raggiunto 604 click dal 27/08/2009.
Disponibile in PDF, la consultazione è esclusivamente in formato digitale.