The Zapatistas: A Counter Hegemonic Movement?
This thesis uses a Gramscian framework to analyse the Zapatistas movement that epitomises the historical struggle of Mexican hegemony and civil society. When we dissect the strategies implemented by the Zapatistas their attempt to create an organic revolution is apparent but also incorporating modern technology such as the media and internet to legitimate the movement. In a wider context, they have provided some response to the growing concerns within the neoliberal paradigm and simultaneously given modern substance to Gramsci's theory of hegemony and subsequently counter-hegemony.

In this thesis I will use Zapatistas and EZLN (Zapatista Army of National Liberation) but Zapatistas encapsulates the broader dimensions of the movement.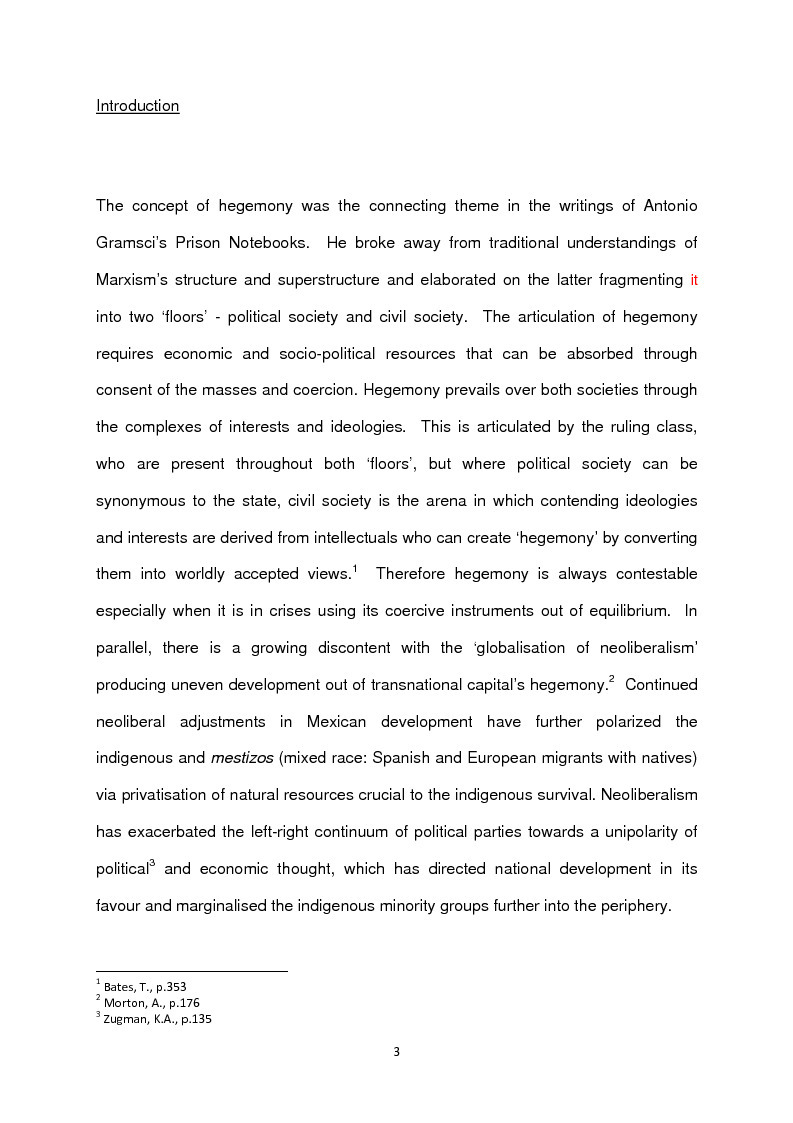 Mostra/Nascondi contenuto.
Introduction The concept of hegemony was the connecting theme in the writings of Antonio Gramsci's Prison Notebooks. He broke away from traditional understandings of Marxism's structure and superstructure and elaborated on the latter fragmenting it into two 'floors' - political society and civil society. The articulation of hegemony requires economic and socio-political resources that can be absorbed through consent of the masses and coercion. Hegemony prevails over both societies through the complexes of interests and ideologies. This is articulated by the ruling class, who are present throughout both 'floors', but where political society can be synonymous to the state, civil society is the arena in which contending ideologies and interests are derived from intellectuals who can create 'hegemony' by converting them into worldly accepted views. 1 Therefore hegemony is always contestable especially when it is in crises using its coercive instruments out of equilibrium. In parallel, there is a growing discontent with the 'globalisation of neoliberalism' producing uneven development out of transnational capital's hegemony. 2 Continued neoliberal adjustments in Mexican development have further polarized the indigenous and mestizos (mixed race: Spanish and European migrants with natives) via privatisation of natural resources crucial to the indigenous survival. Neoliberalism has exacerbated the left-right continuum of political parties towards a unipolarity of political 3 and economic thought, which has directed national development in its favour and marginalised the indigenous minority groups further into the periphery. 1 Bates, T., p.353 2 Morton, A., p.176 3 Zugman, K.A., p.135 3
International thesis/dissertation
Autore: Kishan Galliara Contatta »
Composta da 35 pagine.
Questa tesi ha raggiunto 82 click dal 01/02/2010.
Disponibile in PDF, la consultazione è esclusivamente in formato digitale.