Jeff Koons and the use of American English
Nowadays Je! Koons is one of the most famous contemporary artists in the artistic panorama worldwide, and his artworks have always drawn the attention because during his carrier he has always proposed objects, sculptures and pictures which perfectly represent contemporary society through its symbols and images, and they also reflect the power of the mass media industry on people's consciousness and habits. Koons was born in 1955 in York, Pennsylvania, attended the Maryland Institute of Art of Baltimora and the School of Art Institute of Chicago and now is continuing his artistic activity in his studio in New York City. The first chapter of my thesis is a brief introduction to the American artist, his poetics and his personal exhibitions from 1979 to 2008. But this study concerning the American artist has the main purpose of highlighting the linguistic differences between the two most important varieties of the English language, British English (BrE) and American English (AmE), whose linguistic diversities will concern vocabulary, spelling, grammar, pronunciation and language use. I have introduced this topic in the second chapter making a general overview from a historical and sociolinguistic point of view, underlining the main historical causes which led to the differentiation of the two varieties and describing the current sociolinguistic situation of the United States. In the third chapter, I have analyzed the differences in vocabulary, grammar and spelling thanks to a comparative analysis between American English and British English; and in order to better highlight these linguistic differences, I have drawn my examples from both audiovisual and written interviews of the American artist. With regard to the differences in vocabulary and spelling, I have concentrated on some quotations from The Je! Koons Handbook by Je! Koons (1992), the artist's interview published in Je! Koons - Pictures 1980-2002 by Thomas Kellein and finally the interview appeared on The Journal of Contemporary Art by Klaus Ottmann (1986). First of all, I have decided to work on these materials because they were published in printed editions and for this reason the analysis of the terms used by the artist appears to be easier. Concerning the American English use of grammar, I have concentrated on both the printed quotations and interviews, and the audiovisual interview broadcasted on Bloomberg Television on 14th July 2008. Finally, I have decided to dedicate the last chapter to a brief analysis of the linguistic function in Je! Koons' language and this analysis has been an interesting aspect of my study because Koons, as the majority of the conceptual artists, is enough difficult to understand immediately, but it is particularly difficult to comprehend exactly the peculiar artistic expressions he uses. For this reason, it has been interesting to observe and analyze how the a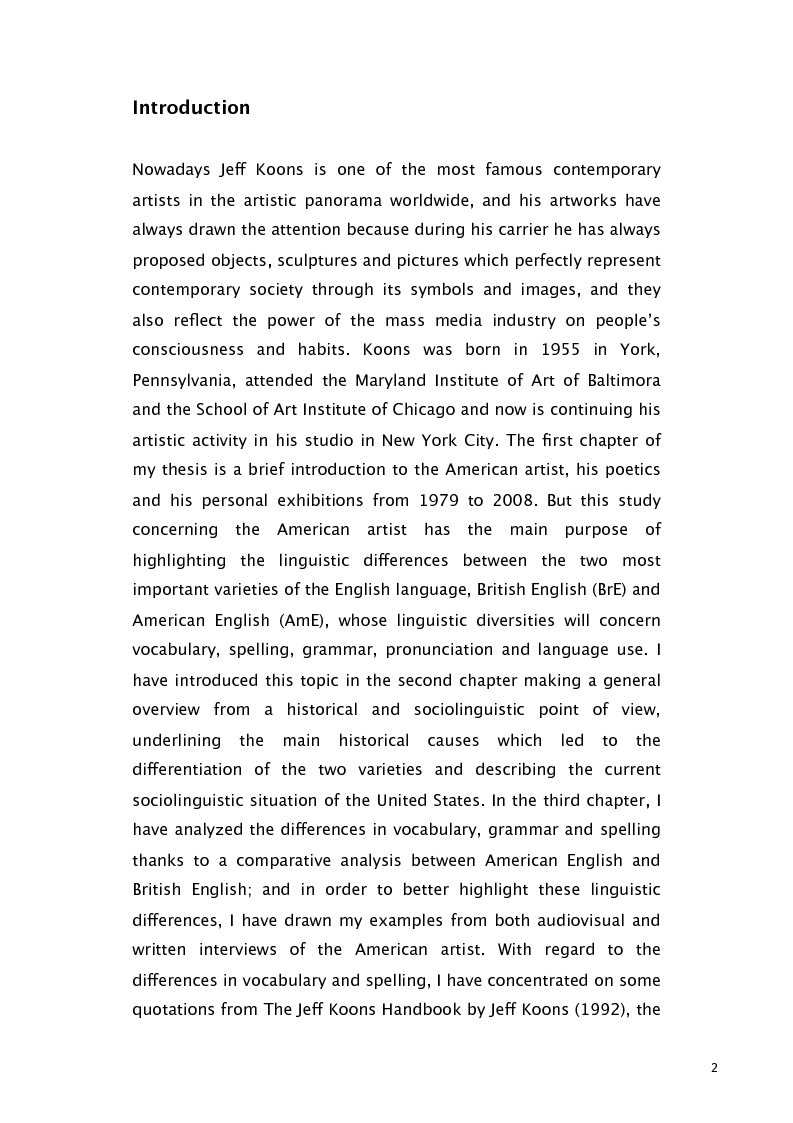 Mostra/Nascondi contenuto.
Introduction Nowadays Jeff Koons is one of the most famous contemporary artists in the artistic panorama worldwide, and his artworks have always drawn the attention because during his carrier he has always proposed objects, sculptures and pictures which perfectly represent contemporary society through its symbols and images, and they also reflect the power of the mass media industry on people's consciousness and habits. Koons was born in 1955 in York, Pennsylvania, attended the Maryland Institute of Art of Baltimora and the School of Art Institute of Chicago and now is continuing his artistic activity in his studio in New York City. The first chapter of my thesis is a brief introduction to the American artist, his poetics and his personal exhibitions from 1979 to 2008. But this study concerning the American artist has the main purpose of highlighting the linguistic differences between the two most important varieties of the English language, British English (BrE) and American English (AmE), whose linguistic diversities will concern vocabulary, spelling, grammar, pronunciation and language use. I have introduced this topic in the second chapter making a general overview from a historical and sociolinguistic point of view, underlining the main historical causes which led to the differentiation of the two varieties and describing the current sociolinguistic situation of the United States. In the third chapter, I have analyzed the differences in vocabulary, grammar and spelling thanks to a comparative analysis between American English and British English; and in order to better highlight these linguistic differences, I have drawn my examples from both audiovisual and written interviews of the American artist. With regard to the differences in vocabulary and spelling, I have concentrated on some quotations from The Jeff Koons Handbook by Jeff Koons (1992), the 2
Laurea liv.I
Facoltà: Lingue e Letterature Straniere Moderne
Autore: Alessia Maggi Contatta »
Composta da 69 pagine.
Questa tesi ha raggiunto 283 click dal 11/05/2010.
Consultata integralmente una volta.
Disponibile in PDF, la consultazione è esclusivamente in formato digitale.