Museums Going Global? Lights and Shadows of Leveraging a Museum Brand Internationally
Concepts and phenomena such as internationalization and global branding are becoming increasingly common terms, and are invading industries we would have never imagined, like museums. The aim of this research project is to investigate the meaning of going global for museums and the extent to which these institutions leverage their brands to internationalize themselves.

The first chapter explores global branding theory, by analyzing the advantages and disadvantages of establishing and managing a global brand. A number of global branding strategies and empirical studies are also discussed.

The museums' peculiar world is then introduced: as we are entering the 21st century, museums find themselves changing and evolving rapidly. Reinvention is featured by examining the application of management and marketing to these institutions. In particular, the importance of brand and positioning of museums, due to the fierce competition within the leisure and arts world, with recognized and discussed.

An empirical analysis of…was carried out. It included a website analysis of the fifteen most frequently visited museums in the world, a study of the experiences of setting up international branches for the Guggenheim and the Louvre, and in-depth interviews with experts from the Vaticans. Results showed that museums are going global and that there are several available methods to the process of internationalization. Numerous issues have to be carefully considered before going global, especially in the case of museums. The findings herein confirm the hypothesis that brand is a key factor in the process of internationalization. On the basis of these results, the case of the Vatican Museums was analyzed using in-depth interviews with professionals, experts, and visitors, to investigate the issues of going global for museums strongly rooted in one particular country.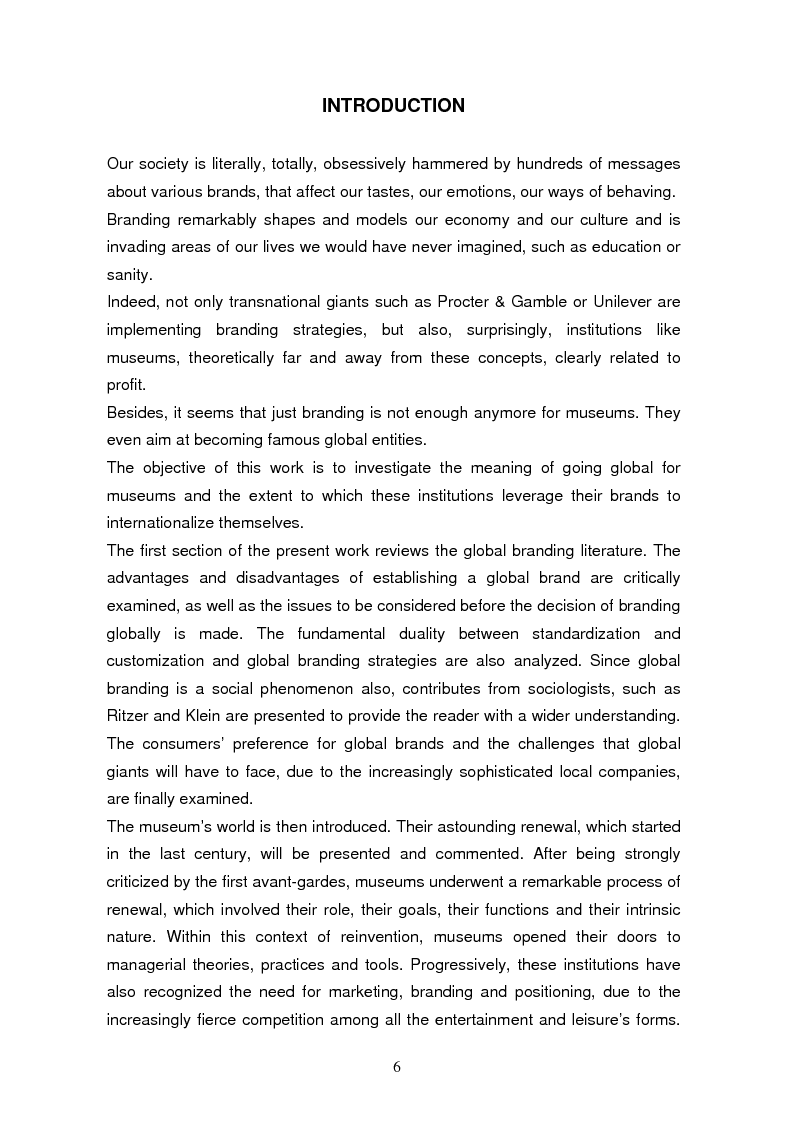 Mostra/Nascondi contenuto.
INTRODUCTION Our society is literally, totally, obsessively hammered by hundreds of messages about various brands, that affect our tastes, our emotions, our ways of behaving. Branding remarkably shapes and models our economy and our culture and is invading areas of our lives we would have never imagined, such as education or sanity. Indeed, not only transnational giants such as Procter & Gamble or Unilever are implementing branding strategies, but also, surprisingly, institutions like museums, theoretically far and away from these concepts, clearly related to profit. Besides, it seems that just branding is not enough anymore for museums. They even aim at becoming famous global entities. The objective of this work is to investigate the meaning of going global for museums and the extent to which these institutions leverage their brands to internationalize themselves. The first section of the present work reviews the global branding literature. The advantages and disadvantages of establishing a global brand are critically examined, as well as the issues to be considered before the decision of branding globally is made. The fundamental duality between standardization and customization and global branding strategies are also analyzed. Since global branding is a social phenomenon also, contributes from sociologists, such as Ritzer and Klein are presented to provide the reader with a wider understanding. The consumers' preference for global brands and the challenges that global giants will have to face, due to the increasingly sophisticated local companies, are finally examined. The museum's world is then introduced. Their astounding renewal, which started in the last century, will be presented and commented. After being strongly criticized by the first avant-gardes, museums underwent a remarkable process of renewal, which involved their role, their goals, their functions and their intrinsic nature. Within this context of reinvention, museums opened their doors to managerial theories, practices and tools. Progressively, these institutions have also recognized the need for marketing, branding and positioning, due to the increasingly fierce competition among all the entertainment and leisure's forms. 6
Laurea liv.II (specialistica)
Facoltà: Economia e Management per l'Arte, la Cultura e la Comunicazione
Autore: Francesca Tortorella Contatta »
Composta da 91 pagine.
Questa tesi ha raggiunto 1552 click dal 17/05/2010.
Consultata integralmente 3 volte.
Disponibile in PDF, la consultazione è esclusivamente in formato digitale.