An Exploration of the Connection between Human Resource Management and Organizational Culture to Enable Business Success and Growth in the UK Magazine Publishing Industry - A Case Study of Future Plc
This research bridges the relationship between strategic human resource management and organisational culture to enable business success and growth in the magazine publishing industry based on a case study of Future plc, one of the leading companies in the specialist magazine sector in the UK. The specific aims that were accomplished over the course of this investigation include an exploration of the extant literature regarding organisational culture and strategic human resource management; a presentation of theory and empirical evidence regarding the impact of human resource management and organisational culture on organisational development; and the completion of a case study of Future Plc.
A research strategy was to use a mixed-method survey that was administered to a selected group of Future Plc managers, offering evidence of policies, strategies, and expectations that continue to govern employee hiring, motivation, training, and long term development, and to follow a traditional case study format. The primary research was based on a variety of books and academic journals to search for key terms that were relevant to the main topic. The survey was divided into three segments, the first two were made up of quantitative queries and the third was based on open-ended qualitative questions.
The findings suggested that there is an innate connection between communications, employee motivation and business success.. Future plc motivates its employees by providing access to comprehensive tailor-made internal training, formal appraisal, recognition and the possibility of promotion instead of offering more money. The company currently epitomises the focus on strengths of organisational participants, as its varied branches are thinned and refocused towards more specific long term objectives. Managers queried, agreed that in order to establish a successful protocol for long term growth, cultural commitment must be maintained and that business success and
development needs long-term objectives, although at present it seems that there is a lack of agreement between the expectation of partnership and its practice within the company. The survey findings suggested that managers believe, it is not important to hold regular meetings to inform staff about the changes that takes place within the company and that the departments do not communicate effectively resulting in bad performance.
By emphasising this connection, this investigation establishes organisational boundaries that can radically improve employee response to change and organisational growth. Using Future Plc as a model of optimal growth in a diverse and saturated marketplace, this research provides evidence of strategic brand management that is reliant upon the competencies and successes of its employee base.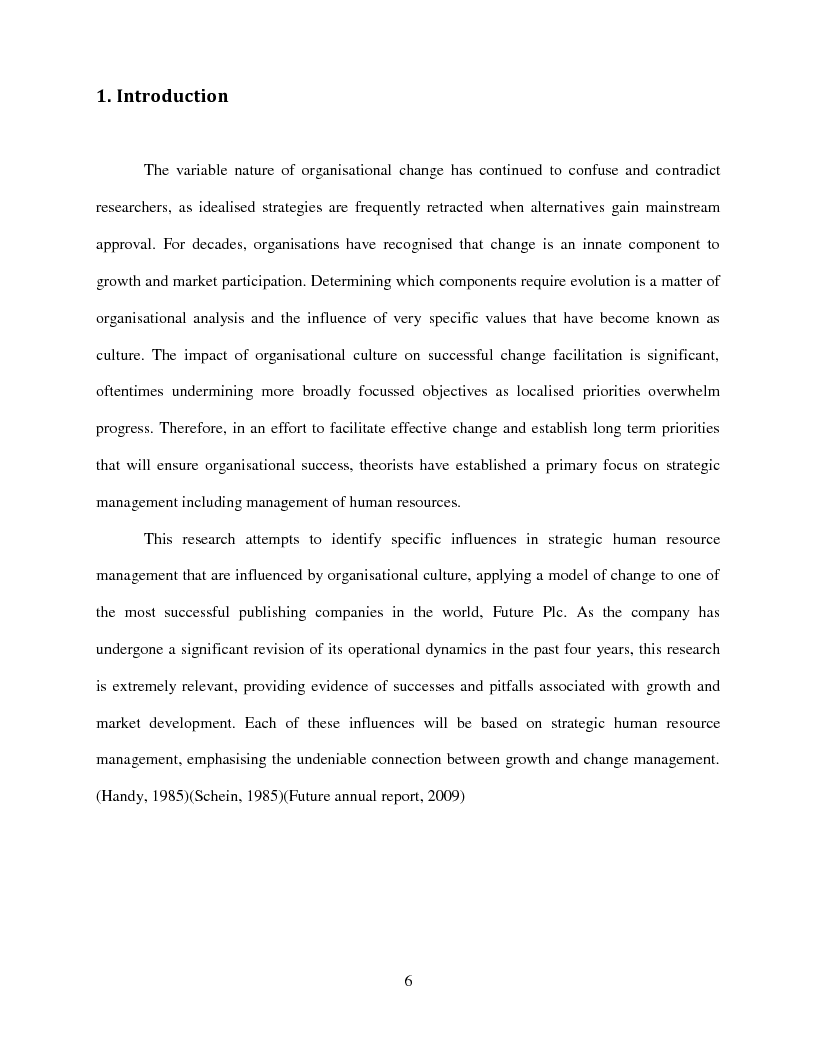 Mostra/Nascondi contenuto.
6 1. Introduction The variable nature of organisational change has continued to confuse and contradict researchers, as idealised strategies are frequently retracted when alternatives gain mainstream approval. For decades, organisations have recognised that change is an innate component to growth and market participation. Determining which components require evolution is a matter of organisational analysis and the influence of very specific values that have become known as culture. The impact of organisational culture on successful change facilitation is significant, oftentimes undermining more broadly focussed objectives as localised priorities overwhelm progress. Therefore, in an effort to facilitate effective change and establish long term priorities that will ensure organisational success, theorists have established a primary focus on strategic management including management of human resources. This research attempts to identify specific influences in strategic human resource management that are influenced by organisational culture, applying a model of change to one of the most successful publishing companies in the world, Future Plc. As the company has undergone a significant revision of its operational dynamics in the past four years, this research is extremely relevant, providing evidence of successes and pitfalls associated with growth and market development. Each of these influences will be based on strategic human resource management, emphasising the undeniable connection between growth and change management. (Handy, 1985)(Schein, 1985)(Future annual report, 2009)
International thesis/dissertation
Autore: Gyongyver Hegedus Contatta »
Composta da 102 pagine.
Questa tesi ha raggiunto 137 click dal 18/05/2010.
Disponibile in PDF, la consultazione è esclusivamente in formato digitale.