Studying terminologies in the language of economics: a lexical confront between English and Italian terms
My thesis is about the influence of English terms in the Italian language of economics. It begins with an introduction of terminology (related to special languages)and the main theories about it and it focuses on the differences between terminology and lexicography. The second chapter concentrates mainly on the Italian language of economics and the nature of linguistic borrowings from English. The last chapter is a short research on ten english terms in the Italian. The aim of the research is to understand how these terms are treated in both languages. We can conclude saying that all types of linguistic borrowings are used to signal belongigness to an international discourse community and create a new cultural identity. In this case, English remains the most suitable language to do this.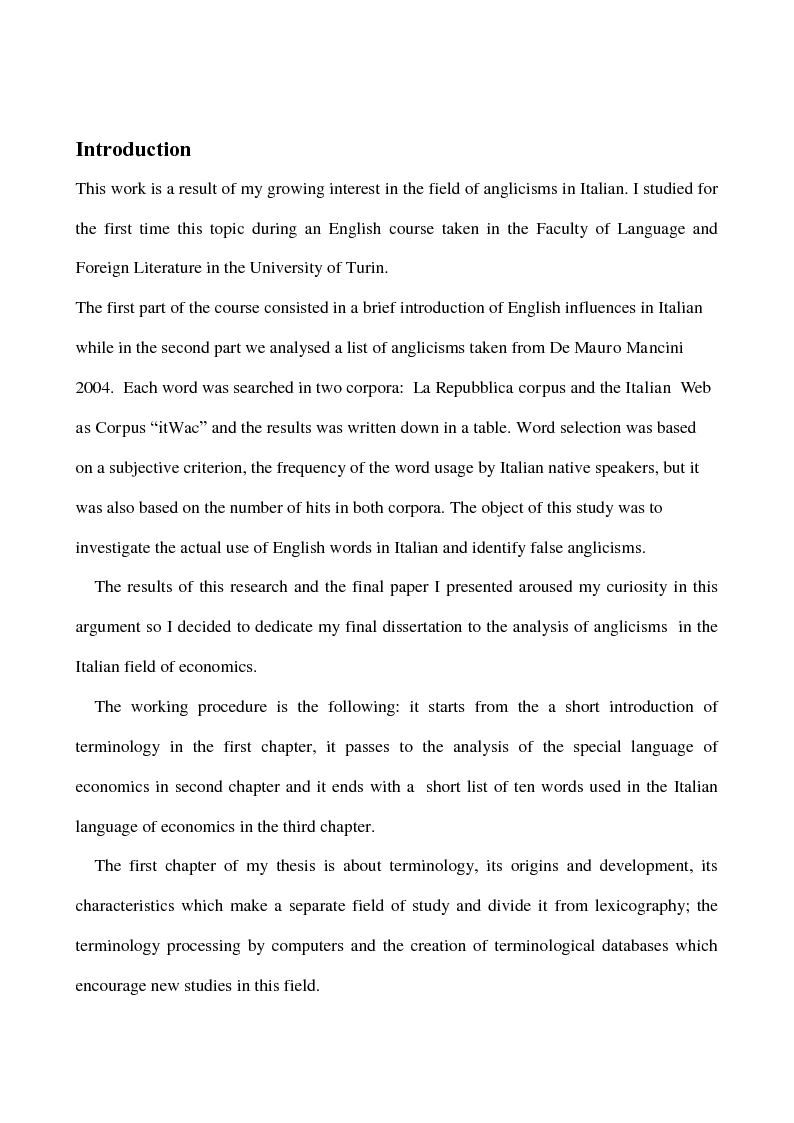 Mostra/Nascondi contenuto.
Introduction This work is a result of my growing interest in the field of anglicisms in Italian. I studied for the first time this topic during an English course taken in the Faculty of Language and Foreign Literature in the University of Turin. The first part of the course consisted in a brief introduction of English influences in Italian while in the second part we analysed a list of anglicisms taken from De Mauro Mancini 2004. Each word was searched in two corpora: La Repubblica corpus and the Italian Web as Corpus "itWac" and the results was written down in a table. Word selection was based on a subjective criterion, the frequency of the word usage by Italian native speakers, but it was also based on the number of hits in both corpora. The object of this study was to investigate the actual use of English words in Italian and identify false anglicisms. The results of this research and the final paper I presented aroused my curiosity in this argument so I decided to dedicate my final dissertation to the analysis of anglicisms in the Italian field of economics. The working procedure is the following: it starts from the a short introduction of terminology in the first chapter, it passes to the analysis of the special language of economics in second chapter and it ends with a short list of ten words used in the Italian language of economics in the third chapter. The first chapter of my thesis is about terminology, its origins and development, its characteristics which make a separate field of study and divide it from lexicography; the terminology processing by computers and the creation of terminological databases which encourage new studies in this field.
Laurea liv.II (specialistica)
Facoltà: Lingue e Letterature Straniere
Autore: Tereza Cuni Contatta »
Composta da 118 pagine.
Questa tesi ha raggiunto 231 click dal 18/01/2011.
Disponibile in PDF, la consultazione è esclusivamente in formato digitale.