From Medieval Community to Modern Individuality: Shakespeare's Reinvention of Personal Identity in the Characters of Hamlet and Falstaff
Literary and dramatic characters are imitations of human characters realized essentially by means of words. Certainly, words refer to other words, but the strong influence they have upon readers and playgoers emerges from the palpable realm where people actually live and attribute values and meanings to their own ideas of persons. As inhabitants of the new millennium world, today we often speak of one's "personal identity" in the sense of what makes a person unique as an individual and different from others, that is, the way one sees or defines him/herself, including the network of values and convictions that structure his/her life. However, this conception has not always been the same through history, but rather it can be dated back to a specific period of time: the passage from the Middle Ages to the Modern Era, which coincides with the passage from a conception of human being intended only as member of a race, community, family, political party or corporation, to the conception of human being as a substantially individual subject, consisting of a rational, particular and independent nature. As a result, it became inevitable for the intellectuals and the artists of the time to give full expression to such a radical cognitive revolution, whether it was felt positively or negatively, and this was especially true for English dramaturgy, where the various choices made by sixteenth-century playwrights, Shakespeare above all, in creating performances and in fashioning characters were decisive to represent the human role in the construction of a new personal identity.
The purpose of this thesis is therefore to illustrate how the human mind acquired the faculty to outline a brand new self-definition as a result of literary and non-literary pressures in the Renaissance, and particularly, how Shakespeare, with his sensibly inventive creativity, has been able, more than any other previous, contemporary or later writer, to give life to a variety of dramatic life-like characters that reinforce our ideas of persons and are essential for the representation of the 'self-same' as we have come to recognize it today. Furthermore, the present study will focus specifically upon the figures of Falstaff and Hamlet, considered as the most comprehensive consciousness, the greatest representations of human personality, significantly placed at the opposite extremes of characterization – the first being wit at its very limits, and the other cognitive perception at the utmost.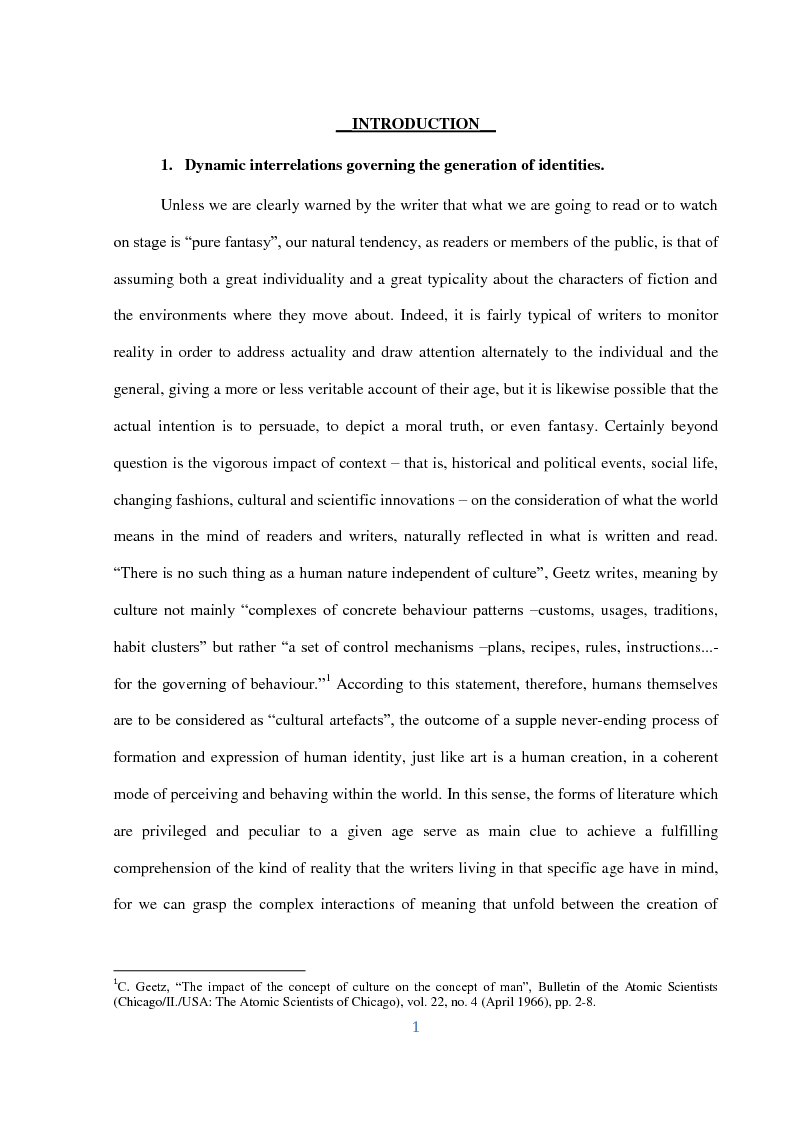 Mostra/Nascondi contenuto.
__INTRODUCTION__ 1. Dynamic interrelations governing the generation of identities. Unless we are clearly warned by the writer that what we are going to read or to watch on stage is "pure fantasy", our natural tendency, as readers or members of the public, is that of assuming both a great individuality and a great typicality about the characters of fiction and the environments where they move about. Indeed, it is fairly typical of writers to monitor reality in order to address actuality and draw attention alternately to the individual and the general, giving a more or less veritable account of their age, but it is likewise possible that the actual intention is to persuade, to depict a moral truth, or even fantasy. Certainly beyond question is the vigorous impact of context – that is, historical and political events, social life, changing fashions, cultural and scientific innovations – on the consideration of what the world means in the mind of readers and writers, naturally reflected in what is written and read. "There is no such thing as a human nature independent of culture", Geetz writes, meaning by culture not mainly "complexes of concrete behaviour patterns –customs, usages, traditions, habit clusters" but rather "a set of control mechanisms –plans, recipes, rules, instructions...- 1 for the governing of behaviour." According to this statement, therefore, humans themselves are to be considered as "cultural artefacts", the outcome of a supple never-ending process of formation and expression of human identity, just like art is a human creation, in a coherent mode of perceiving and behaving within the world. In this sense, the forms of literature which are privileged and peculiar to a given age serve as main clue to achieve a fulfilling comprehension of the kind of reality that the writers living in that specific age have in mind, for we can grasp the complex interactions of meaning that unfold between the creation of 1 C. Geetz, "The impact of the concept of culture on the concept of man", Bulletin of the Atomic Scientists (Chicago/II./USA: The Atomic Scientists of Chicago), vol. 22, no. 4 (April 1966), pp. 2-8. 1
Laurea liv.I
Facoltà: Lingue e Letterature Straniere
Autore: Maria Giulia Bruno Contatta »
Composta da 51 pagine.
Questa tesi ha raggiunto 496 click dal 12/01/2011.
Disponibile in PDF, la consultazione è esclusivamente in formato digitale.