Externalities of the car industry and the road to a more sustainable mobilityEsternalità nell'industria automobilistica e i possibili interventi per una mobilità più sostenibile
Our mobility has its price: negative environmental and social effects and the depletion of fossil fuels require drastic measures to be taken. The European Union owns, together with the American state of California, an excellent record in this field. Achievements such as the Euro 1/6-classification and the recent CO2 reduction plans are good examples of how governmental interventions can push manufacturers' strategies and decisions in the right direction.
In recent years consumers have been able to buy more environmentally friendly cars. Governments set up systems like taxation to discourage citizens from using traditional cars, and on the other hand, they promise incentives to improve the selling of green cars. However, there is not yet a common European framework for this matter.
After a brief review of the main externalities of our mobility and of the most promising alternatives for the future, we will look at the way how governments intervene to achieve a more sustainable mobility. We will take three countries under the microscope: Belgium, Italy and Germany. Belgium and Italy, because they are home countries of the authors, and Germany that should not lack since it's the most important country of the EU in car production. Together, these three countries can provide a representative framework of the ongoing governmental interventions for a greener mobility.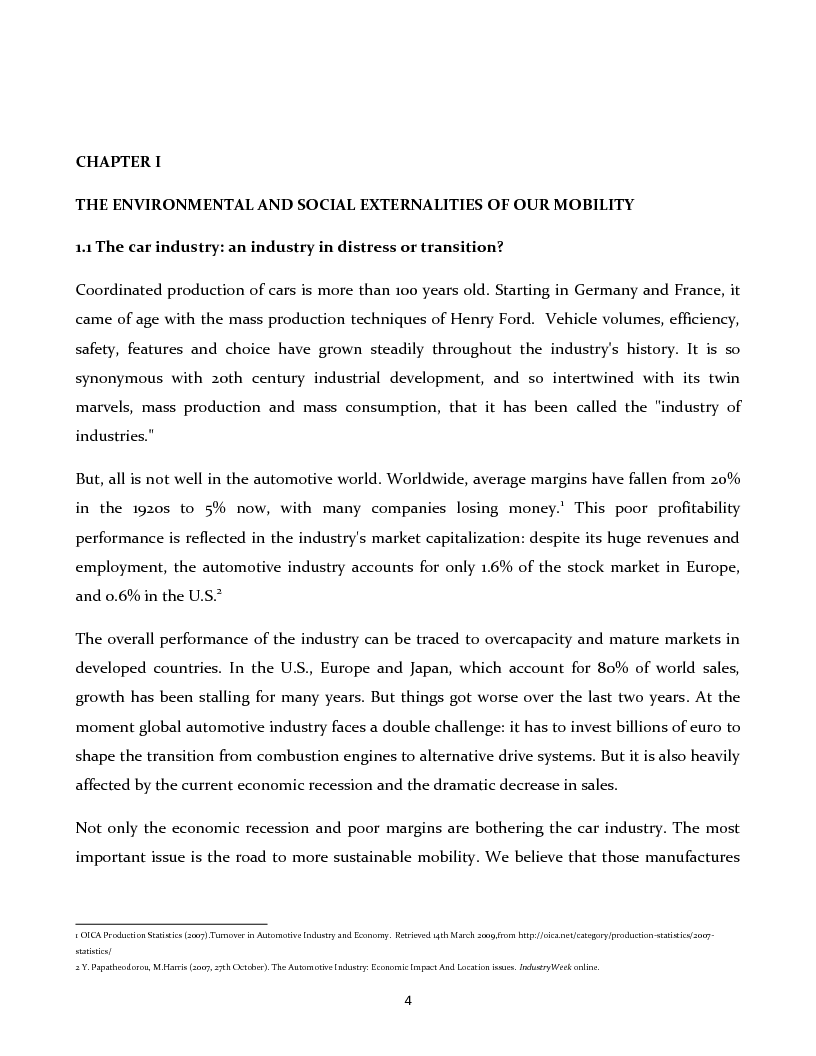 Mostra/Nascondi contenuto.
CHAPTER I THE ENVIRONMENTAL AND SOCIAL EXTERNALITIES OF OUR MOBILITY 1.1 The car industry: an industry in distress or transition? Coordinated production of cars is more than 100 years old. Starting in Germany and France, it came of age with the mass production techniques of Henry Ford. Vehicle volumes, efficiency, safety, features and choice have grown steadily throughout the industry's history. It is so synonymous with 20th century industrial development, and so intertwined with its twin marvels, mass production and mass consumption, that it has been called the "industry of industries." But, all is not well in the automotive world. Worldwide, average margins have fallen from 20% 1 in the 1920s to 5% now, with many companies losing money. This poor profitability performance is reflected in the industry's market capitalization: despite its huge revenues and employment, the automotive industry accounts for only 1.6% of the stock market in Europe, 2 and 0.6% in the U.S. The overall performance of the industry can be traced to overcapacity and mature markets in developed countries. In the U.S., Europe and Japan, which account for 80% of world sales, growth has been stalling for many years. But things got worse over the last two years. At the moment global automotive industry faces a double challenge: it has to invest billions of euro to shape the transition from combustion engines to alternative drive systems. But it is also heavily affected by the current economic recession and the dramatic decrease in sales. Not only the economic recession and poor margins are bothering the car industry. The most important issue is the road to more sustainable mobility. We believe that those manufactures 1 OICA Production Statistics (2007).Turnover in Automotive Industry and Economy.Retrieved 14th March 2009,from http://oica.net/category/production-statistics/2007- statistics/ 2 Y. Papatheodorou, M.Harris (2007, 27th October). The Automotive Industry: Economic Impact And Location issues. IndustryWeek online. 4
Tesi di Laurea Magistrale
Facoltà: Faculty of Applied Economic Sciences
Autore: Serena Boccardo Contatta »
Composta da 53 pagine.
Questa tesi ha raggiunto 192 click dal 17/01/2011.
Consultata integralmente una volta.
Disponibile in PDF, la consultazione è esclusivamente in formato digitale.