Access to Medicines in Developing Countries. Implications of Pharmaceutical Industries' Policy on the Human Right to Health and Corporate Social Responsibility. A case study on Novartis.
This qualitative study critically assesses the effective impacts in practice of the human right of access to medicines, and of CSR related to access to medicines in the core business practices of the pharmaceutical industry, as shown by the example of the Swiss firm Novartis AG International. The main research question is whether Novartis' business practices are in line with its human rights and CSR claims, or whether they serve other purposes. The work answers to what extent pharmaceutical companies are bound by international human rights (IHR) law, especially the right to health and the right to life, which are the basis of a possible right to access to medicines.

The work shows that Novartis does not completely adjust its policy to human rights and CSR principles and that some of its policy guidelines remain reputation-raising rhetoric rather than reality, as shown in the example of the Novartis vs. India case. Novartis is, however, among the industry leaders in the effort to improve access to medicines in developing countries, which proves, that the pharmaceutical industry still has a long way to go. It appears that pharmaceutical companies preferred and have tried to stem the damage to their reputations by increasing voluntary initiatives such as donations, discounts and community projects, rather than executing their core business activities in a socially just way. Corporate philanthropy is mainly used as a business strategy to raise reputation or increase profit, and, what is even worse, to overshadow and excuse non-compliancy to CSR and human rights principles in core business activities. This author argues that reliance on philanthropic schemes leaves governments dependent on companies' charity.

This author contributes to the debate about access to medicines in developing countries by demonstrating that CSR can be sustainably effective in improving access, but only if it is not identified with philanthropic activities but with justice-based business practice, as opposed to human rights claims and CSR statements by pharmaceutical companies. Moreover, I argue that this is the only way CSR can get rid of its ambiguity, and access to medicines can be improved, while pharmaceutical companies can still adhere to the shareholders' primary rule of making a profit.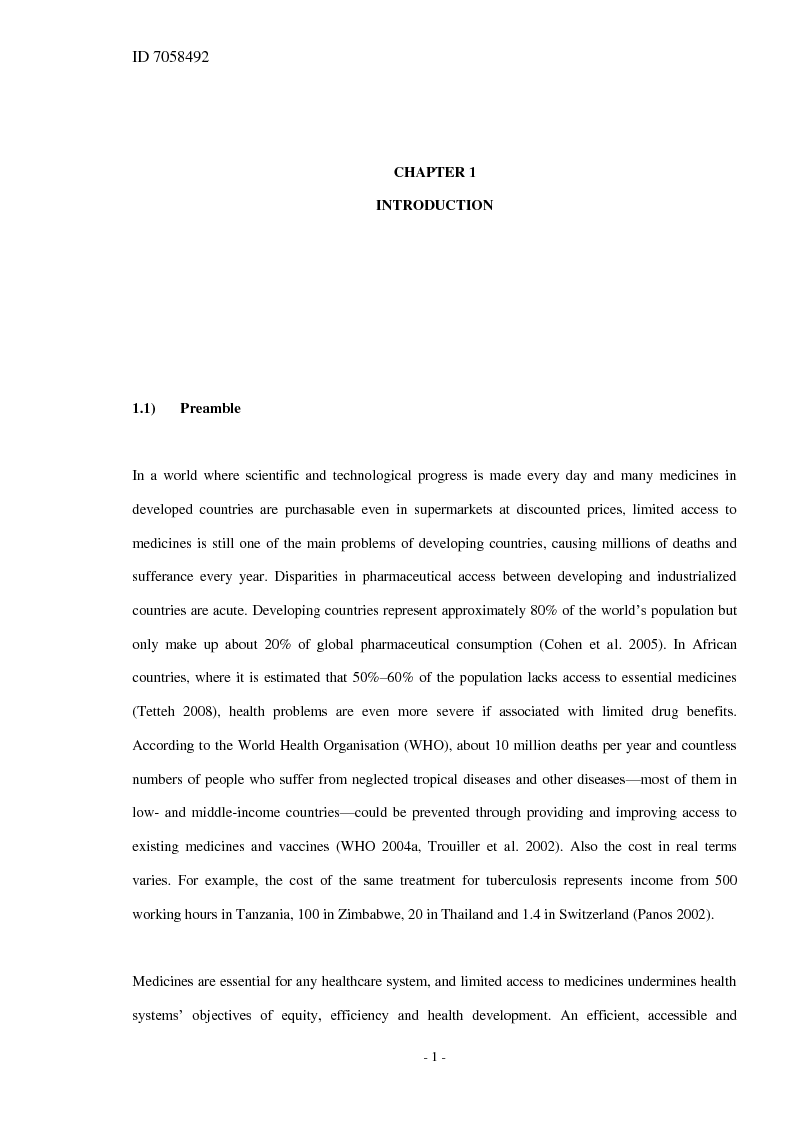 Mostra/Nascondi contenuto.
ID 7058492 CHAPTER 1 INTRODUCTION 1.1) Preamble In a world where scientific and technological progress is made every day and many medicines in developed countries are purchasable even in supermarkets at discounted prices, limited access to medicines is still one of the main problems of developing countries, causing millions of deaths and sufferance every year. Disparities in pharmaceutical access between developing and industrialized countries are acute. Developing countries represent approximately 80% of the world's population but only make up about 20% of global pharmaceutical consumption (Cohen et al. 2005). In African countries, where it is estimated that 50%–60% of the population lacks access to essential medicines (Tetteh 2008), health problems are even more severe if associated with limited drug benefits. According to the World Health Organisation (WHO), about 10 million deaths per year and countless numbers of people who suffer from neglected tropical diseases and other diseases—most of them in low- and middle-income countries—could be prevented through providing and improving access to existing medicines and vaccines (WHO 2004a, Trouiller et al. 2002). Also the cost in real terms varies. For example, the cost of the same treatment for tuberculosis represents income from 500 working hours in Tanzania, 100 in Zimbabwe, 20 in Thailand and 1.4 in Switzerland (Panos 2002). Medicines are essential for any healthcare system, and limited access to medicines undermines health systems' objectives of equity, efficiency and health development. An efficient, accessible and - 1 -
Tesi di Master
Autore: Alexandra Vent Contatta »
Composta da 65 pagine.
Questa tesi ha raggiunto 317 click dal 03/02/2011.
Disponibile in PDF, la consultazione è esclusivamente in formato digitale.