Beautiful Stories For Ugly Children: Word/Image Interaction in Illustrated Fiction
INTRODUCTION
This essay is focused on a series of 30 illustrated stories called Beautiful Stories for Ugly Children. The series was originally published between 1989 and 1992 in the U.S. by Piranha Press, an imprint of DC Comics, one of the biggest publishing houses within the universe of comics, and was the result of the prolific collaboration between Dave Louapre and Dan Sweetman, author of all texts and illustrator respectively.

AIMS
The main goal of this research is to highlight the distinctive traits of illustrated fiction and to establish whether and how the combination of words and images influences the way of reading of the audience.

METHOD
In order to organize and give a structure to the analytical part of my thesis I basically considered the BSFUC in the light of those scopes I thought necessary to include and discuss, presupposing that in the end my work would be basically set on three chapters concerning three different though related contexts:
1) Linguistic aspects of the text.
2) Semiotic relationship(s) between words and illustrations.
3) Contingent effects of illustrated fiction on the reading process of the audience.
These contexts can be considered related mainly because they are nearly consequential (result of a sort of 'chain reaction'): in fact not only the text has been the subject of linguistic analysis along with styles, tones, registers and lexis adopted by the author, but since it provides a first level of semantical significance, it has also been analysed as a semiotic subject. Consequently the juxtaposition of images to words has been regarded as a third semiotic code independent from its constituent parts and thus a modifier of the original semantic value of the text by itself. Finally this combination of codes has been analysed paying attention to its effects on the reading experience.

So, to build up the draft of this survey I mainly tried to respect the subdivision I mentioned before.
1) First I proceeded by reading the stories and noting down the most interesting linguistic features of the texts as well as paying attention to the pairing between textual parts and illustrations. This procedure allowed me to comprehend the plots as well as to detect all those literary and graphical expedients / tricks which contributed to convey the meaning of each story.
2) Then I started translating: in tackling this task I mostly relied on my past experience as a student, basically employing translation techniques I already adopted to prepare my university exams. The support of handbooks and dictionaries combined with a constant work of research on the cultural, literary and artistic backgrounds of the authors as well as of the characters of the stories proved to be fundamental to overcome both linguistical and literary 'obstacles'.
3) The conclusive supervision of Prof. Fissore has been useful especially to understand what were the proper registers to adopt and to revise the drafts, and eventually helped me to choose eleven stories amongst those originally translated.

RESULTS
As far as I am concerned the BSFUC proved to be a good subject to conduct such a research: beyond my initial expectations, they turned out to be an interesting corpus of texts to translate, above all because of the diversity and originality of the subjects they treated; they provided lots of useful cues to reflect upon, especially for what concerns the functional use of illustrations made by the authors in order to improve the incisiveness and the ironical effects of many stories.
This survey has also been a good occasion for me to face completely new contexts such as semiotics and associativism in English language, an occasion I would probably never had otherwise.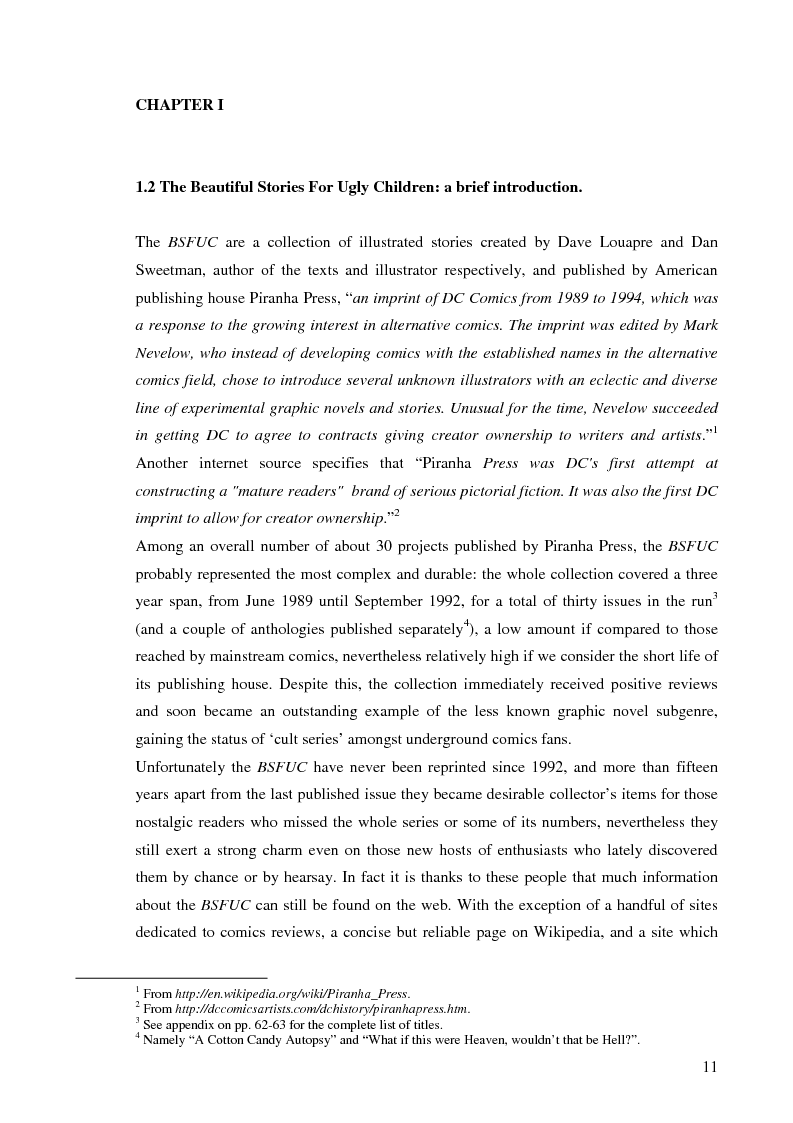 Mostra/Nascondi contenuto.
11 CHAPTER I 1.2 The Beautiful Stories For Ugly Children: a brief introduction. The BSFUC are a collection of illustrated stories created by Dave Louapre and Dan Sweetman, author of the texts and illustrator respectively, and published by American publishing house Piranha Press, "an imprint of DC Comics from 1989 to 1994, which was a response to the growing interest in alternative comics. The imprint was edited by Mark Nevelow, who instead of developing comics with the established names in the alternative comics field, chose to introduce several unknown illustrators with an eclectic and diverse line of experimental graphic novels and stories. Unusual for the time, Nevelow succeeded in getting DC to agree to contracts giving creator ownership to writers and artists." 1 Another internet source specifies that "Piranha Press was DC's first attempt at constructing a "mature readers" brand of serious pictorial fiction. It was also the first DC imprint to allow for creator ownership." 2 Among an overall number of about 30 projects published by Piranha Press, the BSFUC probably represented the most complex and durable: the whole collection covered a three year span, from June 1989 until September 1992, for a total of thirty issues in the run 3 (and a couple of anthologies published separately 4 ), a low amount if compared to those reached by mainstream comics, nevertheless relatively high if we consider the short life of its publishing house. Despite this, the collection immediately received positive reviews and soon became an outstanding example of the less known graphic novel subgenre, gaining the status of 'cult series' amongst underground comics fans. Unfortunately the BSFUC have never been reprinted since 1992, and more than fifteen years apart from the last published issue they became desirable collector's items for those nostalgic readers who missed the whole series or some of its numbers, nevertheless they still exert a strong charm even on those new hosts of enthusiasts who lately discovered them by chance or by hearsay. In fact it is thanks to these people that much information about the BSFUC can still be found on the web. With the exception of a handful of sites dedicated to comics reviews, a concise but reliable page on Wikipedia, and a site which 1 From http://en.wikipedia.org/wiki/Piranha_Press. 2 From http://dccomicsartists.com/dchistory/piranhapress.htm. 3 See appendix on pp. 62-63 for the complete list of titles. 4 Namely "A Cotton Candy Autopsy" and "What if this were Heaven, wouldn't that be Hell?".
Laurea liv.II (specialistica)
Facoltà: Lingue e Letterature Straniere Moderne
Autore: Alberto Cornero Contatta »
Composta da 197 pagine.
Questa tesi ha raggiunto 93 click dal 21/06/2011.
Disponibile in PDF, la consultazione è esclusivamente in formato digitale.