Living London, Living Between the Lines: Negotiating New Identities in the Postcolonial City
The aim of this dissertation is to provide an account of the capital of England and the United Kingdom from a postcolonial point of view. To begin with, I have drawn inspiration from some canonic texts such as Ball's Imagining London and Gli Studi Postcoloniali edited by Bassi and Sirotti, which have been later combined with my own impressions as well as three interviews with second-generation London newcomers carried out during my stay in the capital city. After a careful reading selection, I have focused on five novels written by contemporary postcolonial women writers, namely Atima Srivastava's Looking for Maya, Zadie Smith's White Teeth, Monica Ali's Brick Lane as well as Andrea Levy's Never Far From Nowhere and Small Island. By combining the interviews together with the close reading of the novels, I have attempted to provide fragmented visions of London demonstrating how it is from the collection of these postcolonial fragments which is possible to achieve a whole sight of the city.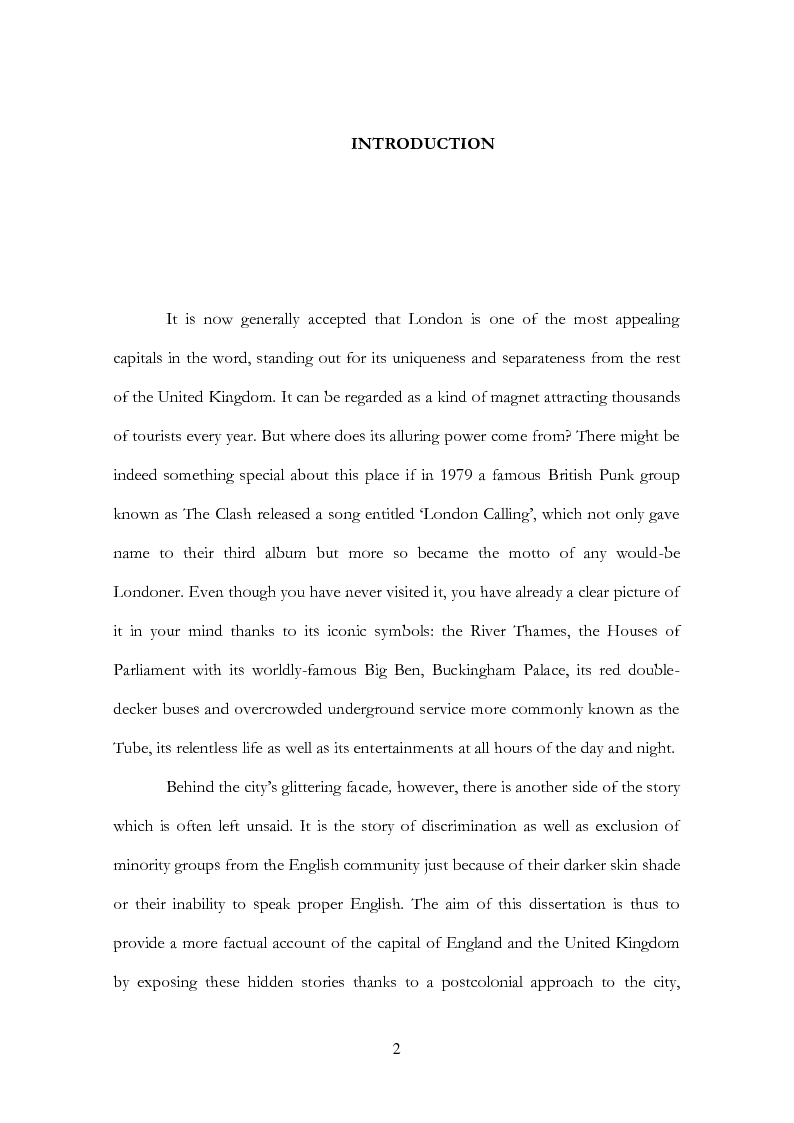 Mostra/Nascondi contenuto.
2 INTRODUCTION It is now generally accepted that London is one of the most appealing capitals in the word, standing out for its uniqueness and separateness from the rest of the United Kingdom. It can be regarded as a kind of magnet attracting thousands of tourists every year. But where does its alluring power come from? There might be indeed something special about this place if in 1979 a famous British Punk group known as The Clash released a song entitled "London Calling", which not only gave name to their third album but more so became the motto of any would-be Londoner. Even though you have never visited it, you have already a clear picture of it in your mind thanks to its iconic symbols: the River Thames, the Houses of Parliament with its worldly-famous Big Ben, Buckingham Palace, its red double- decker buses and overcrowded underground service more commonly known as the Tube, its relentless life as well as its entertainments at all hours of the day and night. Behind the city"s glittering facade, however, there is another side of the story which is often left unsaid. It is the story of discrimination as well as exclusion of minority groups from the English community just because of their darker skin shade or their inability to speak proper English. The aim of this dissertation is thus to provide a more factual account of the capital of England and the United Kingdom by exposing these hidden stories thanks to a postcolonial approach to the city,
Tesi di Laurea Magistrale
Facoltà: Lingue e Letterature Straniere Moderne
Autore: Giulia Burato Contatta »
Composta da 119 pagine.
Questa tesi ha raggiunto 148 click dal 23/09/2011.
Disponibile in PDF, la consultazione è esclusivamente in formato digitale.