How will Participants in Electricity Markets be Affected by EU Market Supervision Legislation?
This dissertation provides a case study on the potential impact of the proposed reforms in financial market regulation (i.e. MiFiD) on market participants and thus sketches the implications those reforms could have on the overall shape and liquidity of the European Electricity Wholesale market. Based on an assessment of potential costs to companies associated with those reforms the conclusion is drawn that market regulation might could become a burden specifically for smaller companies and thus may have detrimental effects on market liquidity and stability.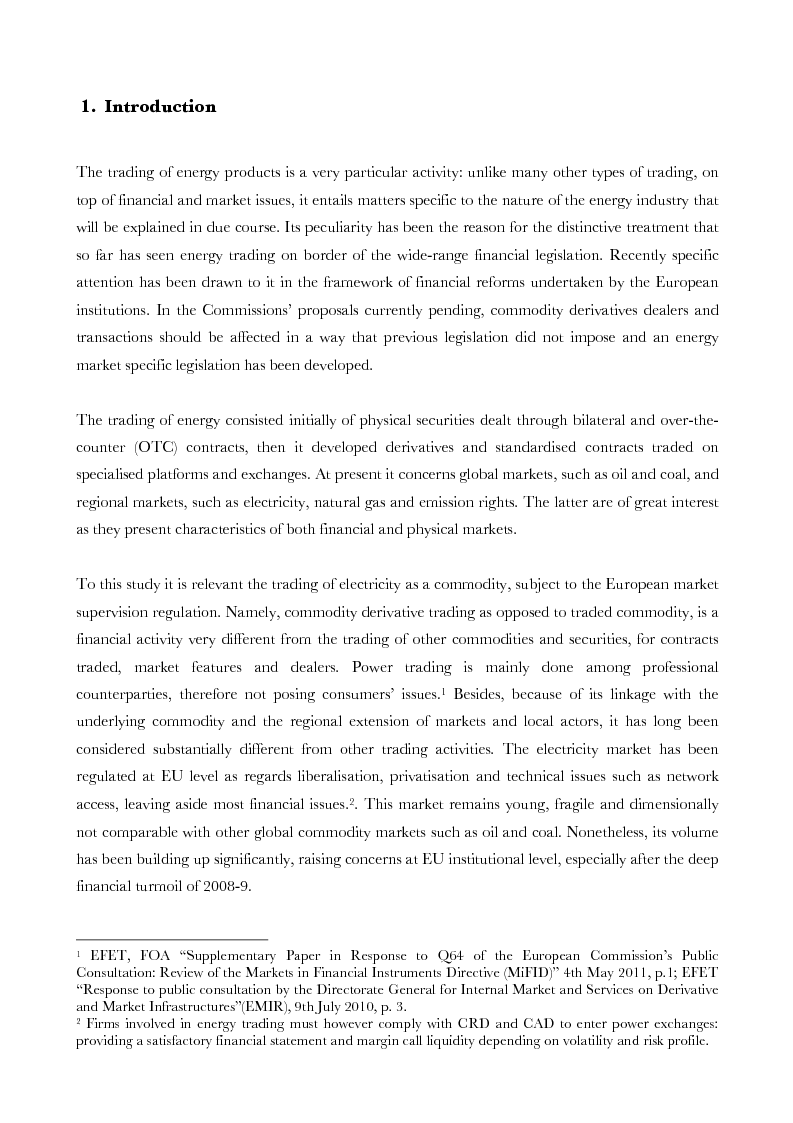 Mostra/Nascondi contenuto.
1. Introduction The trading of energy products is a very particular activity: unlike many other types of trading, on top of financial and market issues, it entails matters specific to the nature of the energy industry that will be explained in due course. Its peculiarity has been the reason for the distinctive treatment that so far has seen energy trading on border of the wide-range financial legislation. Recently specific attention has been drawn to it in the framework of financial reforms undertaken by the European institutions. In the Commissions' proposals currently pending, commodity derivatives dealers and transactions should be affected in a way that previous legislation did not impose and an energy market specific legislation has been developed. The trading of energy consisted initially of physical securities dealt through bilateral and over-the- counter (OTC) contracts, then it developed derivatives and standardised contracts traded on specialised platforms and exchanges. At present it concerns global markets, such as oil and coal, and regional markets, such as electricity, natural gas and emission rights. The latter are of great interest as they present characteristics of both financial and physical markets. To this study it is relevant the trading of electricity as a commodity, subject to the European market supervision regulation. Namely, commodity derivative trading as opposed to traded commodity, is a financial activity very different from the trading of other commodities and securities, for contracts traded, market features and dealers. Power trading is mainly done among professional counterparties, therefore not posing consumers' issues. 1 Besides, because of its linkage with the underlying commodity and the regional extension of markets and local actors, it has long been considered substantially different from other trading activities. The electricity market has been regulated at EU level as regards liberalisation, privatisation and technical issues such as network access, leaving aside most financial issues. 2 . This market remains young, fragile and dimensionally not comparable with other global commodity markets such as oil and coal. Nonetheless, its volume has been building up significantly, raising concerns at EU institutional level, especially after the deep financial turmoil of 2008-9. 1 EFET, FOA "Supplementary Paper in Response to Q64 of the European Commission's Public Consultation: Review of the Markets in Financial Instruments Directive (MiFID)" 4th May 2011, p.1; EFET "Response to public consultation by the Directorate General for Internal Market and Services on Derivative and Market Infrastructures"(EMIR), 9th July 2010, p. 3. 2 Firms involved in energy trading must however comply with CRD and CAD to enter power exchanges: providing a satisfactory financial statement and margin call liquidity depending on volatility and risk profile.
Tesi di Master
Autore: Giulia Conforto Contatta »
Composta da 55 pagine.
Questa tesi ha raggiunto 119 click dal 11/01/2012.
Consultata integralmente 2 volte.
Disponibile in PDF, la consultazione è esclusivamente in formato digitale.