Geopolitical situation of Abyei: An ongoing conflict with ethnicities and natural resources as main drivers
The geopolitical point of view of Abyei is that this region, even if it depends on South Kordofan, controlled by the Khartoum government, is located between the North and the newly independent South Sudan state, which have been in conflict for years, and is locally oil abundant, which makes it a strategic and burning point.
Following the CPA in 2005 (end of second Sudanese war) and the independence of South Sudan (2011), and the relative peace between the North and the South, the status and the ethnical problems occurring in this region are re-triggering a conflict between Northern and Southern forces. The main drivers of this ongoing conflict are both a scarcity (grazing lands) and an abundance (oil) of natural resources. The conflict has reached a peak when in May 2011, Northern forces seized Abyei, killing hundreds of civilians and displacing thousands.
However, even if to date troops did not withdraw from Abyei, a hope is perceived as in October 2011 the government of South Sudan and Khartoum are negotiating towards a deal including cheap Southern oil against freedom of Abyei.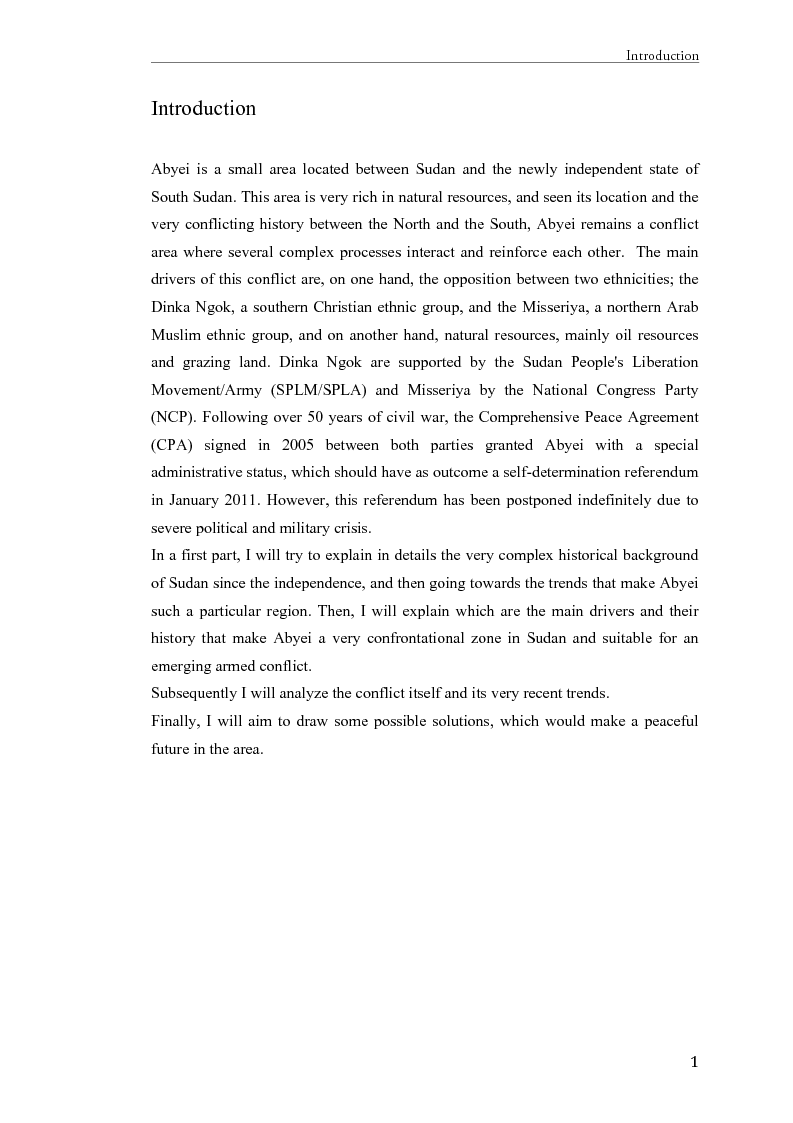 Mostra/Nascondi contenuto.
Introduction 1 Introduction Abyei is a small area located between Sudan and the newly independent state of South Sudan. This area is very rich in natural resources, and seen its location and the very conflicting history between the North and the South, Abyei remains a conflict area where several complex processes interact and reinforce each other. The main drivers of this conflict are, on one hand, the opposition between two ethnicities; the Dinka Ngok, a southern Christian ethnic group, and the Misseriya, a northern Arab Muslim ethnic group, and on another hand, natural resources, mainly oil resources and grazing land. Dinka Ngok are supported by the Sudan People's Liberation Movement/Army (SPLM/SPLA) and Misseriya by the National Congress Party (NCP). Following over 50 years of civil war, the Comprehensive Peace Agreement (CPA) signed in 2005 between both parties granted Abyei with a special administrative status, which should have as outcome a self-determination referendum in January 2011. However, this referendum has been postponed indefinitely due to severe political and military crisis. In a first part, I will try to explain in details the very complex historical background of Sudan since the independence, and then going towards the trends that make Abyei such a particular region. Then, I will explain which are the main drivers and their history that make Abyei a very confrontational zone in Sudan and suitable for an emerging armed conflict. Subsequently I will analyze the conflict itself and its very recent trends. Finally, I will aim to draw some possible solutions, which would make a peaceful future in the area.
Tesi di Master
Autore: Clement Lagalice Contatta »
Composta da 51 pagine.
Questa tesi ha raggiunto 44 click dal 01/02/2012.
Consultata integralmente una volta.
Disponibile in PDF, la consultazione è esclusivamente in formato digitale.