Promoting Ethical Behaviour in Business and Finance: Drivers, challenges and incentives
This thesis analyses the development of ethics in both business and finance, considering issues such as Corporate Governance Responsibility (CSR), Environmental Social Governance (ESG) and Socially Responsible Investing (SRI). In particular, it will examine the drivers and challenges that ethical principles are incurring to grow as a mainstream field. At the end some incentives and possible initiatives will be enlighten in order to fasten this process.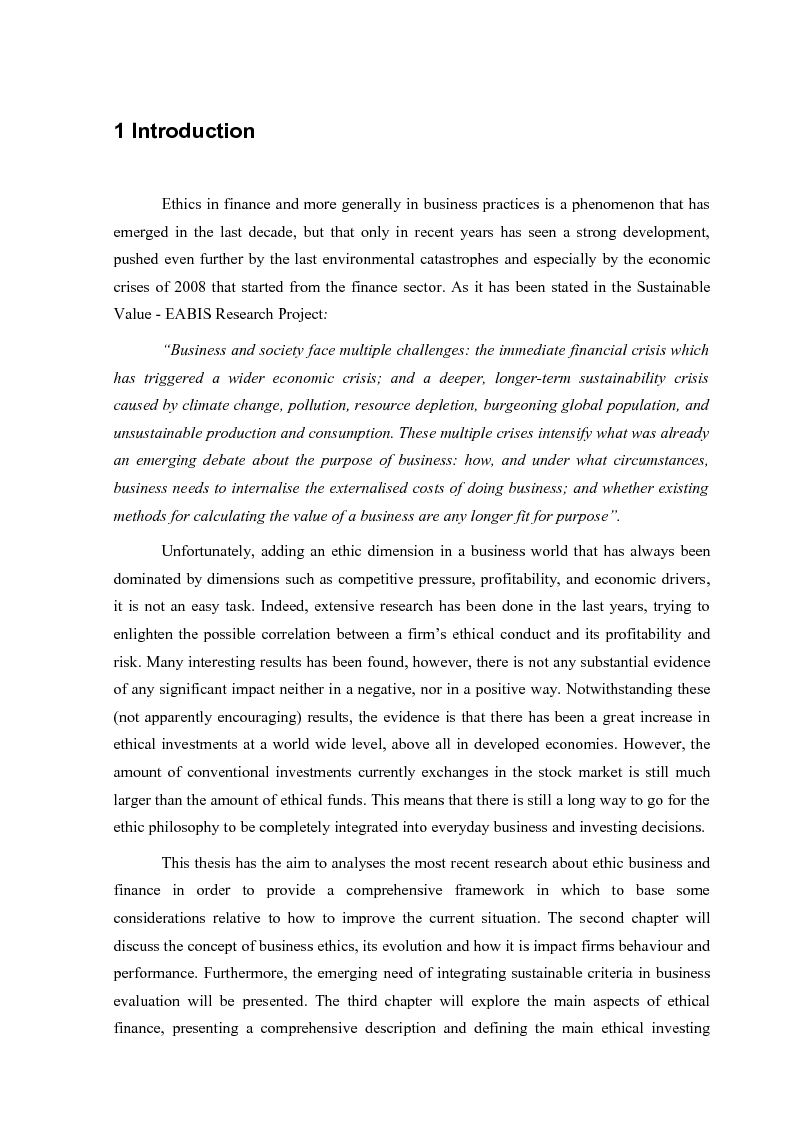 Mostra/Nascondi contenuto.
1 Introduction Ethics in finance and more generally in business practices is a phenomenon that has emerged in the last decade, but that only in recent years has seen a strong development, pushed even further by the last environmental catastrophes and especially by the economic crises of 2008 that started from the finance sector. As it has been stated in the Sustainable Value - EABIS Research Project: "Business and society face multiple challenges: the immediate financial crisis which has triggered a wider economic crisis; and a deeper, longer-term sustainability crisis caused by climate change, pollution, resource depletion, burgeoning global population, and unsustainable production and consumption. These multiple crises intensify what was already an emerging debate about the purpose of business: how, and under what circumstances, business needs to internalise the externalised costs of doing business; and whether existing methods for calculating the value of a business are any longer fit for purpose". Unfortunately, adding an ethic dimension in a business world that has always been dominated by dimensions such as competitive pressure, profitability, and economic drivers, it is not an easy task. Indeed, extensive research has been done in the last years, trying to enlighten the possible correlation between a firm's ethical conduct and its profitability and risk. Many interesting results has been found, however, there is not any substantial evidence of any significant impact neither in a negative, nor in a positive way. Notwithstanding these (not apparently encouraging) results, the evidence is that there has been a great increase in ethical investments at a world wide level, above all in developed economies. However, the amount of conventional investments currently exchanges in the stock market is still much larger than the amount of ethical funds. This means that there is still a long way to go for the ethic philosophy to be completely integrated into everyday business and investing decisions. This thesis has the aim to analyses the most recent research about ethic business and finance in order to provide a comprehensive framework in which to base some considerations relative to how to improve the current situation. The second chapter will discuss the concept of business ethics, its evolution and how it is impact firms behaviour and performance. Furthermore, the emerging need of integrating sustainable criteria in business evaluation will be presented. The third chapter will explore the main aspects of ethical finance, presenting a comprehensive description and defining the main ethical investing
Tesi di Master
Autore: Eva Dal Pozzo Contatta »
Composta da 44 pagine.
Questa tesi ha raggiunto 241 click dal 15/02/2012.
Consultata integralmente una volta.
Disponibile in PDF, la consultazione è esclusivamente in formato digitale.