Preparation of a nutritional supplement as adjuvant in osteoarticular inflammation
Inflammation is a complexe defence mechanism that can be sparked off by a tissue damage, an infection, an immune response or by other phenomena causing the penetration of inflammatory cells (macrophages, neutrophils, blood disks).
According Arthritis Foundation we include about 100 different kinds of pathologies with wording "rheumatic diseases", which can affect articulations and connective tissue.
Among these pathologies I kept attention to rheumatoid arthritis, a progressive inflammatory polyarthritis of synovial joints at autoimmune pathogenesis. Among antiinflammatory plants there is Devil's Claw which is useful to relieve inflammation symptoms.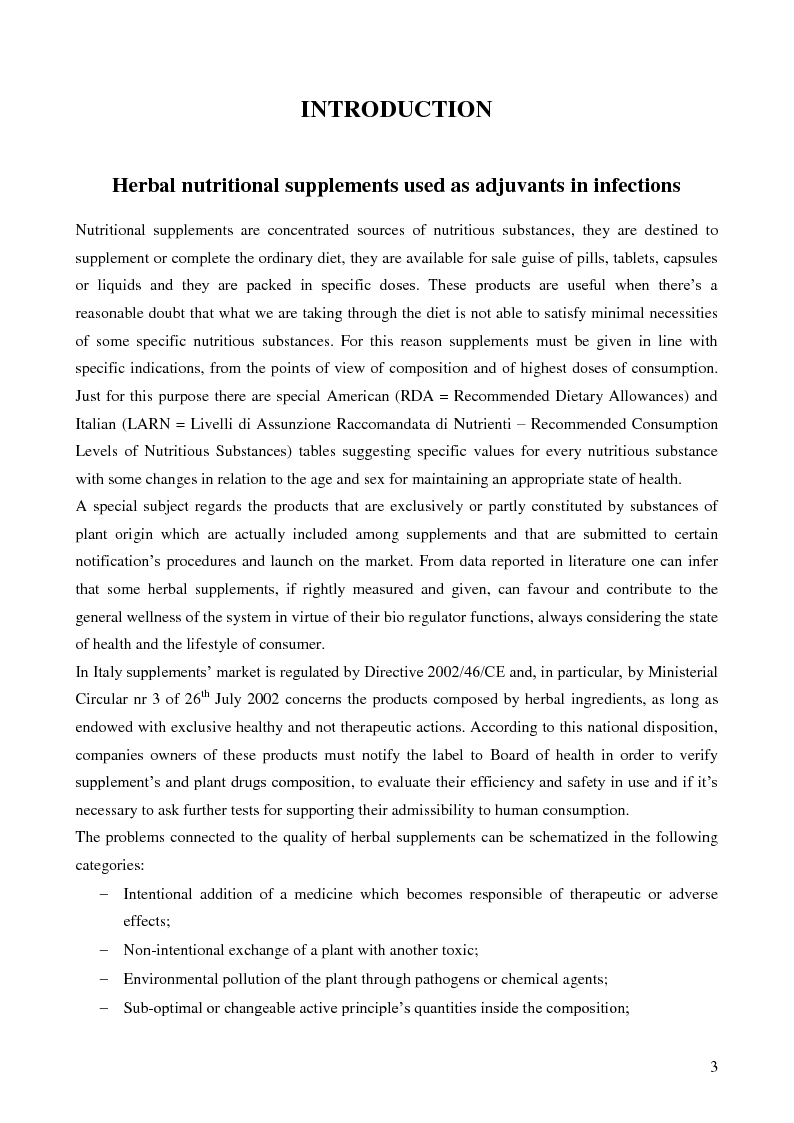 Mostra/Nascondi contenuto.
3 INTRODUCTION Herbal nutritional supplements used as adjuvants in infections Nutritional supplements are concentrated sources of nutritious substances, they are destined to supplement or complete the ordinary diet, they are available for sale guise of pills, tablets, capsules or liquids and they are packed in specific doses. These products are useful when there's a reasonable doubt that what we are taking through the diet is not able to satisfy minimal necessities of some specific nutritious substances. For this reason supplements must be given in line with specific indications, from the points of view of composition and of highest doses of consumption. Just for this purpose there are special American (RDA = Recommended Dietary Allowances) and Italian (LARN = Livelli di Assunzione Raccomandata di Nutrienti – Recommended Consumption Levels of Nutritious Substances) tables suggesting specific values for every nutritious substance with some changes in relation to the age and sex for maintaining an appropriate state of health. A special subject regards the products that are exclusively or partly constituted by substances of plant origin which are actually included among supplements and that are submitted to certain notification's procedures and launch on the market. From data reported in literature one can infer that some herbal supplements, if rightly measured and given, can favour and contribute to the general wellness of the system in virtue of their bio regulator functions, always considering the state of health and the lifestyle of consumer. In Italy supplements' market is regulated by Directive 2002/46/CE and, in particular, by Ministerial Circular nr 3 of 26 th July 2002 concerns the products composed by herbal ingredients, as long as endowed with exclusive healthy and not therapeutic actions. According to this national disposition, companies owners of these products must notify the label to Board of health in order to verify supplement's and plant drugs composition, to evaluate their efficiency and safety in use and if it's necessary to ask further tests for supporting their admissibility to human consumption. The problems connected to the quality of herbal supplements can be schematized in the following categories:  Intentional addition of a medicine which becomes responsible of therapeutic or adverse effects;  Non-intentional exchange of a plant with another toxic;  Environmental pollution of the plant through pathogens or chemical agents;  Sub-optimal or changeable active principle's quantities inside the composition;
Traduzione
Facoltà: Farmacia
Traduttore: Valentina Venosta Contatta »
Composta da 22 pagine.
Questa tesi ha raggiunto 43 click dal 21/02/2012.
Disponibile in PDF, la consultazione è esclusivamente in formato digitale.