Digitization in the Publishing Industry: how the way of thinking the product has changed throughout the productive chain
The goal of this thesis is to show the effects of the digital revolution on the publishing industry. We will investigate both the technological component and the organizational structure of the industry, with a particular interest in understanding the influence of the digitization process on the conception of the product itself. Publishing is going to face soon a major paradigm shift, even if books' digitization is not something new for the industry. What is changing is consumers' attitude towards a new class of technological devices, which are now able to offer a reading experience that can compete - even if not yet on a level playing field - with the one of the traditional printed books. Most of the publishing industry has only recently acknowledged and embraced the digital trend: through a series of interviews with managers and industry experts, we will analyze the effects on the different phases of production and consumption. In this regard, four cases related to different segments of the Italian market will be proposed to illustrate key points and conceptual findings.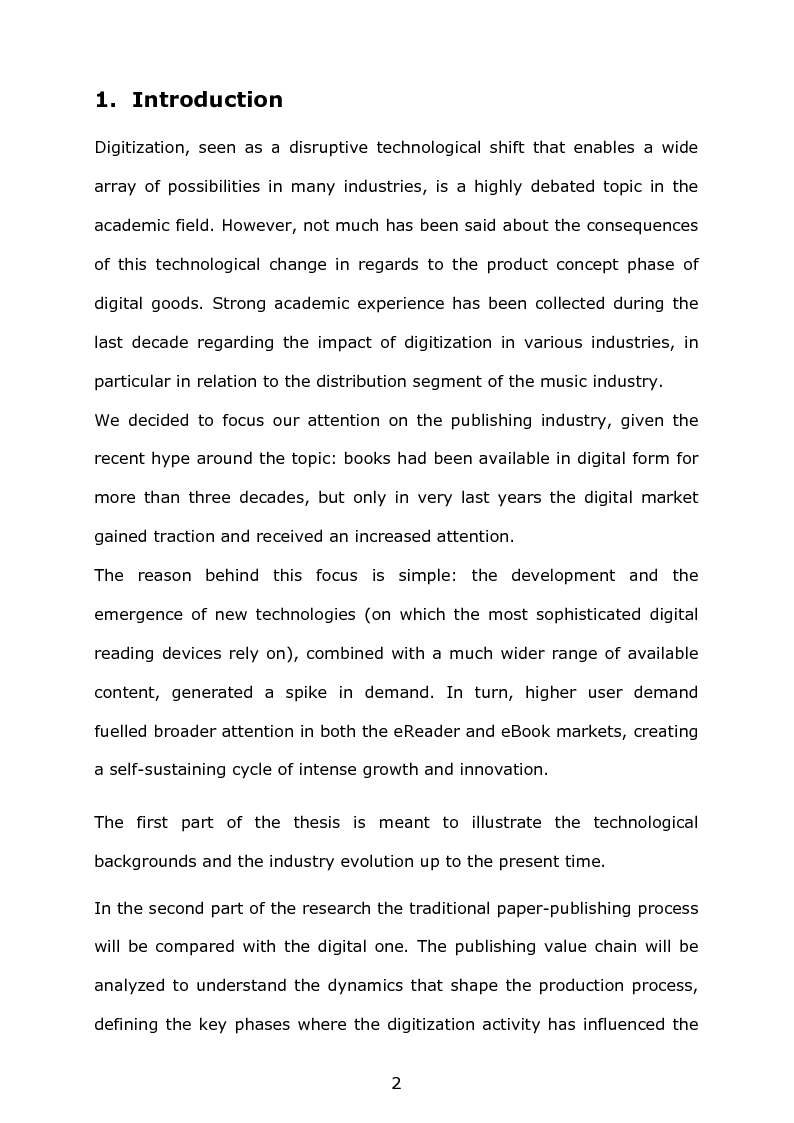 Mostra/Nascondi contenuto.
2 1. Introduction Digitization, seen as a disruptive technological shift that enables a wide array of possibilities in many industries, is a highly debated topic in the academic field. However, not much has been said about the consequences of this technological change in regards to the product concept phase of digital goods. Strong academic experience has been collected during the last decade regarding the impact of digitization in various industries, in particular in relation to the distribution segment of the music industry. We decided to focus our attention on the publishing industry, given the recent hype around the topic: books had been available in digital form for more than three decades, but only in very last years the digital market gained traction and received an increased attention. The reason behind this focus is simple: the development and the emergence of new technologies (on which the most sophisticated digital reading devices rely on), combined with a much wider range of available content, generated a spike in demand. In turn, higher user demand fuelled broader attention in both the eReader and eBook markets, creating a self-sustaining cycle of intense growth and innovation. The first part of the thesis is meant to illustrate the technological backgrounds and the industry evolution up to the present time. In the second part of the research the traditional paper-publishing process will be compared with the digital one. The publishing value chain will be analyzed to understand the dynamics that shape the production process, defining the key phases where the digitization activity has influenced the
Laurea liv.II (specialistica)
Facoltà: Economia
Autore: Matteo Gamba Contatta »
Composta da 94 pagine.
Questa tesi ha raggiunto 494 click dal 19/04/2012.
Consultata integralmente una volta.
Disponibile in PDF, la consultazione è esclusivamente in formato digitale.