Search for the Standard Model Higgs boson decaying in four leptons using Calorimeter Tagged muons with the ATLAS experiment
The object of the of the present work is the search for the Standard Model Higgs Boson in four leptons decay channel. The possibility to use Calorimeter Tagged Muons in four muon channel is also studied, in order to integrate the analysis in those region not covered by muon spectrometer (|η| ∼ 0).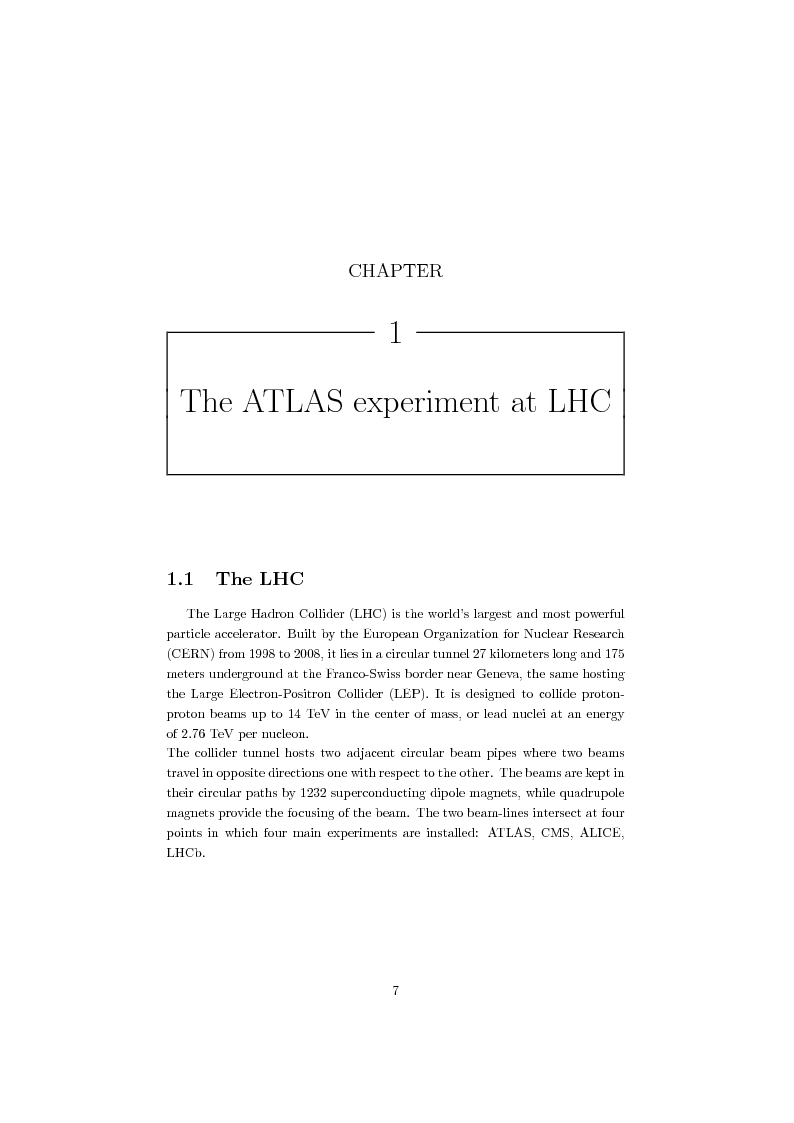 Mostra/Nascondi contenuto.
CHAPTER 1 The ATLAS experiment at LHC 1.1 The LHC The Large Hadron Collider (LHC) is the world's largest and most powerful particle accelerator. Built by the European Organization for Nuclear Research (CERN)from1998to2008,itliesinacirculartunnel27kilometerslongand175 meters underground at the Franco-Swiss border near Geneva, the same hosting the Large Electron-Positron Collider (LEP). It is designed to collide proton- proton beams up to 14 TeV in the center of mass, or lead nuclei at an energy of 2.76 TeV per nucleon. The collider tunnel hosts two adjacent circular beam pipes where two beams travelinoppositedirectionsonewithrespecttotheother. Thebeamsarekeptin their circular paths by 1232 superconducting dipole magnets, while quadrupole magnets provide the focusing of the beam. The two beam-lines intersect at four points in which four main experiments are installed: ATLAS, CMS, ALICE, LHCb. 7
Laurea liv.II (specialistica)
Facoltà: Scienze Matematiche, Fisiche e Naturali
Autore: Ilaria Migliaccio Contatta »
Composta da 108 pagine.
Questa tesi ha raggiunto 45 click dal 16/05/2012.
Disponibile in PDF, la consultazione è esclusivamente in formato digitale.