Refugees: The UNHCR Resettlement Programme from International Standards to State Implementation
The United Nations High Commissioner for Refugees (UNHCR) is the UN Agency entitled to provide international protection and solutions for refugees. UNHCR responses range from temporary protection, emergency actions, to durable solutions.
Temporary protection is an immediate short-term response when large numbers of people arrive after fleeing armed conflict, massive violations of human rights, or other forms of persecution. The aim of temporary protection is to ensure protection in the "frontline" countries of asylum or elsewhere, as well as to provide a coherent regional response. Countries of asylum may end temporary protection when there is a fundamental change in the circumstances that prompted people to flee.
When such change occurs, experience shows that the vast majority of people can and will return home voluntarily, as occurred in Germany during the Balkan crisis in the '90s.
Refugee emergencies are times of crisis for the refugees and often for the country of asylum, which may be under pressure and may not be prepared to handle the arrival of large numbers of people. Governments often rely on the international community to help share the financial burden of emergencies. UNHCR provides assistance to refugees at the request of governments and is usually responsible for coordinating the response of the UN system, by working closely with the World Food Programme, UNICEF, the United Nations Development Programme, and others. An example of refugee emergency occurred on 9 April 2002, when a joint programme UNHCR-IOM (International Migration Organisation) started assisting Afghan refugees returning from Iran. The IOM has deployed dozens of staff and trucks to the Iran/Afghan border crossing of Islam Qala. Through this joint coordination, it had been possible to provide transportation to some 400,000 persons expected to return this year from Iran. [...]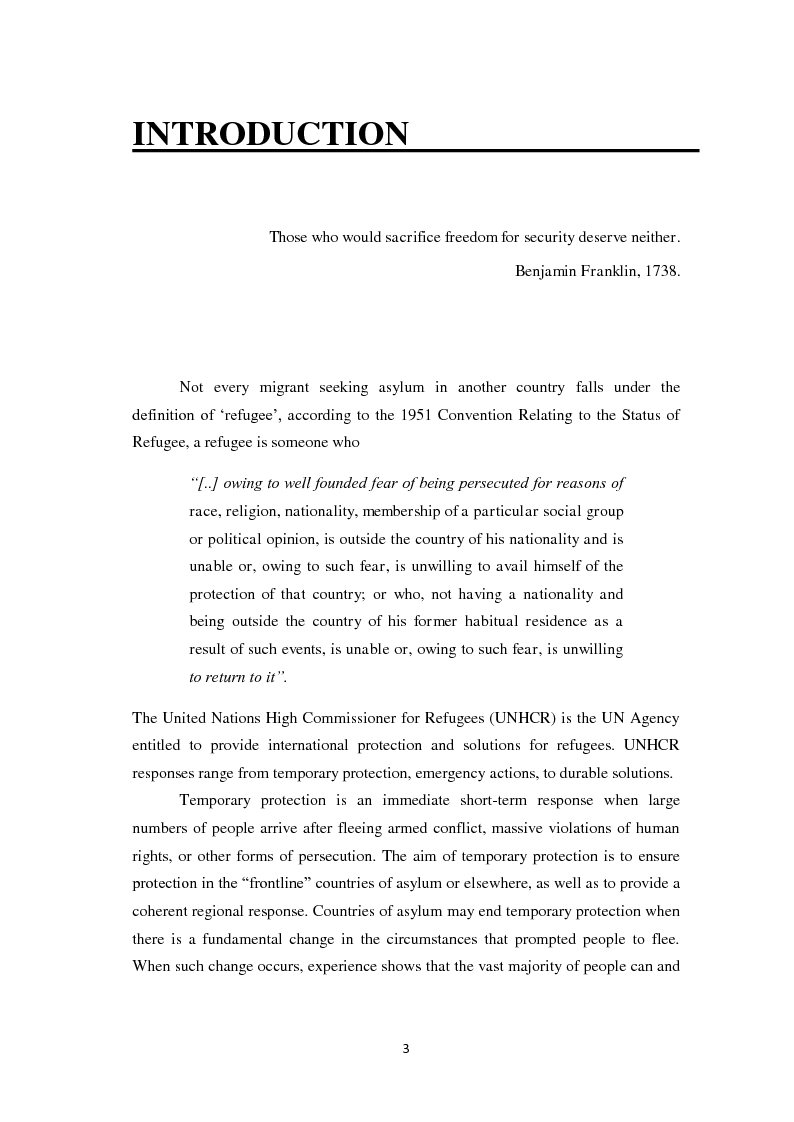 Mostra/Nascondi contenuto.
3 INTRODUCTION Those who would sacrifice freedom for security deserve neither. Benjamin Franklin, 1738. Not every migrant seeking asylum in another country falls under the definition of 'refugee', according to the 1951 Convention Relating to the Status of Refugee, a refugee is someone who "[..] owing to well founded fear of being persecuted for reasons of race, religion, nationality, membership of a particular social group or political opinion, is outside the country of his nationality and is unable or, owing to such fear, is unwilling to avail himself of the protection of that country; or who, not having a nationality and being outside the country of his former habitual residence as a result of such events, is unable or, owing to such fear, is unwilling to return to it". The United Nations High Commissioner for Refugees (UNHCR) is the UN Agency entitled to provide international protection and solutions for refugees. UNHCR responses range from temporary protection, emergency actions, to durable solutions. Temporary protection is an immediate short-term response when large numbers of people arrive after fleeing armed conflict, massive violations of human rights, or other forms of persecution. The aim of temporary protection is to ensure protection in the "frontline" countries of asylum or elsewhere, as well as to provide a coherent regional response. Countries of asylum may end temporary protection when there is a fundamental change in the circumstances that prompted people to flee. When such change occurs, experience shows that the vast majority of people can and
Tesi di Laurea Magistrale
Facoltà: Scienze Politiche
Autore: Valentina Baiamonte Contatta »
Composta da 139 pagine.
Questa tesi ha raggiunto 190 click dal 19/10/2012.
Consultata integralmente una volta.
Disponibile in PDF, la consultazione è esclusivamente in formato digitale.