Why is Italian TFP decreasing? An Econometric Analysis Compares Italy with Other Three European Countries
[...] This thesis investigates the reasons why Italian TFP is decreasing. The possible causes are listed and briefly explained. The theoretical hypothesis about the Italian situation go from the most traditional (small dimension of Italian firms and specialization in low tech sectors) to the most revolutionary (the lack of complementarity between ICT assets and organizational changes). The debate has not identified a single cause, but, according to the statistical findings of this thesis, the lack of complementarity between ICT assets and organizational changes seems to be a very convincing explanation. In any case also the position of other economists have to be taken into account. According to Foresti, Guelpa and Trenti (2007), Italy needs to grow the size of its firms more than to restructure its sectors. The growth of firms size could also increase R&D expenditures (Leoni, 2007). According to Ciccarone and Saltari (2010), greater capital accumulation could be facilitated through tax incentives. A good educational system would allow very productive human capital (Syverson, 2010). Many Italian negative externalities (such as weak policy makers, heavy bureaucracy, inefficient justice and out-of-date infrastructures) should be definitely tackled. Companies should invest more in information and communication technologies (ICT) and they should reorganize their production system in a modern and efficient way. [...]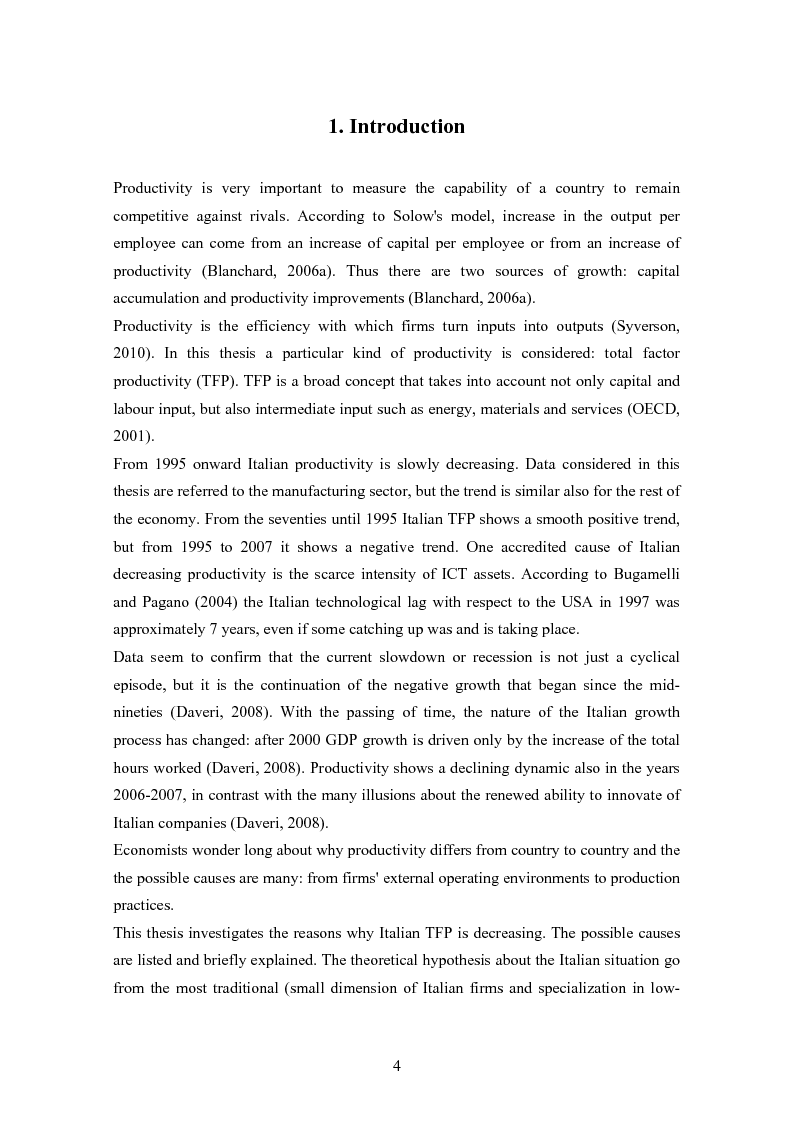 Mostra/Nascondi contenuto.
4 1. Introduction Productivity is very important to measure the capability of a country to remain competitive against rivals. According to Solow's model, increase in the output per employee can come from an increase of capital per employee or from an increase of productivity (Blanchard, 2006a). Thus there are two sources of growth: capital accumulation and productivity improvements (Blanchard, 2006a). Productivity is the efficiency with which firms turn inputs into outputs (Syverson, 2010). In this thesis a particular kind of productivity is considered: total factor productivity (TFP). TFP is a broad concept that takes into account not only capital and labour input, but also intermediate input such as energy, materials and services (OECD, 2001). From 1995 onward Italian productivity is slowly decreasing. Data considered in this thesis are referred to the manufacturing sector, but the trend is similar also for the rest of the economy. From the seventies until 1995 Italian TFP shows a smooth positive trend, but from 1995 to 2007 it shows a negative trend. One accredited cause of Italian decreasing productivity is the scarce intensity of ICT assets. According to Bugamelli and Pagano (2004) the Italian technological lag with respect to the USA in 1997 was approximately 7 years, even if some catching up was and is taking place. Data seem to confirm that the current slowdown or recession is not just a cyclical episode, but it is the continuation of the negative growth that began since the mid- nineties (Daveri, 2008). With the passing of time, the nature of the Italian growth process has changed: after 2000 GDP growth is driven only by the increase of the total hours worked (Daveri, 2008). Productivity shows a declining dynamic also in the years 2006-2007, in contrast with the many illusions about the renewed ability to innovate of Italian companies (Daveri, 2008). Economists wonder long about why productivity differs from country to country and the the possible causes are many: from firms' external operating environments to production practices. This thesis investigates the reasons why Italian TFP is decreasing. The possible causes are listed and briefly explained. The theoretical hypothesis about the Italian situation go from the most traditional (small dimension of Italian firms and specialization in low-
Laurea liv.I
Facoltà: Economia
Autore: Filippo Albertoni Contatta »
Composta da 63 pagine.
Questa tesi ha raggiunto 181 click dal 15/11/2012.
Consultata integralmente 3 volte.
Disponibile in PDF, la consultazione è esclusivamente in formato digitale.