D.P.R. of Korea security issue: P.R. of China's model of Special Economic Zones as an alternative to Six Party Talks?
The Six Party Talks are aimed at ending North Korea's nuclear program through a negotiating process involving China, the United States, North and South Korea, Japan, and Russia. Since the Six Party Talks began, the negotiations have been thwarted by diplomatic standoffs among individual member states, particularly between the United States and North Korea.
As of today, numerous countries designate areas that possess special economic regulations that differ from other economic areas in the same country. Specifically, these regulations define and explain measures that concern and aim to attract foreign direct investment. Establishing and conducting business in a Special Economic Zone - SEZ usually assures that a company is expected to receive tax incentives or reductions and is offered the opportunity to pay lower tariffs on goods.
While numerous countries have set up their own Special Economic Zones, China can be considered the most successful in using SEZ as a mean to attract foreign capital. China has gone even further, bestowing the status of a SEZ not only on more ample areas but even on an entire province – Hainan. To say that China simply seeks to achieve balanced regional development through SEZ, while North Korea hopes to revive its economy with the influx of large foreign investments would be interpretation too simplistic and broad of Chinese Foreign Policy mind-set, of the philosophy that drives it and the views that guide and shape its actions towards North Korea and the choice of leverages in its diplomacy.
Special Economic Zones could be acceptable to the North Korean government, as means of areas for benefiting of FDI. With Chinese aid, joint ventures, and strengthening of bilateral relationships between China and North Korea, that hope might not be far from being a reality in the near future. Economic cooperation and interaction would encourage the gradual transformation of the D.P.R.K.'s political economy and foreign policy.
China can play the role of coordinator and urge relevant countries to return to the Six Party Talks to resolve the D.P.R.K. nuclear issue peacefully and actively support the development of the Special Economic Zones, bringing stability to the region.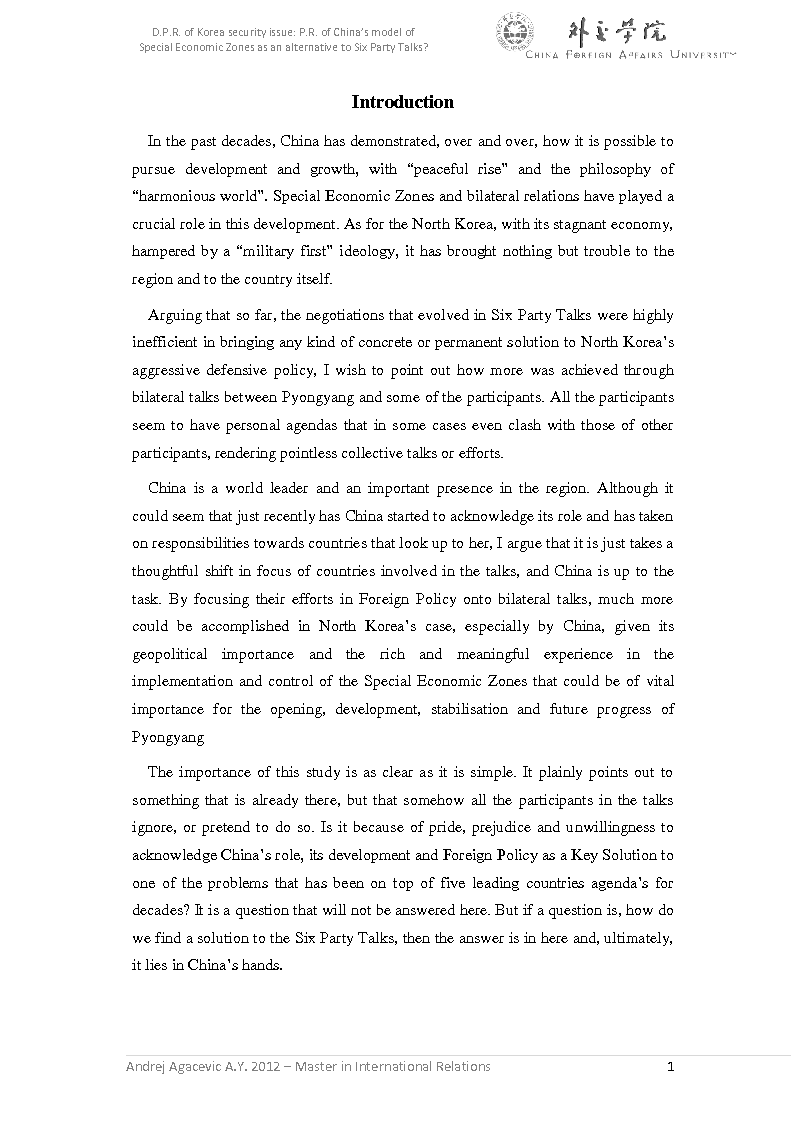 Mostra/Nascondi contenuto.
D.P.R. of Korea security issue: P.R. of China's model of Special Economic Zones as an alternative to Six Party Talks? Andrej Agacevic A.Y. 2012 – Master in International Relations 1 Introduction In the past decades, China has demonstrated, over and over, how it is possible to pursue development and growth, with "peaceful rise" and the philosophy of "harmonious world". Special Economic Zones and bilateral relations have played a crucial role in this development. As for the North Korea, with its stagnant economy, hampered by a "military first" ideology, it has brought nothing but trouble to the region and to the country itself. Arguing that so far, the negotiations that evolved in Six Party Talks were highly inefficient in bringing any kind of concrete or permanent solution to North Korea's aggressive defensive policy, I wish to point out how more was achieved through bilateral talks between Pyongyang and some of the participants. All the participants seem to have personal agendas that in some cases even clash with those of other participants, rendering pointless collective talks or efforts. China is a world leader and an important presence in the region. Although it could seem that just recently has China started to acknowledge its role and has taken on responsibilities towards countries that look up to her, I argue that it is just takes a thoughtful shift in focus of countries involved in the talks, and China is up to the task. By focusing their efforts in Foreign Policy onto bilateral talks, much more could be accomplished in North Korea's case, especially by China, given its geopolitical importance and the rich and meaningful experience in the implementation and control of the Special Economic Zones that could be of vital importance for the opening, development, stabilisation and future progress of Pyongyang The importance of this study is as clear as it is simple. It plainly points out to something that is already there, but that somehow all the participants in the talks ignore, or pretend to do so. Is it because of pride, prejudice and unwillingness to acknowledge China's role, its development and Foreign Policy as a Key Solution to one of the problems that has been on top of five leading countries agenda's for decades? It is a question that will not be answered here. But if a question is, how do we find a solution to the Six Party Talks, then the answer is in here and, ultimately, it lies in China's hands.
Tesi di Master
Autore: Andrej Agacevic Contatta »
Composta da 100 pagine.
Questa tesi ha raggiunto 118 click dal 06/12/2012.
Disponibile in PDF, la consultazione è esclusivamente in formato digitale.