SAR Image Edge Detection from Multichannel Data
Environmental supervise, earth-resource locating, and military systems necessitate broad-area imaging with high resolutions. The main drawback of these operations is in the fact that several times the imagery must be obtained in bad weather conditions or during night as well as day. Synthetic Aperture Radar (SAR), which is a microwave imaging system, renders this possible. In fact it has cloud-penetrating capabilities because it uses microwaves which could penetrate through clouds. Besides it is an active system, that is to say a system that provides its own source of energy and illumination and therefore it has day and night operational capabilities. Finally, its 'interferometric configuration', the so-called Interferometric SAR or InSAR, provides accurate measurements of the radiation travel path because it is coherent that is to say that the system preserves the phase of the received signal. Measurements of travel path variations as a function of the satellite position and time of acquisition allow generation of Digital Elevation Models (DEM) and measurement of centimeter surface deformations of the terrain. [...]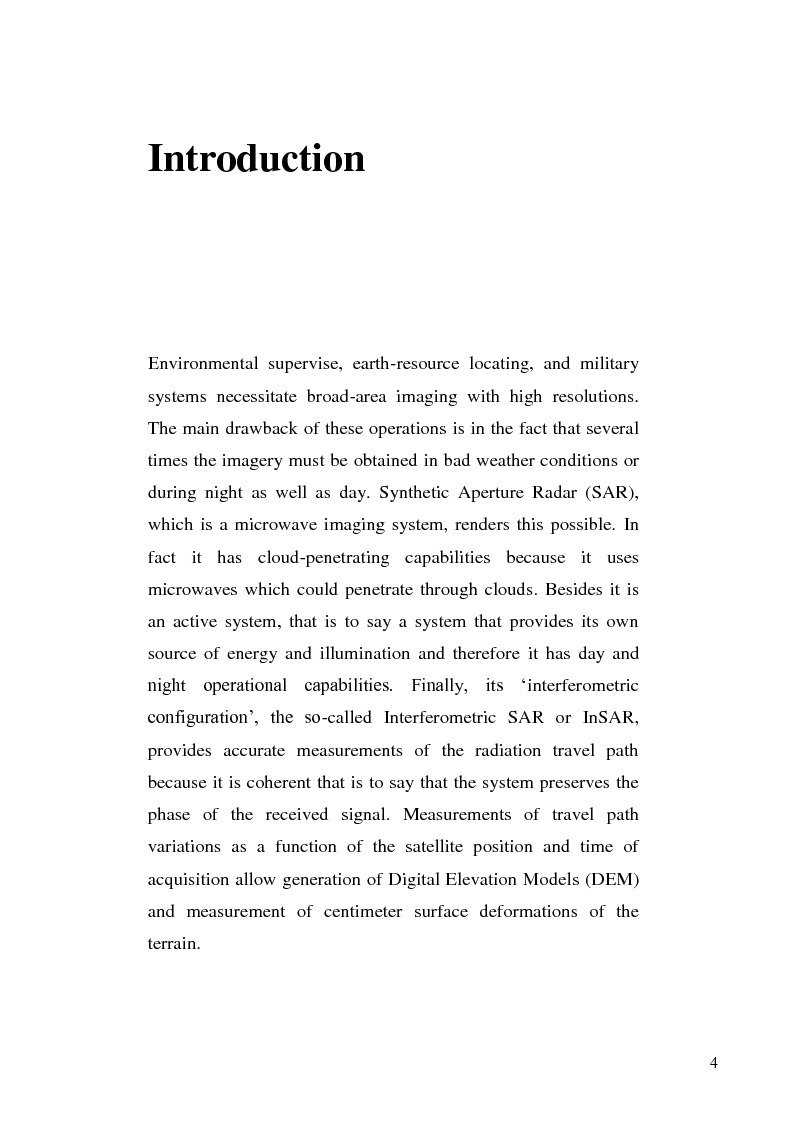 Mostra/Nascondi contenuto.
4 Introduction Environmental supervise, earth-resource locating, and military systems necessitate broad-area imaging with high resolutions. The main drawback of these operations is in the fact that several times the imagery must be obtained in bad weather conditions or during night as well as day. Synthetic Aperture Radar (SAR), which is a microwave imaging system, renders this possible. In fact it has cloud-penetrating capabilities because it uses microwaves which could penetrate through clouds. Besides it is an active system, that is to say a system that provides its own source of energy and illumination and therefore it has day and night operational capabilities. Finally, its 'interferometric configuration', the so-called Interferometric SAR or InSAR, provides accurate measurements of the radiation travel path because it is coherent that is to say that the system preserves the phase of the received signal. Measurements of travel path variations as a function of the satellite position and time of acquisition allow generation of Digital Elevation Models (DEM) and measurement of centimeter surface deformations of the terrain.
Laurea liv.II (specialistica)
Facoltà: Ingegneria
Autore: Diego Dell'Anno Contatta »
Composta da 111 pagine.
Questa tesi ha raggiunto 53 click dal 27/03/2013.
Disponibile in PDF, la consultazione è esclusivamente in formato digitale.