On the evolution of Gestural Language in Europe. A Historical Review of the Latin Influence and a Comparative Study relating the Italian and the Danish Gestural Tradition
A Historical Review of the Latin Influence and a Comparative Study relating the Italian and the Danish Gestural Tradition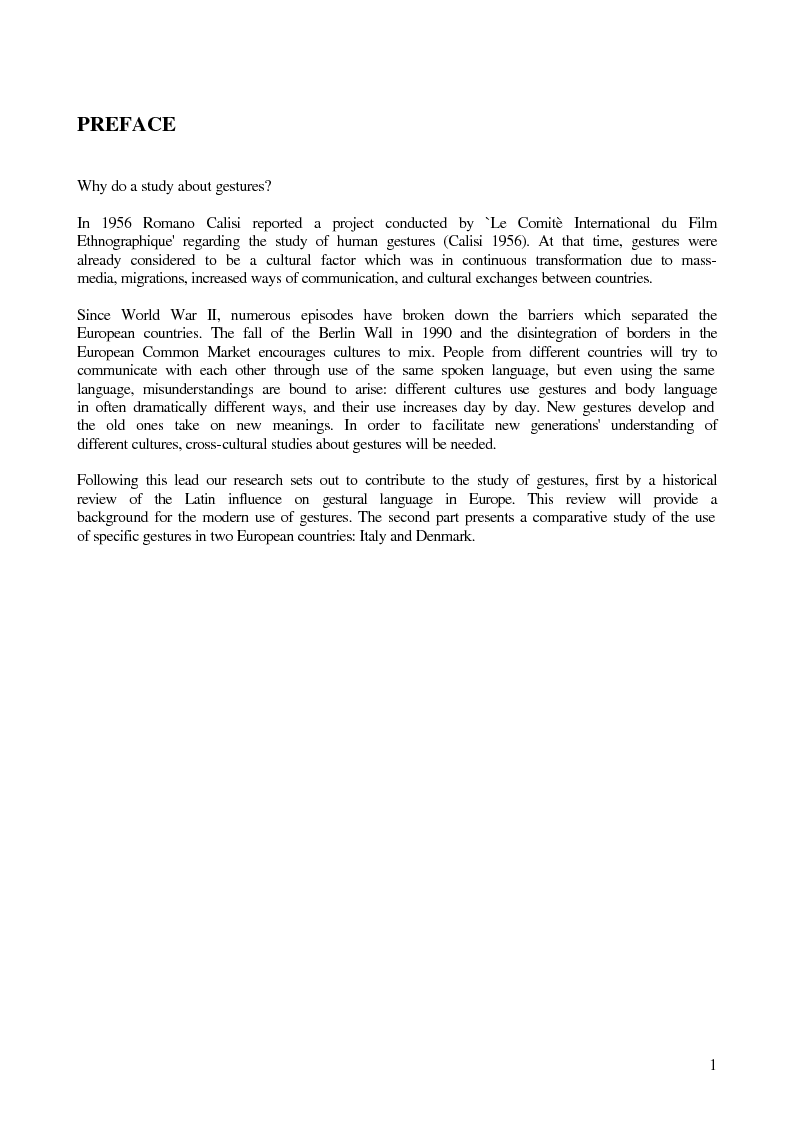 Mostra/Nascondi contenuto.
1 PREFACE Why do a study about gestures? In 1956 Romano Calisi reported a project conducted by `Le Comitè International du Film Ethnographique' regarding the study of human gestures (Calisi 1956). At that time, gestures were already considered to be a cultural factor which was in continuous transformation due to mass- media, migrations, increased ways of communication, and cultural exchanges between countries. Since World War II, numerous episodes have broken down the barriers which separated the European countries. The fall of the Berlin Wall in 1990 and the disintegration of borders in the European Common Market encourages cultures to mix. People from different countries will try to communicate with each other through use of the same spoken language, but even using the same language, misunderstandings are bound to arise: different cultures use gestures and body language in often dramatically different ways, and their use increases day by day. New gestures develop and the old ones take on new meanings. In order to facilitate new generations' understanding of different cultures, cross-cultural studies about gestures will be needed. Following this lead our research sets out to contribute to the study of gestures, first by a historical review of the Latin influence on gestural language in Europe. This review will provide a background for the modern use of gestures. The second part presents a comparative study of the use of specific gestures in two European countries: Italy and Denmark.
Tesi di Dottorato
Dipartimento: IAAS and Psychological Laboratory
Autore: Flavia Monica Moraro Contatta »
Composta da 65 pagine.
Questa tesi ha raggiunto 523 click dal 20/03/2004.
Consultata integralmente 2 volte.
Disponibile in PDF, la consultazione è esclusivamente in formato digitale.