Persuasion and argumentation in cruise advertising: a case study on cruise catalogues
By drawing from persuasion research to argumentation theory, this thesis has built a synchronic overview of the different strategies of persuasion and argumentation on which cruise advertising has played
In order to analyze more precisely these strategies, main emphasis is given to the type of argument schemes applied, their evolution and, from a more sociological point of view, their dialectical interplay with the evolution of the cruise market. Mostly, is taken into consideration the key element of advertising of the touristic products and services: the persuasion.

Cruise companies' catalogues represent the main sales channel. They are used by travel agencies, online cruise websites, and directly by cruise representatives. Cruise market is in fact a tourism industry which does not have a direct contact with the customers, and each cruise company needs to differentiate their products and services with a distinguished catalogue. My research goal is to investigate the behavioral persuasion and argumentation schemes by using the cruise companies' catalogues. Cruise market is a tourism industry which does not have a direct contact with the customers, but it has to use other channels to enrich them. An instrument of direct sale is represented by the catalogue. My purpose is to analyze the persuasion strategies of marketing from a communication point of view. In addition, the study gives some practical indications on how to build a competitive argumentation. [...]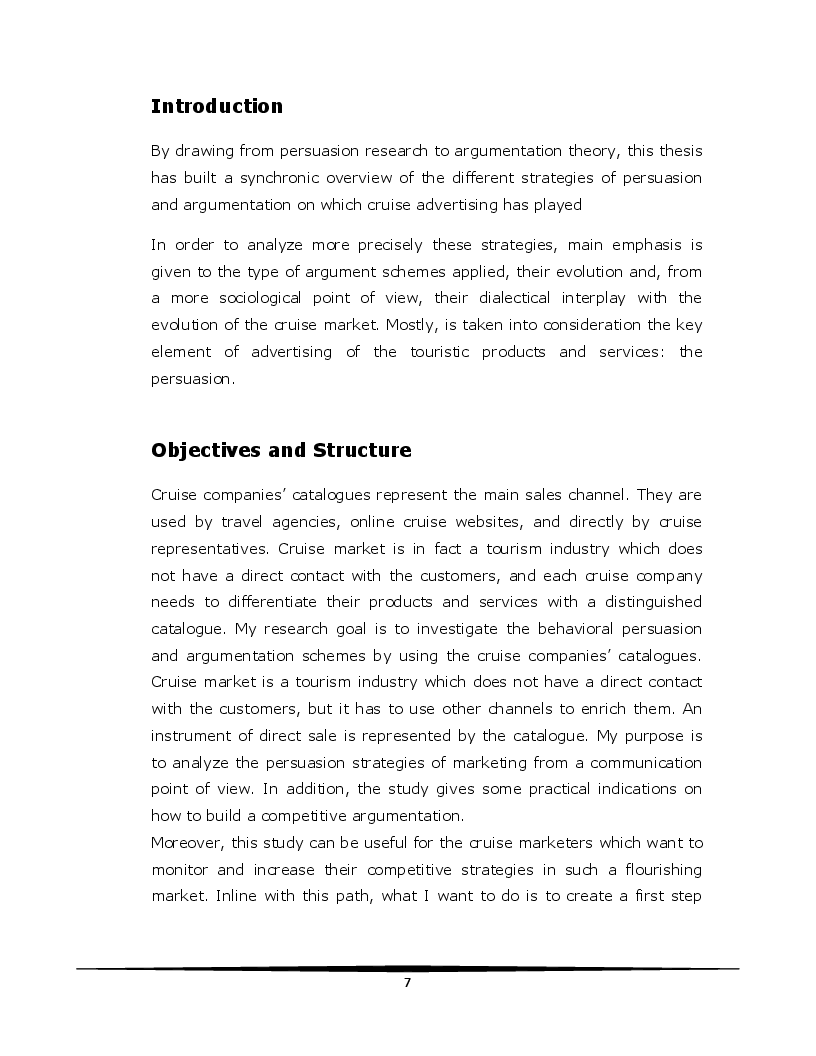 Mostra/Nascondi contenuto.
7 Introduction By drawing from persuasion research to argumentation theory, this thesis has built a synchronic overview of the different strategies of persuasion and argumentation on which cruise advertising has played In order to analyze more precisely these strategies, main emphasis is given to the type of argument schemes applied, their evolution and, from a more sociological point of view, their dialectical interplay with the evolution of the cruise market. Mostly, is taken into consideration the key element of advertising of the touristic products and services: the persuasion. Objectives and Structure Cruise companies" catalogues represent the main sales channel. They are used by travel agencies, online cruise websites, and directly by cruise representatives. Cruise market is in fact a tourism industry which does not have a direct contact with the customers, and each cruise company needs to differentiate their products and services with a distinguished catalogue. My research goal is to investigate the behavioral persuasion and argumentation schemes by using the cruise companies" catalogues. Cruise market is a tourism industry which does not have a direct contact with the customers, but it has to use other channels to enrich them. An instrument of direct sale is represented by the catalogue. My purpose is to analyze the persuasion strategies of marketing from a communication point of view. In addition, the study gives some practical indications on how to build a competitive argumentation. Moreover, this study can be useful for the cruise marketers which want to monitor and increase their competitive strategies in such a flourishing market. Inline with this path, what I want to do is to create a first step
Tesi di Master
Autore: Paola Miduri Contatta »
Composta da 138 pagine.
Questa tesi ha raggiunto 569 click dal 05/03/2014.
Consultata integralmente una volta.
Disponibile in PDF, la consultazione è esclusivamente in formato digitale.