Audre Lorde: Black Female Autobiography in Late XX Century
Analysis of "Zami: a new spelling of my name" by the Afro-American poet Audre Lorde.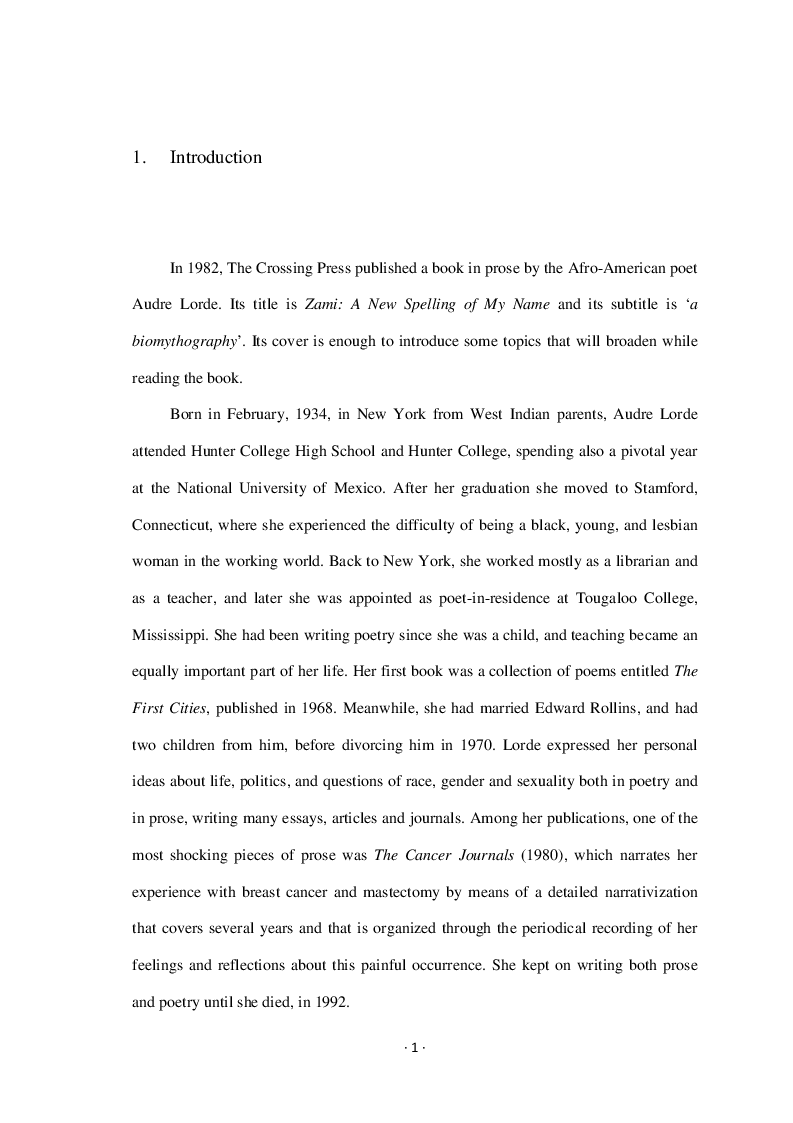 Mostra/Nascondi contenuto.
1. Introduction In 1982, The Crossing Press published a book in prose by the Afro-American poet Audre Lorde. Its title is Zami: A New Spelling of My Name and its subtitle is 'a biomythography'. Its cover is enough to introduce some topics that will broaden while reading the book. Born in February, 1934, in New York from West Indian parents, Audre Lorde attended Hunter College High School and Hunter College, spending also a pivotal year at the National University of Mexico. After her graduation she moved to Stamford, Connecticut, where she experienced the difficulty of being a black, young, and lesbian woman in the working world. Back to New York, she worked mostly as a librarian and as a teacher, and later she was appointed as poet-in-residence at Tougaloo College, Mississippi. She had been writing poetry since she was a child, and teaching became an equally important part of her life. Her first book was a collection of poems entitled The First Cities, published in 1968. Meanwhile, she had married Edward Rollins, and had two children from him, before divorcing him in 1970. Lorde expressed her personal ideas about life, politics, and questions of race, gender and sexuality both in poetry and in prose, writing many essays, articles and journals. Among her publications, one of the most shocking pieces of prose was The Cancer Journals (1980), which narrates her experience with breast cancer and mastectomy by means of a detailed narrativization that covers several years and that is organized through the periodical recording of her feelings and reflections about this painful occurrence. She kept on writing both prose and poetry until she died, in 1992.
Tesi di Master
Autore: Irene Lucia Federica Terracina Contatta »
Composta da 59 pagine.
Questa tesi ha raggiunto 61 click dal 04/07/2014.
Disponibile in PDF, la consultazione è esclusivamente in formato digitale.