The International Land Market: Development Opportunity or Neo-Colonialism?
Land market has gained a central role over the world economy in the last few years. Foreign investments in agriculture showed a growing trend: land acquisitions made by several actors mainly in developing countries contributed to the phenomenon of land grabbing. In this first chapter I will examine the international scenario to understand at first how the land grabbing originated.
Then I will quickly look at the amount and the trends of this phenomenon, even if several factors make difficult to obtain precise estimation. In the following sections I will look deeply into the causes that stand behind the land grab, with a particular focus on the biofuel market, which is booming in the last years. The chapters conclude with the explanation of the other drivers that brought to the actual land rush.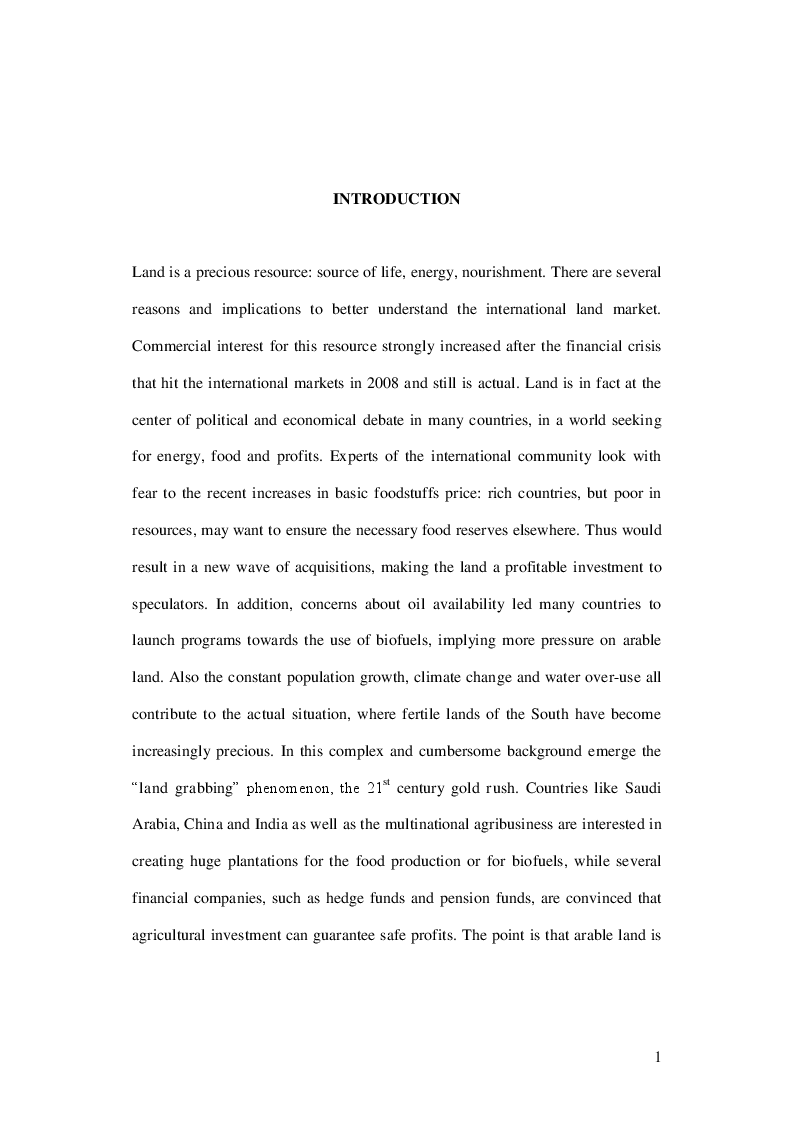 Mostra/Nascondi contenuto.
1 INTRODUCTION Land is a precious resource: source of life, energy, nourishment. There are several reasons and implications to better understand the international land market. Commercial interest for this resource strongly increased after the financial crisis that hit the international markets in 2008 and still is actual. Land is in fact at the center of political and economical debate in many countries, in a world seeking for energy, food and profits. Experts of the international community look with fear to the recent increases in basic foodstuffs price: rich countries, but poor in resources, may want to ensure the necessary food reserves elsewhere. Thus would result in a new wave of acquisitions, making the land a profitable investment to speculators. In addition, concerns about oil availability led many countries to launch programs towards the use of biofuels, implying more pressure on arable land. Also the constant population growth, climate change and water over-use all contribute to the actual situation, where fertile lands of the South have become increasingly precious. In this complex and cumbersome background emerge the "land grabbing" phenomenon, the 21 st century gold rush. Countries like Saudi Arabia, China and India as well as the multinational agribusiness are interested in creating huge plantations for the food production or for biofuels, while several financial companies, such as hedge funds and pension funds, are convinced that agricultural investment can guarantee safe profits. The point is that arable land is
Laurea liv.II (specialistica)
Facoltà: Economia
Autore: Gianluca Cecchi Contatta »
Composta da 138 pagine.
Questa tesi ha raggiunto 243 click dal 25/09/2014.
Disponibile in PDF, la consultazione è esclusivamente in formato digitale.