Which strategies should adopt the Luxury Brands on Social networks?
Communicating on Social Network (SN) is essential nowadays and requires specific competencies as each SN has its own rules and aims at different scopes. The policy on the SN should be decided after a profound analysis of the context, the target, the values and the objectives of communication of the brand; especially for luxury brands that seem to have particular characteristics in opposition with the social networks' ones. Thanks to the analysis of the online attitude of important luxury brands, the interview of professionals in this field and the study of different papers wrote by professionals, we will provide some advices on how to determine in which social networks to be and how to behave on them.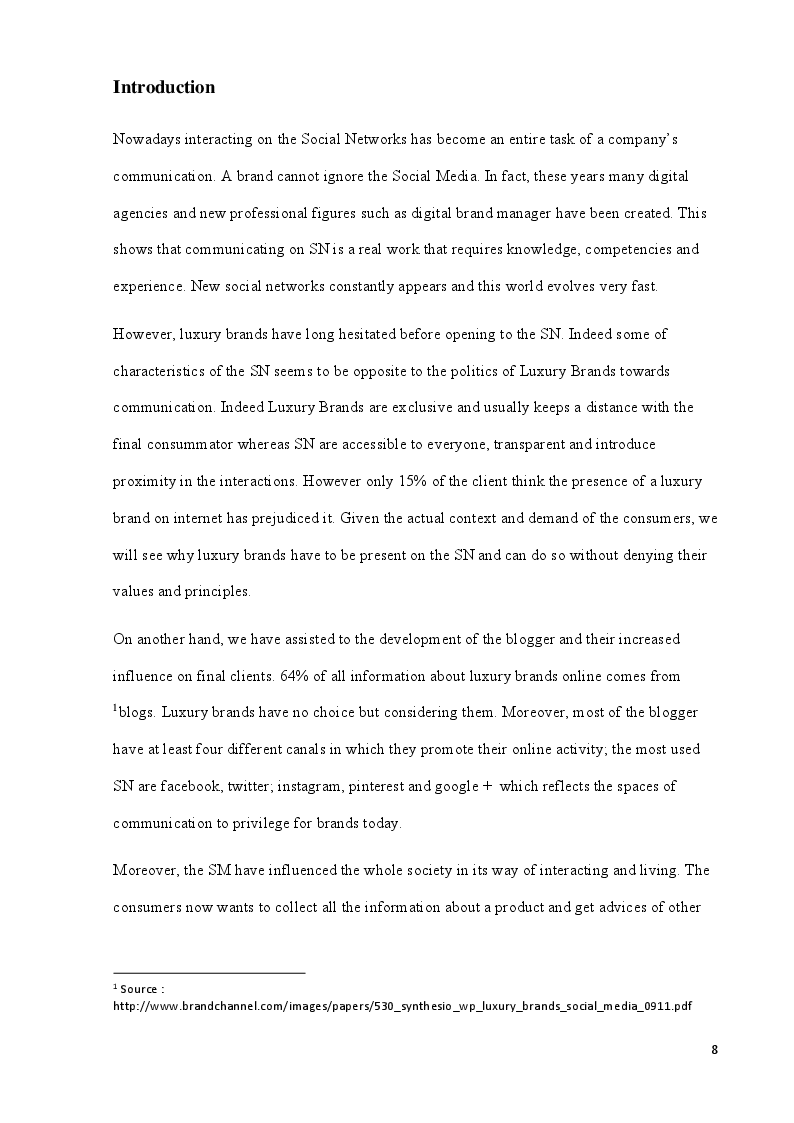 Mostra/Nascondi contenuto.
8 Introduction Nowadays interacting on the Social Networks has become an entire task of a company's communication. A brand cannot ignore the Social Media. In fact, these years many digital agencies and new professional figures such as digital brand manager have been created. This shows that communicating on SN is a real work that requires knowledge, competencies and experience. New social networks constantly appears and this world evolves very fast. However, luxury brands have long hesitated before opening to the SN. Indeed some of characteristics of the SN seems to be opposite to the politics of Luxury Brands towards communication. Indeed Luxury Brands are exclusive and usually keeps a distance with the final consummator whereas SN are accessible to everyone, transparent and introduce proximity in the interactions. However only 15% of the client think the presence of a luxury brand on internet has prejudiced it. Given the actual context and demand of the consumers, we will see why luxury brands have to be present on the SN and can do so without denying their values and principles. On another hand, we have assisted to the development of the blogger and their increased influence on final clients. 64% of all information about luxury brands online comes from 1 blogs. Luxury brands have no choice but considering them. Moreover, most of the blogger have at least four different canals in which they promote their online activity; the most used SN are facebook, twitter; instagram, pinterest and google + which reflects the spaces of communication to privilege for brands today. Moreover, the SM have influenced the whole society in its way of interacting and living. The consumers now wants to collect all the information about a product and get advices of other 1 Source : http://www.brandchannel.com/images/papers/530_synthesio_wp_luxury_brands_social_media_0911.pdf
Laurea liv.II (specialistica)
Facoltà: Business Management - Indirizzo Marketing / Comunicazione
Autore: Clarisse Petteni Contatta »
Composta da 89 pagine.
Questa tesi ha raggiunto 540 click dal 09/10/2014.
Consultata integralmente 4 volte.
Disponibile in PDF, la consultazione è esclusivamente in formato digitale.