Two Parisian museums dealing with the representation and integration of graffiti subculture: Musée de la Poste and Palais de Tokyo
With the boom of Hip Hop culture in the eighties urban graffiti became a worldwide movement and it also began to be exhibited in museums and galleries. However, street art and the art world are two different realities: whereas the first is synonym of artistic freedom and autonomy, the second is traditionally defined by a conformity to artistic norms that dictate the art culture system. Moreover, in the street the artist can easily become popular via public exposure, on the other hand museums and galleries are places restricted on exposure. Besides, the street offers a variety of supports and more inspirations than the limited space of the 'white cube'. Nonetheless, a lot of graffiti artists have accepted to enter and to collaborate with the attractive institutionalized art world mainly for two reasons: museums and galleries are prestigious places and the artists' need to be part of a system that recognizes them as such.
The passage from street to museums seems to be a compulsory step for graffiti artists' recognition, but once intramuros graffiti artists may have to conform their works and this can alter the essence of graffiti itself. Eventually graffiti can lose its appeal and credibility as has happened for the first generation American graffiti artists who began to produce artworks on canvas to respond to galleries increasing interest in exhibiting graffiti indoors. The difficulty spotted by the art critics to define the art of graffiti, as will be explained later on, demonstrates how severe is the integration and institutionalization of this subversive form of art. In fact, the central problem of urban art revolves around the transition from the street to the museum, an important issue that brings us to my research question: how are currently the art institutions dealing with the representation and integration of graffiti? Which are the contemporary museum approaches to graffiti? Is there a canon for graffiti that is exposed in museums?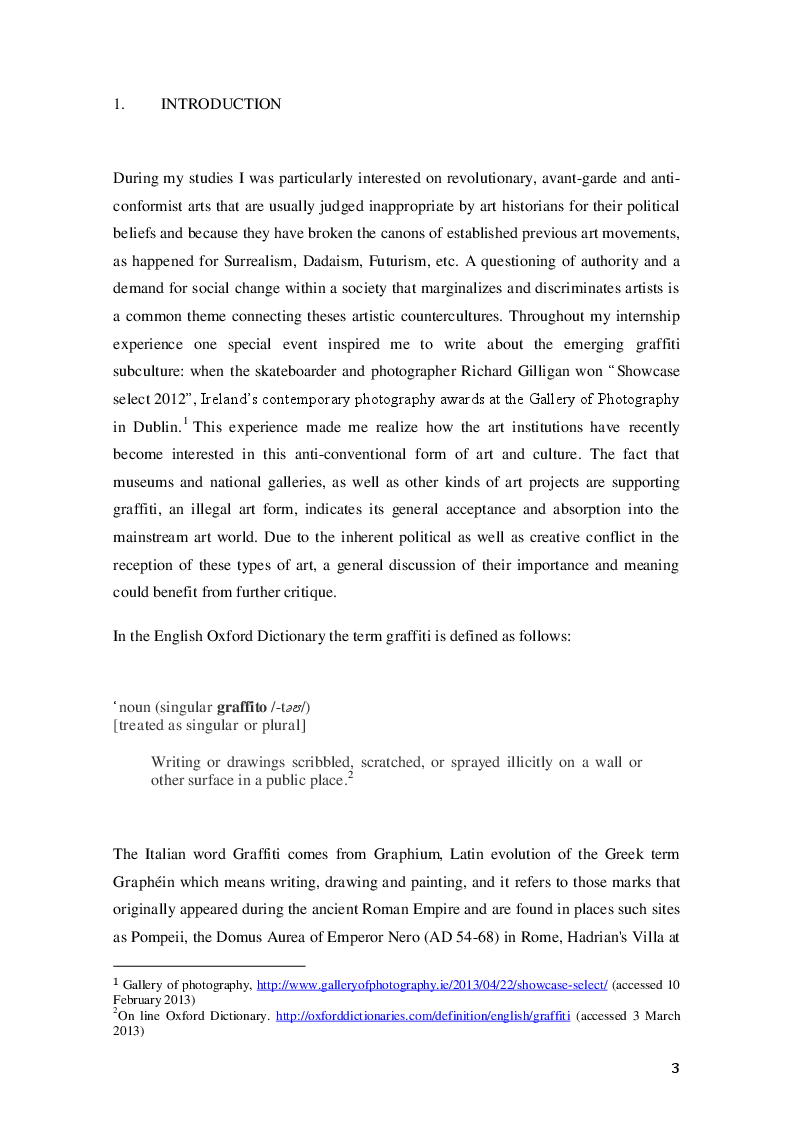 Mostra/Nascondi contenuto.
3 1. INTRODUCTION During my studies I was particularly interested on revolutionary, avant-garde and anti- conformist arts that are usually judged inappropriate by art historians for their political beliefs and because they have broken the canons of established previous art movements, as happened for Surrealism, Dadaism, Futurism, etc. A questioning of authority and a demand for social change within a society that marginalizes and discriminates artists is a common theme connecting theses artistic countercultures. Throughout my internship experience one special event inspired me to write about the emerging graffiti subculture: when the skateboarder and photographer Richard Gilligan won "Showcase select 2012", Ireland's contemporary photography awards at the Gallery of Photography in Dublin. 1 This experience made me realize how the art institutions have recently become interested in this anti-conventional form of art and culture. The fact that museums and national galleries, as well as other kinds of art projects are supporting graffiti, an illegal art form, indicates its general acceptance and absorption into the mainstream art world. Due to the inherent political as well as creative conflict in the reception of these types of art, a general discussion of their importance and meaning could benefit from further critique. In the English Oxford Dictionary the term graffiti is defined as follows: 'noun (singular graffito /-təʊ/) [treated as singular or plural] Writing or drawings scribbled, scratched, or sprayed illicitly on a wall or other surface in a public place. 2 The Italian word Graffiti comes from Graphium, Latin evolution of the Greek term Graphéin which means writing, drawing and painting, and it refers to those marks that originally appeared during the ancient Roman Empire and are found in places such sites as Pompeii, the Domus Aurea of Emperor Nero (AD 54-68) in Rome, Hadrian's Villa at 1 Gallery of photography, http://www.galleryofphotography.ie/2013/04/22/showcase-select/ (accessed 10 February 2013) 2 On line Oxford Dictionary. http://oxforddictionaries.com/definition/english/graffiti (accessed 3 March 2013)
Tesi di Master
Autore: Sheila Pilli Contatta »
Composta da 101 pagine.
Questa tesi ha raggiunto 87 click dal 18/12/2014.
Disponibile in PDF, la consultazione è esclusivamente in formato digitale.