Dickens and Twentieth Century Stage Adaptation: Edgar and the RSC's Nicholas Nickleby
Dickens has been both a literary and a popular phenomenon. The extraordinary number and range of dramatic adaptations of his novels through the decades reveal both the immediateness and the accessibility of his characters and stories and the enduring validity and fascination of the worlds he portrays. Since his very beginning as a novelist, his literary career and production were essentially intertwined with the duplication, the popularisation and the diffusion of his novels through dramatisation, and most importantly, much of his popularity in recent years is indebted to this universe of dramatic replicas and reproductions. Such enduring suitability of Dickens' texts to the stage opens a double itinerary of research. On the one hand, it can serve to investigate Dickens' texts and his literary significance, and on the other, it can provide an invaluable point of departure for the exploration of the practice of stage adaptation today. This binary purpose constitutes the focus of my study, and has been attempted through the comparative analysis of the novel Nicholas Nickleby and its most famous twentieth-century adaptation, the 1980 production by David Edgar and the Royal Shakespeare Company.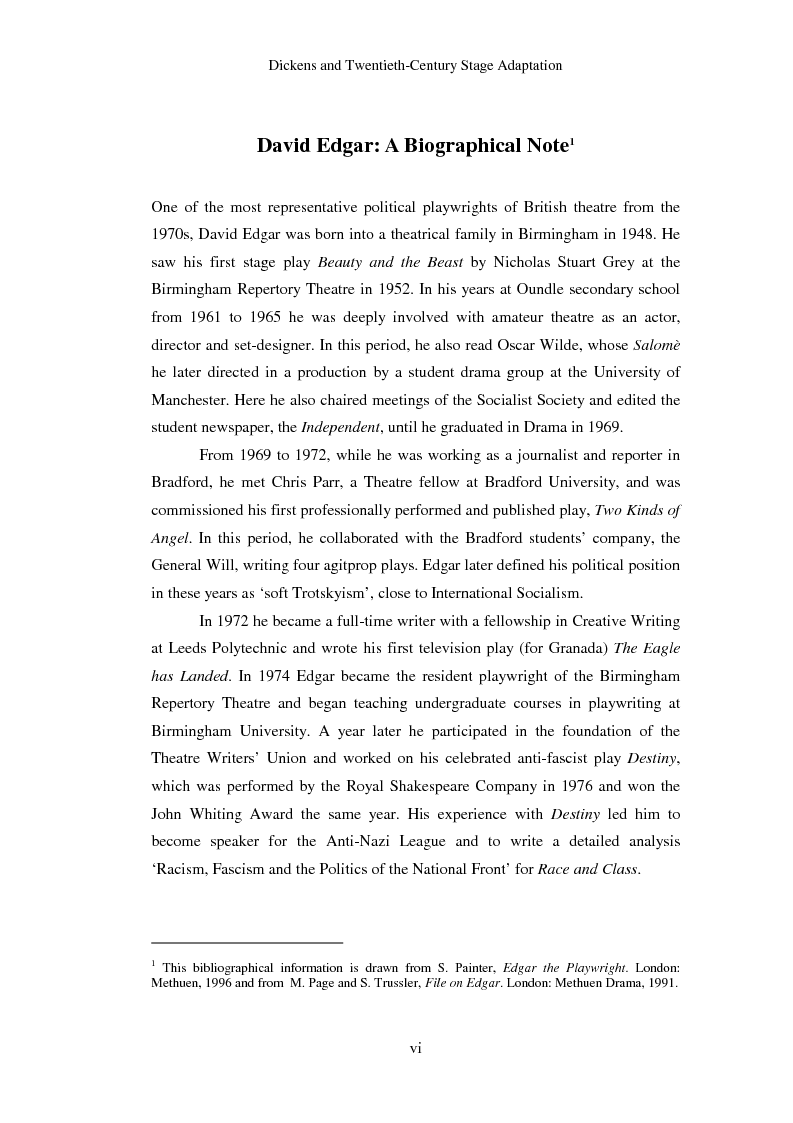 Mostra/Nascondi contenuto.
Dickens and Twentieth-Century Stage Adaptation vi David Edgar: A Biographical Note 1 One of the most representative political playwrights of British theatre from the 1970s, David Edgar was born into a theatrical family in Birmingham in 1948. He saw his first stage play Beauty and the Beast by Nicholas Stuart Grey at the Birmingham Repertory Theatre in 1952. In his years at Oundle secondary school from 1961 to 1965 he was deeply involved with amateur theatre as an actor, director and set-designer. In this period, he also read Oscar Wilde, whose Salomè he later directed in a production by a student drama group at the University of Manchester. Here he also chaired meetings of the Socialist Society and edited the student newspaper, the Independent, until he graduated in Drama in 1969. From 1969 to 1972, while he was working as a journalist and reporter in Bradford, he met Chris Parr, a Theatre fellow at Bradford University, and was commissioned his first professionally performed and published play, Two Kinds of Angel. In this period, he collaborated with the Bradford students' company, the General Will, writing four agitprop plays. Edgar later defined his political position in these years as 'soft Trotskyism', close to International Socialism. In 1972 he became a full-time writer with a fellowship in Creative Writing at Leeds Polytechnic and wrote his first television play (for Granada) The Eagle has Landed. In 1974 Edgar became the resident playwright of the Birmingham Repertory Theatre and began teaching undergraduate courses in playwriting at Birmingham University. A year later he participated in the foundation of the Theatre Writers' Union and worked on his celebrated anti-fascist play Destiny, which was performed by the Royal Shakespeare Company in 1976 and won the John Whiting Award the same year. His experience with Destiny led him to become speaker for the Anti-Nazi League and to write a detailed analysis 'Racism, Fascism and the Politics of the National Front' for Race and Class. 1 This bibliographical information is drawn from S. Painter, Edgar the Playwright. London: Methuen, 1996 and from M. Page and S. Trussler, File on Edgar. London: Methuen Drama, 1991.
Tesi di Laurea
Facoltà: Lingue e Letterature Straniere
Autore: Cristina Marinetti Contatta »
Composta da 148 pagine.
Questa tesi ha raggiunto 1838 click dal 20/03/2004.
Consultata integralmente 3 volte.
Disponibile in PDF, la consultazione è esclusivamente in formato digitale.